Hinduja rift out in open
Vinoo moves court, acting on behalf of her father, Srichand, as a 'litigation friend', and apparently seeks 'partition' of the family business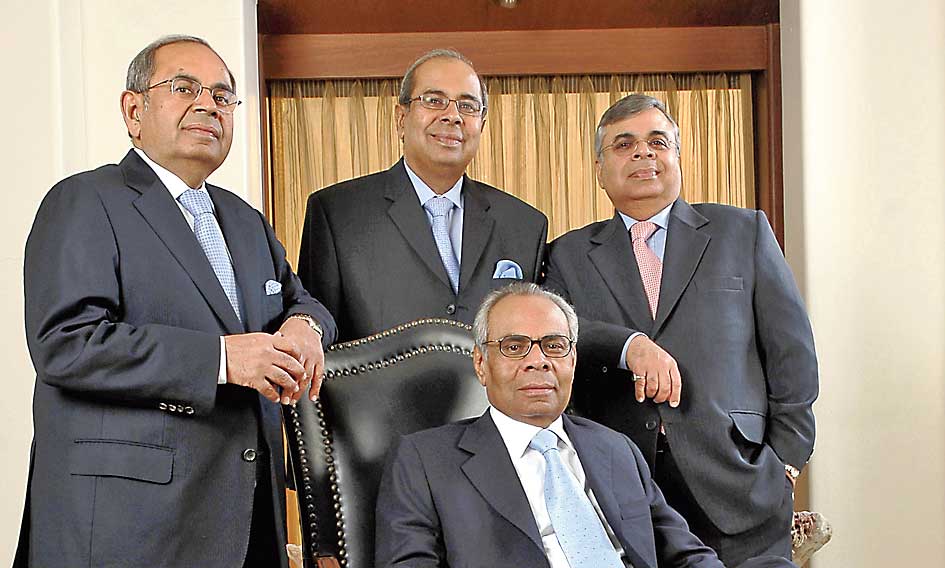 The Hinduja brothers
Sourced by The Telegraph
---
London
|
Published 25.06.20, 01:32 AM
|
---
The Hindujas, who have consistently topped the Rich List in Britain with net wealth put at £25 billion last year, have always prided themselves on being a strong and united family, with the motto, "Everything belongs to everyone, nothing belongs to anyone".
But a totally unexpected split in the family — it has shocked the Indian community in the UK and beyond — has come to light because of a high court judgment delivered on Tuesday in London.
The philosophy of unity has long been followed by the four Hinduja brothers — Srichand (known as SP), 84, the head of the family, and Gopi, 80, who are based in London, Prakash, 75, who lives in Geneva, and Ashok, 70, whose home is in Mumbai. The brothers believe they are like "Ram, Lakshman, Bharat and Shatrughna — four bodies, one soul".
It is a belief inherited from their father, Parmanand Deepchand Hinduja, who was born in Shikarpur in Sind (now in Pakistan) on November 25, 1901, and founded the family business when he moved to Bombay (now Mumbai) in 1914.
Srichand and his wife Madhu have two daughters, Shanu and Vinoo, who are involved in the health and philanthropic sectors. Vinoo has now moved court, acting on behalf of her father, Srichand, as a "litigation friend", and apparently seeks "partition" — the family business to be split up. She believes she is entitled to a quarter share. But this is easier said than done because the family's wealth is tied up in trusts, with all members having an equal share. If Vinoo is to have her way, the trusts will have to be broken up. In fact, she has gone to Jersey to try and achieve that aim.
There is another complication. Srichand has a form of dementia and even his brothers are no longer allowed access to him because of the differences between Vinoo and her three uncles. Srichand's friends have also not been able to visit.
The case gets even more complicated because back in July 2014, the four brothers signed a letter that "assets held in any single brother's name belong to all four".
There is litigation in Switzerland over the control of the Hinduja Bank, "an asset in Srichand's sole name". Vinoo, again acting on behalf of her father, is seeking a declaration that the letter has no "legal effect, whether as a will, power of attorney, declaration of trust or other binding document".
The judge, Justice Falk, has to untangle a quintessentially Indian dispute, where culture, tradition and money are all in the mix. The judge said that SP lacks capacity to give instructions to his lawyers and had appointed Vinoo to act as his "litigation friend", conducting the proceedings on her father's behalf.
The three defendants' lawyers had argued that there was no evidence that SP is not able to "understand, retain and use or weigh information, or to communicate decisions". They also said that Vinoo "has her own separate financial interest in pursuing the proceedings, and that she would not be in a position to form an independent and objective judgement about the merits of the claim and Srichand's best interests".
Justice Falk said: "The defendants do not dispute that Vinoo lacks capacity, and indeed have relied on it as a basis for seeking to take control of Hinduja Bank, an asset in Srichand's sole name, relying on the July letter. This is the subject of proceedings in Switzerland."
She said she was "satisfied that Vinoo can act fairly on behalf of Srichand and that she does not have an adverse interest".
She continued: "It is said on Srichand's behalf that, if the defendants' position on the July letter is correct, then that throws Srichand's estate and tax planning into disarray, calls into question the validity of his wills, potentially displacing the appointment of his executors, and may also make the acts of his attorneys invalid.
"If any part of this is right, and I did not understand the assertion to be challenged, then proceedings that seek to determine the legal effect of the July letter, and address the uncertainty that currently exists, cannot rationally be said to be contrary to Srichand's interests.
"In principle it must be in Srichand's interests to have the effect of the July letter definitively determined, and these proceedings would appear to be an appropriate step for his attorney to take on his behalf."
The three brothers say they have no differences with SP, the acknowledged head of the family. In a statement given to Bloomberg, they said that the litigation will have no impact on their business and that the proceedings "go against our founder's and family's values".
They said these principles have stood for decades, especially the idea that "everything belongs to everyone and nothing belongs to anyone".
As in many traditional Indian families, only the boys were groomed for the family business and have been allocated a vertical each. Sanjay, for example, has oil, while Dheeraj has been given charge of Ashok Leyland. There is plenty to go around for the Hinduja empire, operating in 100 countries and employing 100,000 people, takes in health; energy, power generation; automotive; finance and banking; oil and gas; IT and BPO; media and cable; real estate; trading; and defence. India, the UK and he US are key countries.
In London, the Hindujas are continuing with the conversion of the Old War Office, in which they have a 250-year lease, into a luxury residential and 125 room Raffles Hotel complex.