Gautam Adani to recast plan after rout ends
Analysts say Adani's comments in his video outreach indicate the company can revive its fund-raising plan after tide turns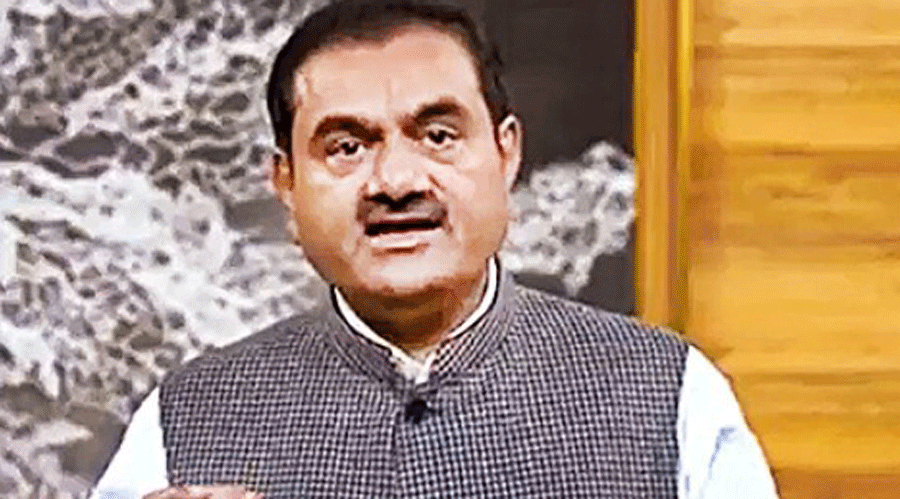 Gautam Adani addresses investors from an unknown location in this video.
PTI picture
---
Mumbai
|
Published 03.02.23, 01:27 AM
|
---
Embattled industrialist Gautam Adani on Thursday released a four-minute video where he said Adani Enterprises — mauled by investors after the Hindenberg allegations — would review its capital market strategy once the stock stabilises on the markets.
Adani had to post the video following an unprecedented decision by the AEL board to cancel its mega Rs 20,000-crore follow-on public offer after the bottom dropped out of the stock on Wednesday less than a day after the FPO got fully subscribed on Tuesday.
Analysts said Adani's comments in his video outreach indicate the company could revive its fund-raising plan after the tide turns. He said AEL will continue to focus on long-term value creation and growth will be managed by internal accruals.
"Our balance sheet is healthy and assets, robust. Our EBIDTA (earnings before interest, depreciation, tax and amortisation) levels, and cash flows have been very strong and we have an impeccable track record of fulfilling our debt obligations,'' he observed.
An analyst said AEL could go for an asset sale or rope in a strategic or financial investor in its incubated businesses. This would give it the much needed capital to fund its expansion plans and repay debt.
If the company is successful in bringing in a strategic or financial investor it would boost investor sentiment, Adani said. AEL can also approach banks for loans, with group companies a standard assets on their books.
But banks have turned cautious after the accusations made by Hindenburg Research and the crash in valuations of the group companies.
AEL can also raise cash by issuing bonds. But this may also be a very difficult exercise., with rising yields and investment banks not accepting them as collateral for margin funding.
"After a fully subscribed FPO, Wednesday's decision of its withdrawal would have surprised many. But considering the volatility of the market seen yesterday, the board strongly felt that it would not be morally correct to proceed with the FPO,'' Adani said.
"For me, the interest of my investors is paramount and everything is secondary. Hence to insulate the investors from potential losses we have withdrawn the FPO. This decision will not have any impact on our existing operations and future plans."
RBI seeks details
Mumbai: The Reserve Bank of India has sought details about lenders' exposures to the Adani group, banking sources said.
The RBI gets access to banks' large corporate borrowers on a regular basis as part of the central repository of information on large credits (CRILC) data base.
Many a time, bank lending happens against pledged securities and a massive fall in the price of the shares of the Adani group's 10 listed entities could have lowered the value of the pledged securities.
There has been selling pressure in banks' stocks since the Hindenberg Research's report released on January 24 as investors are concerned about the impact of the crisis on banks' books.
Country's largest lender SBI had said it's exposure to Adani group is fully secured by cash generating assets, in an attempt to assuage investor concerns.
Another public sector lender Bank of Baroda has said its total exposure to the embattled group stood at Rs 7,000 crore, which are also fully secured.
Life Insurance Corporation (LIC) has disclosed an exposure of Rs 36,474.78 crore to Adani group's debt and equity, and added that the amount is less than one per cent of its total investments.
PTI