Future Group's Kishore Biyani bets on food
Food will be the mainstay of the business, fetching more than 50% revenue while fashion and home will bring in the rest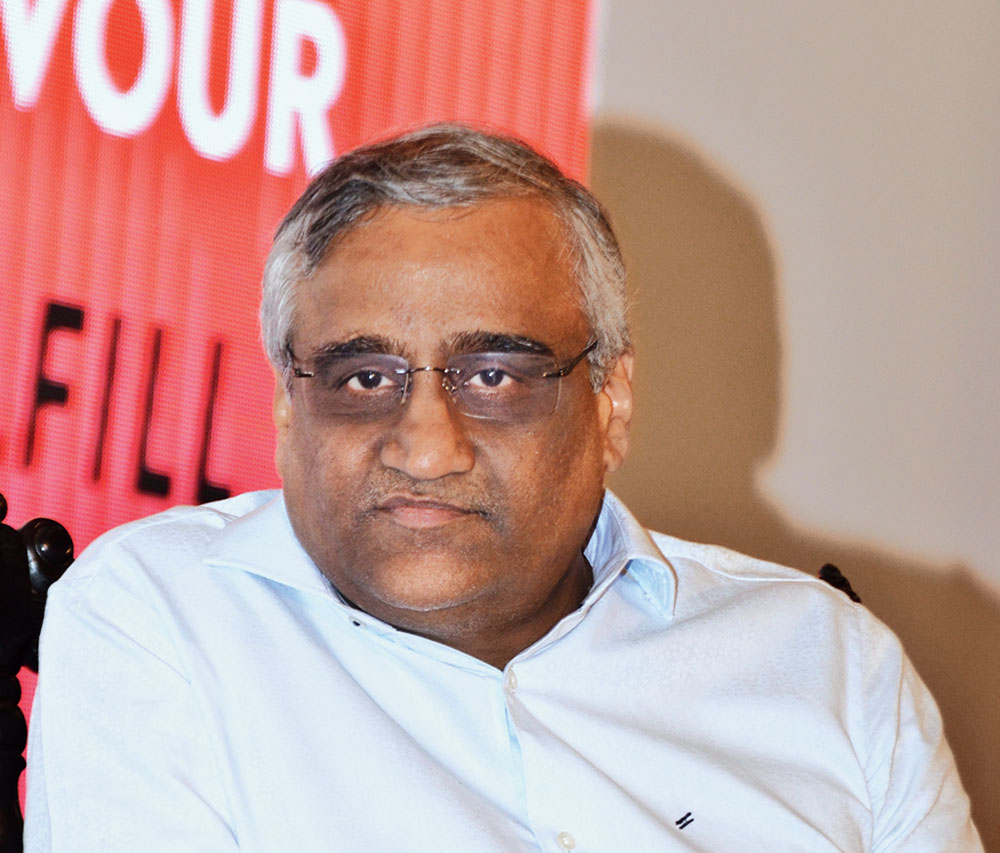 ---
|
Calcutta
|
Published 09.04.19, 07:56 PM
---
Food chain
Much of the expansion of the food business will come from two rapidly expanding chains, Easyday and 7-Eleven, the US-based convenience store chain, which Biyani is bringing to India.
Eight such stores are due to open in Mumbai and it will then roll out across the country. Now owned by Japan's Seven & Holdings, the chain usually stays open 24-hours a day and sells beverages, fresh foods, snacks and other products.
Biyani, who was in Calcutta on Monday to speak at a Ladies Study Group event organised by the Indian Chamber of Commerce, declined to spell out the roadmap for 7-Eleven.
But he was more forthcoming about his plans for Easyday, which he dubbed as the 'neighbourhood supermarket'.
"We are opening two stores a day. There will be close to 10,000 in the next seven to eight years.
There are 34 of them here (Calcutta). It will touch 100 this year. 'Easy Day' and 7-Eleven will contribute a big way to the rise in food revenue to the overall pie," Biyani said in an exclusive interaction with The Telegraph.
According to the chairman of Future Group, over 70 per cent of the food items being sold through different retail formats would be from his stable.
"Close to 95 per cent of the fashion (clothes) we sell are our own products. In food, it is now 40 per cent — and that will touch 70 per cent in five to six years," he said.
The FMCG business of the group, including health and personal care, is driven by Future Consumers, while the fashion brands are produced under Future Lifestyle Fashion. These products, among others, are sold through various retail formats, which are operated under Future Retail.
Foodhall and Nilgiri are some of other platforms where food will be sold. Biyani's elder daughter now runs Foodhall, the premium food offering.
Asked whether Foodhall will come to Calcutta, Biyani said: "My daughter is not too keen. But I'm trying to convince her. The city is big on food but they are low cost," he quipped.
Kishore Biyani, the retail czar of India, is unfazed by the challenge thrown up by the competition, both online and brick and mortar.
The man who revolutionised organised retail in India with myriad formats of stores says his Future Group is all set to touch the magic figure of Rs 100,000 crore business in the next five years. Moreover, 40 per cent of the revenue will come from the brands he owns.
Food, Biyani considers, will be the mainstay of the business, fetching more than 50 per cent of the group's revenue, while fashion and home, the two other verticals, will bring in the rest.
Future Group clocked a turnover of Rs 40,000 crore in the last fiscal. According to him, revenues from the food and fashion verticals will be on a par for the next two to three years. But food will then clearly pull away from the rest of the pack.
"India is a large country. There's space for everyone. It has the population that is aspirational," Biyani said while dissing any talk of competition with Mukesh Ambani's Reliance Retail and e-commerce giants such as Amazon and Flipkart.
"We are not in competition with anyone," he says bluntly.
Fashion & Home
Future Group will sell 30 crore garments this fiscal and it has the hope of becoming a global leader one day given the size of India's market and the pace at which it is growing.
"Inditex (which owns retailers such as Zara and Massimo Dutti) sells 70 crore garments in 84 countries. Someday, we may get there. India has 18 per cent of the world's population and it is aspirational. The opportunity is huge," he said.
Lee Cooper, Bare, Indigo Nation, John Millers are some of the brands owned by Future Lifestyle Fashion. The group is also a big player in home furnishing (with its Dreamline brand) and electronic (with Koryo).
Asked if he had missed the digital bus (e-commerce), Biyani was unfazed. "We sell on others' platform. The customers decide what to buy."