Fiscal deficit breach signal
The state finance ministers told Sitharaman it was important to maintain growth than fiscal prudence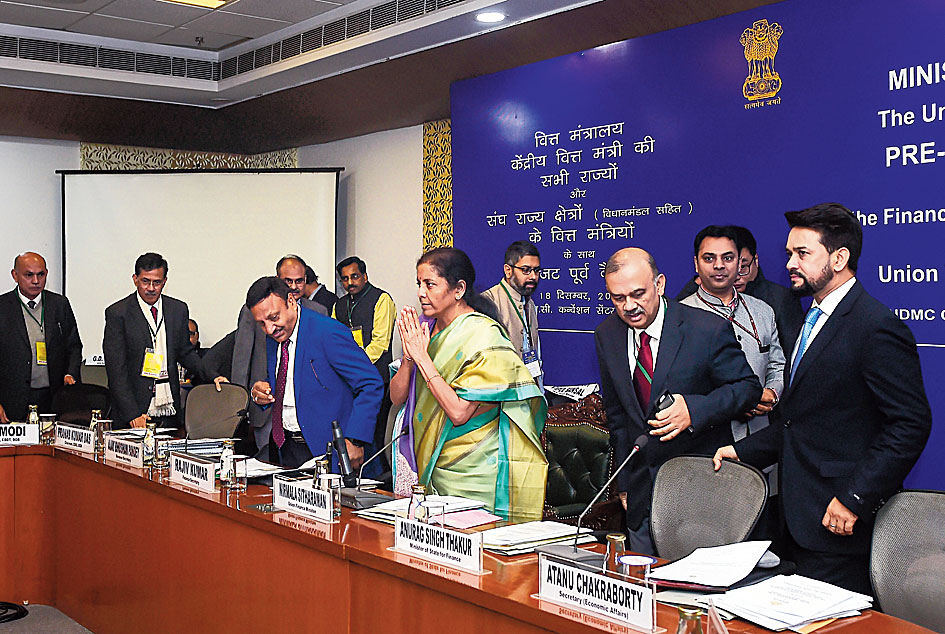 Nirmala Sitharaman in New Delhi on Wednesday.
PTI
---
New Delhi
|
Published 18.12.19, 09:13 PM
|
---
The Narendra-Modi government is likely to move away from the path of fiscal prudence and announce some stimulus measures, with finance ministry officials on Wednesday emphasising the importance of growth vis-à-vis fiscal discipline.
It is "critical to focus on growth first than maintaining fiscal prudence", a senior finance ministry official said. The government is looking at available leeways within the Fiscal Responsibility and Budget Management (FRBM) Act for a possible fiscal slippage, the official said.
The comments came after the state finance ministers in their pre-budget meeting with finance minister Nirmala Sitharaman on Wednesday pitched for fiscal expansion and relaxing the deficit target to 4 per cent of GDP as a lower than expected tax collection in a slowing economy has hit their revenues.
The state finance ministers also told Sitharaman it was important to maintain growth than fiscal prudence.
The NK Singh committee on FRBM had proposed an escape clause wherein the fiscal deficit could be marginally relaxed by up to 50 basis points to bring in structural reforms. Tax collections have grown at a much slower pace than anticipated as slowing growth has adversely impacted corporate earnings.
"The biggest take home from the pre-budget discussion of FMs is a suggestion by Bihar and Kerala to raise the fiscal deficit limit to 4 per cent of GDP. It was agreed to by a large number of states," Kerala finance minister Thomas Isaac said in a tweet after the meeting. "In the current year real expenditure of states will decline — a crazy macro outcome in time of recession," Thomas said in his tweet.