Finance ministry introduces GST sop after backlash
14 items when sold in loose will not attract GST, announces Sitharaman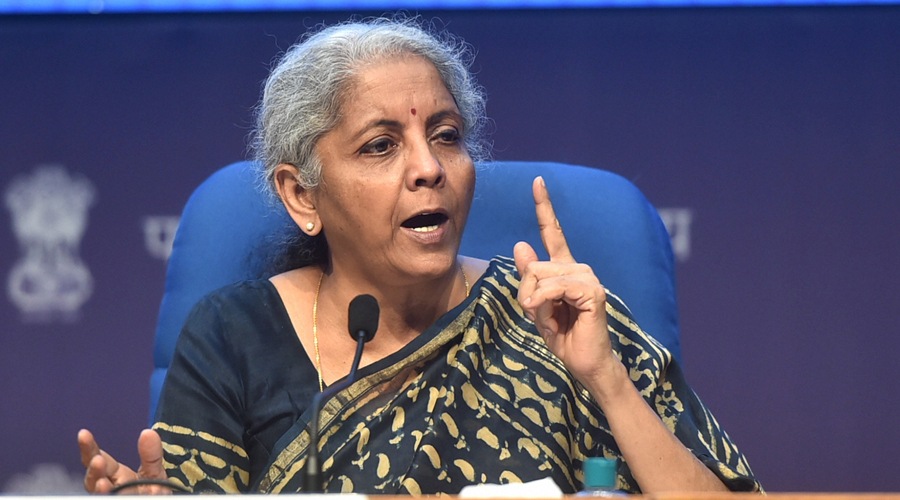 Nirmala Sitharaman
File picture
---
New Delhi
|
Published 20.07.22, 01:38 AM
|
---
Under fire for extending GST on food items, finance minister Nirmala Sitharaman tweeted that 14 items when sold in loose will not attract GST.
Twitter then began to debate on the sale of loose curd.
"Will you expect loose curd to be sold by milkman or by a shop. Ridiculous are you telling us to bring milk and do curd in the house so save the GST," a tweet said.
Sitharaman is facing criticism over the 5 per cent GST levied on wheat flour and other items of daily use.
The first two days of the monsoon session of Parliament virtually got washed away because of vociferous protests by the Opposition parties over the GST slapped on daily use items and other issues.
In a series of tweets, Sitharaman said states levied sales tax or VAT on foodgrains in the pre-goods and services Tax (GST) regime and the present levy on cereals, pulses, flour, curd and lassi is an exercise to curb tax leakage.
The decision, she said, was taken by the GST Council, where all states are represented, through a consensus. Non-BJP ruled states of Punjab, Chhattisgarh, Rajasthan, Tamil Nadu, Bengal, Andhra Pradesh, Telangana and Kerala had agreed to impose the 5 per cent levy, she said.
"Is this the first time such food articles are being taxed? No. States were collecting significant revenue from foodgrain in the pre-GST regime. Punjab alone collected more Rs 2,000 crore on food grain by way of purchase tax. UP collected Rs 700 crore," she said.
Sitharaman also cited VAT on rice levied prior to 2017 in Punjab Telangana, Uttar Pradesh, Andhra Pradesh, Kerala and Bihar to buttress her point. The tweets, however, did not give instances of levy of tax on pulses, paneer and lassi as has been the case now.
Twitterati debated whether curd/lassi is loosely available with some stating that "this is a good decision. It will promote buyers to buy local items and many persons will use old ways of distribution of basic things". Indian traders have threatened a nationwide stir to protest the imposition of the new levies.