Finance minister seeks Parliament approval to spend Rs 1.87 lakh crore as gross additional expenditure
Of this, the actual cash outgo will only be Rs 23,675 crore, or 12.6%, as the remaining Rs 1.64 lakh crore will be met through savings, higher receipts and recoveries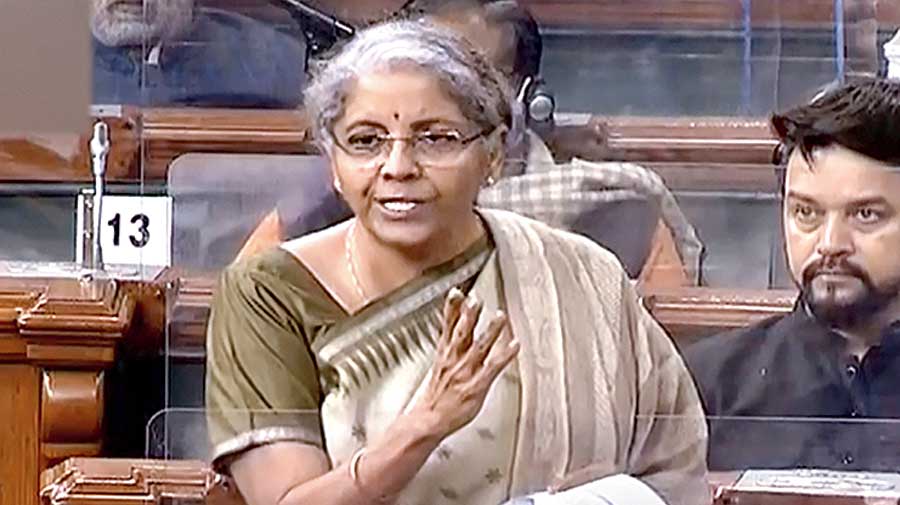 ---
---
Finance minister Nirmala Sitharaman on Tuesday sought Parliament's approval to spend Rs 1.87 lakh crore as gross additional expenditure. Of this, the actual cash outgo will only be Rs 23,675 crore, or 12.6 per cent, as the remaining Rs 1.64 lakh crore will be met through savings and higher receipts and recoveries.
A sum of Rs 17,000 crore has been earmarked for the health ministry in the current financial year, according to the first batch of supplementary demands for grants tabled in the Lok Sabha.
A substantial chunk of the total gross spending is towards transfer to states for shortfall in GST compensation cess. An amount of Rs 1.59 lakh crore will be transferred to the states as back-to-back loans in lieu of the GST compensation shortfall. However, this will not involve any cash outgo.
"As the back-to-back loans are to be met from equivalent capital receipts, the expenditure will not entail additional cash outgo," the supplementary demands for grants said.
Aditi Nayar, chief economist at Icra, said, "It appears that the outgo of more than Rs 90,000 crore for the free foodgrain provision in May-November 2021 is being absorbed by the cushion created in this year's budget on account of the prepayment of the FCI's loans to the NSSF (National Small Savings Fund) in 2020-21."
"With healthy revenues amid a modest increase in the expenditure outlay, the cash flow position of the government appears to be quite comfortable, which allowed the release of Rs 75,000 crore of GST compensation loans from the Centre's own borrowings. However, the pending GST compensation for the April 2020-March 2021 period has been pegged at a sizable Rs 81,179 crore. 
"The financing options for the pending dues remain unclear. The balance Rs 84,000 crore of back-to-back loans related to the GST compensation gap appear likely to be raised in the second half of FY22 as part of the GoI's borrowing calendar," Nayar added.
ADB forecast
The Asian Development Bank (ADB) has downgraded India's economic growth forecast for the current financial year to 10 per cent on Tuesday, from 11 per cent projected earlier this year, mainly on account of the adverse impact of the coronavirus pandemic.