100% coverage of 'One Nation, One Ration Card' for workers by March 2021: Sitharaman
The finance minister further announced free food grains for 2 months for an estimated 8 crore migrants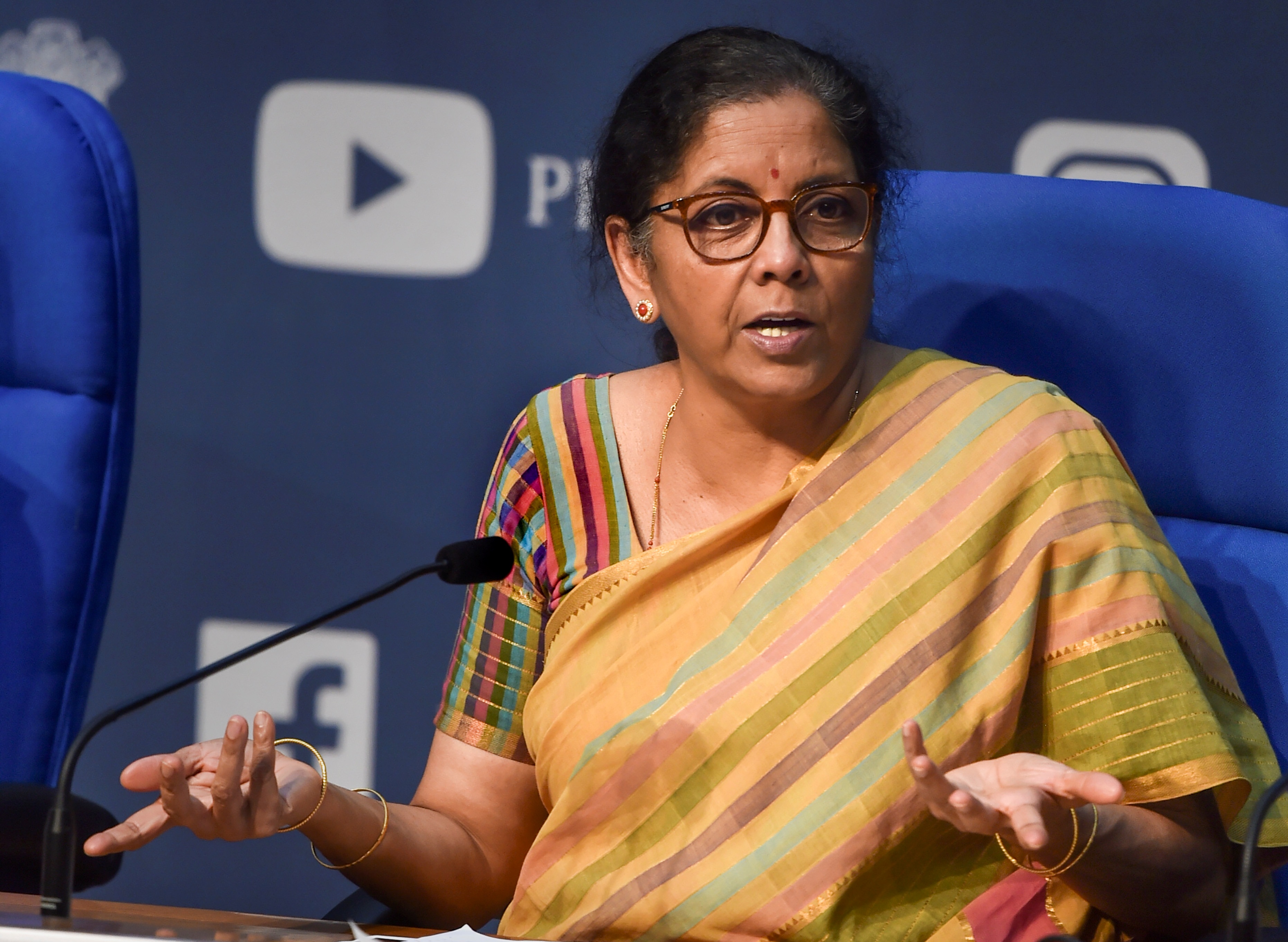 Union Finance Minister Nirmala Sitharaman addresses a press conference, at NMC in New Delhi, Thursday, May 14, 2020.
PTI
---
New Delhi
|
Published 14.05.20, 12:04 PM
|
---
The government on Thursday announced a Rs 3.16 lakh crore package of free foodgrains for migrant workers, concessional credit to farmers and working capital loan for street vendors as part of the second tranche of fiscal stimulus to heal an economy hit hard by coronavirus lockdown.
At a news conference, Union finance minister Nirmala Sitharaman said 8 crore migrant workers will get 5 kg of grains and 1 kg of pulses free for two months, while 50 lakh street vendors rendered jobless by the lockdown would be given a working capital loan of Rs 10,000 each.
As many as 2.5 crore farmers will be provided Rs 2 lakh crore of concessional credit through Kisan Credit Cards.
Also for post-harvest (Rabi) and current Kharif crop requirements in May and June, NABARD will provide Rs 30,000 crore additional emergency working capital funding for farmers through rural cooperative banks and regional rural banks.
She also announced a Rs 70,000 crore boost to the housing sector through one-year extension of subsidised loan for affordable houses for the middle-income group with an annual income of Rs 6 lakh to Rs 18 lakh.
Sitharaman said the central government will bear Rs 3,500 crore cost of giving free foodgrain and pulses to migrant workers. State governments will be responsible for implementation, identification of migrants and full distribution.
Also to benefit of migrant workers, the government plans to allow inter-state portability of ration cards under public distribution system (PDS) so as to allow them to use their cards anywhere to get benefit.
For small businesses, the minister announced a 2 per cent interest subvention under MUDRA-Shishu loans of up to Rs 50,000. This would cost the government Rs 1,500 crore.
For street vendors, the working capital loan would cost Rs 5,000 crore.
She also announced Rs 6,000 crore employment push, using Compensatory Afforestation Management and Planning Authority (CAMPA) funds.
Salient features from Finance minister Nitmala Sitharaman's announcement of the second tranche of the cumulative Rs 20 lakh crore Covid-19 package.
For migrant workers
Free food grains: Food rains will be provided to migrant workers, and the urban homeless or poor for the next two months. This will be even applicable for non PDS ration card holders. The FM said that individual states will arbitrate the distribution of the food grains. She said, "Those who don't have ration cards, can avail 5 kg of rice or wheat and 5kg chana per family. This will benefit approximately 8 crore people and the government has allocated Rs 3,500 crore for this. This will be enacted by state governments, and will be valid for the next 3 months."
One nation, one ration card: The government has already put into motion the national portability of public distribution ration cards. After complete digitisation, ration can be availed in any state through Aadhar. This is a technology driven measure following one of the five pillars of progress announced by Narendra Modi. Sitharaman said, "Anyone, irrespective of where they are, can avail of ration. The One Nation One Ration Card is already rolled out 83% so far, and will be 100% by March 2021."
Rental housing under PM Awas Yojana: Under the scheme affordable rental housing will be provided for migrants, where institutions and associations will be asked to provide affordable housing on their premises. The government will also make affordable housing for the urban poor, labourers and migrants in all states and UTs, which will be built under public-private partnership.
Small loans
Those in need of loans under Rs 50,000, will now enjoy a 2 per cent interest subversion rate for twelve months after the three month RBI moratorium period. "This will benefit roughly 3 crore people who are beneficiaries under the MUDRA shishu category. The overall benefit for them will be Rs 1,500 crore," Sitharaman said.
Special credit for street vendors
Street vendors will now be benefited from a special credit facility worth Rs 5000 crore. The government will launch a scheme for this easy access for credit within a month. "Under it, a vendor can avail a loan of Rs 10,000 as starting capital… it will benefit 50 lakh street vendors," the FM noted.
Housing finance for lower middle class
The lowest strata of the middle income group, with Rs 6-18 lakh annual income can now avail the existing credit linked housing subsidy scheme for another year. The FM observed, "We are now offering a one year extension of the scheme, from March 2020 to March 2021. This had already benefited 3.3 lakh families. The extension of one year will benefit another 2.5 lakh families and generate a demand in the housing sector."
For tribals and adivasis
The FM said that unused CAMPA funds are lying with states, based on which the Centre has sought project proposals from the states. Proposals worth Rs 6000 crore have been received from various states till now, and more are going to get submitted in the future. The Centre will ensure that tribals and adivasis get employment in afforestation and plantation related work through these proposals.
For farmers
Rs 30,000 crore additional working capital fund for farmers from NABARD will be released immediately. This will aid in post harvest work for Ravi, and preparatory work for Kharif crops. The economic boost is particularly meant for small and marginal farmers.
Nearly Rs 2 lakh crore concessional credit boost will be given to non Kisan Credit Card-holder farmers. This will lead them to access institutional credit at concessional rates. The scheme will also include animal husbandry farmers and fishing and pisciculture workers.
Sitharaman said that she will be announcing more initiatives for farmers, migrant workers and the urban poor in the coming days.
The prime minister had on Tuesday announced a cumulative package of Rs 20 lakh crore (nearly 10 per cent of GDP) to provide relief to various segments of the economy. This included Rs 1.7 lakh crore package comprising of free foodgrains and cash to poor for three months announced in March, and Rs 5.6 lakh crore stimulus provided through various monetary policy measures by the Reserve Bank of India (RBI).
The remaining of the Rs 20 lakh crore package is being announced in tranches. Sitharman had in the first tranche on Wednesday unveiled a Rs 5.94 lakh crore plan that mostly comprises off-budget items such as Rs 3 lakh crore of credit line to small businesses as support to shadow banks and electricity distributors.