Cooking gas prices increase by Rs 25 per cylinder, fourth hike in a month's time
New price in Calcutta is Rs 845.50 per cylinder, a rise of 45 per cent in just 10 months since May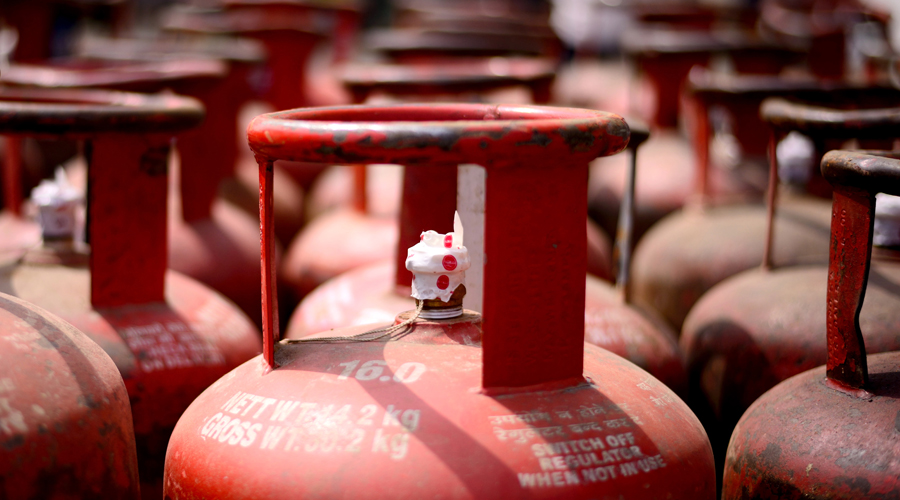 Gas prices have been raised four times in the past one month, including Monday's hike.
Shutterstock
---
New Delhi
|
Published 02.03.21, 03:01 AM
|
---
Cooking gas prices were on Monday hiked by Rs 25 per cylinder across all categories, including subsidised fuel — the fourth increase in rates in a month's time.
The new price in Calcutta is Rs 845.50 per cylinder, a hike of 45 per cent in just 10 months since May.
And given the fact that crude price remains elevated with the possibility that Opec+ summit later this week deciding on production cuts which will act as a ballast to prices, LPG prices will shoot above Rs 1,000 a cylinder — bang in the middle of the state elections given the current trend lines of Rs 100 a month hike.
Unless of course, the government steps in and asks the oil refiners to stop passing on the hike or hold them until after the elections. However, oil ministry sources indicated that no such directive has gone out as yet.
Gas prices have been raised four times in the past one month, including Monday's hike. The first hike was on February 4 by Rs 25, followed by an increase of Rs 50 on February 15 and then another Rs 25-hike on February 25. The prices have been constantly increasing since December and cumulatively there has been a hike of Rs 175 per cylinder. Union Petroleum Minister Dharmendra Pradhan has suggested the prices have increased "due to intense cold" and a recent ice storm in the US had generated the spike in the price of diesel and petrol. But the Opposition remains unconvinced.
Jet fuel prices on Monday were hiked by a steep 6.5 per cent on the back of a rally in international oil prices.
Meanwhile, aviation turbine fuel or ATF price was hiked Rs 3,663 per kilolitre, or 6.5 per cent, to Rs 59,400.91 per kl in the national capital.
Petrol sales
Indian state refiners' daily petrol sales in February rose by 1.5 per cent from a year earlier, its slowest pace of growth in six months, preliminary industry data showed, as record-high retail prices hit consumption.
State refiners' daily diesel sales, which are related closely to economic growth and account for about 40 per cent of overall refined fuel sales in India, fell 5.3 per cent in February, the largest decline in three months, the data showed.
Petrol and diesel prices have risen to record highs, mirroring global markets. Taxes account for about 61 per cent of petrol prices and about 56 per cent of diesel prices.
State fuel retailers sold 2.22 million tonnes of petrol and 5.81 million tonnes of diesel last month, the data provided by an industry source showed.
State companies Indian Oil Corp, Hindustan Petroleum Corp and Bharat Petroleum own about 90 per cent of India's retail fuel outlets.
Rising diesel and petrol prices could push up inflation, making it harder for the Reserve Bank of India (RBI) to continue its accommodative monetary policy.