Centre reduces excise duty to douse fuel price anger
Price of petrol reduces by Rs 9.50 per litre and that of diesel by Rs 7 per litre: Nirmala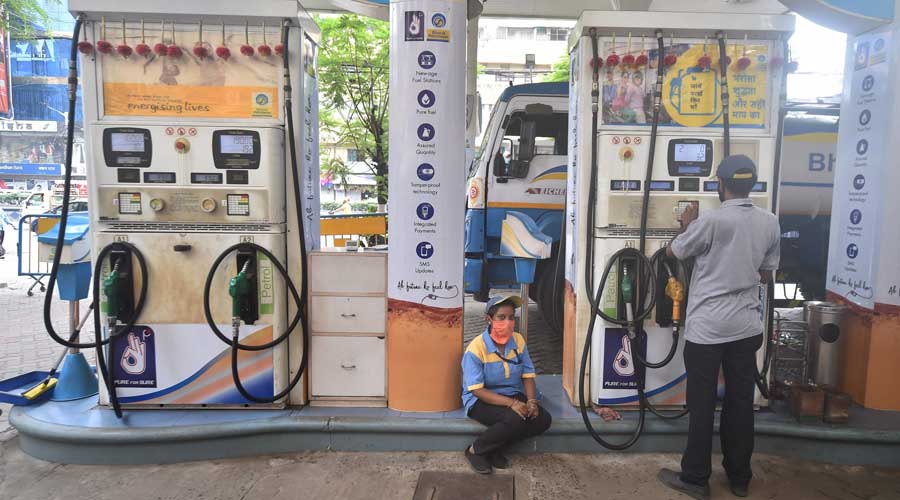 Representational Picture
File Picture
---
New Delhi
|
Published 22.05.22, 02:30 AM
|
---
The Narendra Modi government has slashed the excise duty on petrol by Rs 8 per litre and diesel by Rs 6 per litre in a desperate bid to quell the rising public anger at the surging inflation that has torched kitchen budgets this year.
Fuel rates in major cities after excise, VAT cuts
Petrol in the national capital now costs Rs 96.72 a litre as against Rs 105.41 previously. Diesel is currently priced at Rs 89.62 per litre as opposed to Rs 96.67 earlier, a price notification from state-owned fuel retailers showed.
In Mumbai, petrol rates have been slashed to Rs 111.35 a litre from Rs 120.51 while diesel rates have come down to Rs 97.28 per litre from Rs 104.77.
Petrol now costs Rs 106.03 a litre in Kolkata (earlier Rs 115.12) and Rs 102.63 in Chennai (previously Rs 110.85). Diesel is priced at Rs 92.76 a litre in Kolkata (previously Rs 99.83) and Rs 94.24 in Chennai (earlier Rs 100.94).
"This will reduce the price of petrol by Rs 9.50 per litre and of diesel by Rs 7 per litre," finance minister Nirmala Sitharaman announced in a series of tweets.
 
1/12 Our government, since when @PMOIndia @narendramodi took office, is
devoted to the welfare of the poor.We've taken a number of steps to help the poor and middle class. As a result, the average inflation during our tenure has remained lower than during previous governments.

— Nirmala Sitharaman (@nsitharaman) May 21, 2022
A litre of petrol will now cost Rs 106.03 and that of diesel Rs 92.76 in Calcutta. The excise duty cuts have been announced after retail inflation soared to 7.79 per cent in April, the highest since May
2014. At the same time, the wholesale price inflation (WPI) climbed to 15.08 per cent, the highest in at least nine years. Both indices reflect a fairly broad-based rally in the prices of food and fuel.
Sitharaman said the Centre would forgo revenue of around Rs 1 lakh crore a year as a result of the excise duty cuts.
The cuts come six months after the Centre trimmed the levy on petrol by roughly Rs 5 per litre and that on diesel by about Rs 10 per litre on November 4 last year.
The excise duty on petrol and diesel really looks like a club sandwich of levies: it comprises a basic excise duty of Rs 1.40 per litre on petrol and Rs 1.80 per litre on diesel. The second element is a special additional excise duty, which is levied at Rs 11 per litre on petrol and Rs 8 per litre on diesel. The third component is the agricultural infrastructure and development cess — charged at Rs 2.50 per litre on petrol and Rs 4 per litre on diesel.
The last element is the road and infrastructure cess. The present relief is restricted to this levy; the cess on petrol has been cut from Rs 13 per litre to Rs 5, and that on diesel from Rs 8 per litre to Rs 2. The Centre does not share collections under a cess with the states under the revenue-sharing formula set by the Finance Commission.
The government has been trying to blame the surge in prices on exogenous factors: a global supply crisis arising from the Russian invasion of Ukraine and the inexorable inflation that has ravaged the global economy, prompting the International Monetary Fund to slash global growth forecasts from an estimated 6.1 per cent in 2021 to 3.6 per cent in 2022 and 2023. The excise duty cuts are also designed to fend off criticism that the government has raked in money by raising the excise duty rates on petrol and diesel when global crude oil prices were falling at the start of the pandemic.
The combination of the duty cuts last November and on Saturday means that the Centre has effectively rolled back the Rs 13 per litre increase in petrol taxes and Rs 16 in diesel taxes between March 2020 and May 2020 — when the Modi government denied consumers the benefit of falling international oil prices.
The excise duty hikes of 2020 had taken central taxes on petrol to their highest level of Rs 32.90 per litre and that on diesel to Rs 31.8 a litre. After the latest excise cut, the central tax on petrol will come down to Rs 19.90 a litre and that on diesel to Rs 15.80 per litre.
"We are committed to ensure that prices of essential items are kept under control," Sitharaman tweeted. She added that "the average inflation during our tenure has remained lower than during previous governments" — an assertion that a number of economic pundits will contest.
At the same time, Sitharaman mounted pressure on the states to cut their levies on the two fuels, especially Bengal and Kerala which did not trim their duties in November last year, in a clear indication of political gamesmanship as rising inflation threatens to boil into an emotive issue.
Late on Saturday, the Kerala government announced a cut in tax on the prices of petrol and diesel by Rs 2.41 and Rs 1.36 per litre respectively.
The government also extended a subsidy of Rs 200 per LPG cylinder to poor households under the Pradhan Mantri Ujjwala Yojana. "This will help our mothers and sisters and have a revenue implication of around Rs 6,100 crore a year," she said.
A 14.2kg LPG cylinder costs Rs 1,003 in the national capital and Rs 1,026 in Calcutta, fuelling public outrage over the forced austerity in urban households.
Aditi Nayar, chief economist at ICRA, said: "The welcome reduction in excise duty will help to cool the inflation trajectory going ahead, and complement monetary policy. We project the May 2022 CPI inflation at between 6.5-7.0 per cent."
She added: "The fiscal cost, while material, can be absorbed by higher than budgeted revenues through other taxes. We now estimate the tax revenues of the Government of India to surpass the budget estimates by at least Rs 1.3 trillion even after the excise reduction."