Centre raises minimum support price for wheat to boost output
The increase in MSP for pulses and oil seeds clearly shows that price incentive is more to crops that can lead to diversification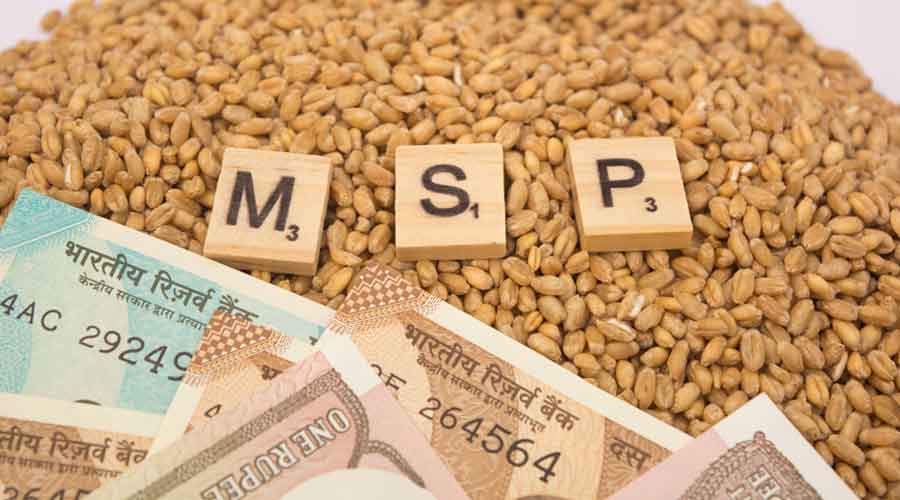 Representational file image
---
Published 19.10.22, 01:36 AM
|
---
The Union cabinet on Tuesday raised the minimum support price for wheat by 5.45 per cent to Rs 2,125 per quintal from Rs 2,015 per quintal to encourage bringing more area under the crop amid tight government stocks.
Besides wheat, the government has hiked the minimum support price (MSP) of five rabi crops by up to 9 per cent.
Farm expert Devinder Sharma told The Telegraph the hike in MSP was lower than retail inflation for September of 7.4 per cent for most of the crops. "This only shows that when farmers cultivate crops they do not realise they are cultivating losses."
The increase in MSP for pulses and oil seeds "clearly shows the price incentive is more to crops that can lead to diversification. But as past experience has shown, along with a higher price, an assured marketing system is the need to diversify from the wheat-paddy crop rotation".
Madan Sabnavis, chief economist, Bank of Baroda, said: "This year the government would be interested in ensuring that wheat procurement is on target as stocks have come down as of September due to deployment in the PM-Food scheme for the poor. The inflation concern is, however, still there as higher prices offered for wheat could lead to market prices rising by a higher rate." According to an official release, the support price of barley was hiked Rs 100 to Rs 1,735 per quintal from Rs 1,635 per quintal in the previous year.
Among pulses, MSP for gram has been increased Rs 105 to Rs 5,335 per quintal from Rs 5,230, while for lentil (masur), it was hiked Rs 500 to Rs 6,000 from Rs 5,500 per quintal.
In oilseeds, the government has increased MSP for mustard seed by Rs 400 to Rs 5,450 per quintal from Rs 5,050 in the previous year.
MSP for safflower has been raised by Rs 209 to Rs 5,650 per quintal from Rs 5,441.
The absolute highest increase in MSP has been approved for lentil (Masur) by Rs 500 per quintal, followed by rapeseed and mustard at Rs 400. In percentage terms, MSP of masur has been enhanced the maximum at 9.09 per cent.
MSP is the rate at which the government buys grain from farmers. The government fixes MSP for 23 crops grown in both kharif and rabi seasons. Sowing of rabi (winter) crops begins in October, immediately after the harvest of kharif (summer) crops. Wheat and mustard are major rabi crops.
In wheat, the government decided to hike the support price by Rs 110 per quintal against Rs 40-50 per quintal in the last two years.