Cash-strapped SpiceJet scouting for funds, investors
The budget carrier has also been approached by a big Indian conglomerate for a stake in the airline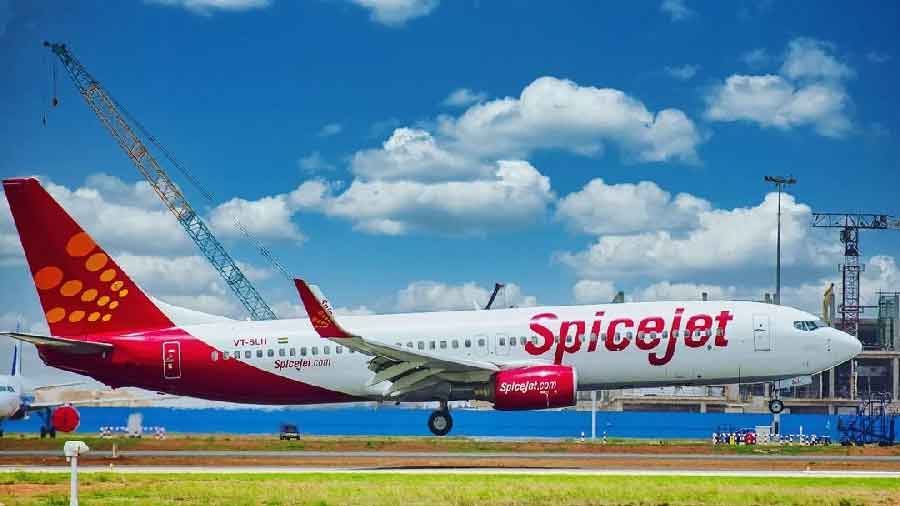 The low-cost carrier is looking for urgent recapitalisation to maintain smooth operations.
File Picture
---
New Delhi
|
Published 24.08.22, 03:02 AM
|
---
Cash-strapped SpiceJet is exploring multiple options including a stake sale to other airlines to raise up to Rs 2,000 crore, chairman-cum-managing director of the airline Ajay Singh said on Tuesday.
Singh said the airline was looking at investments from external parties, including airlines. Without divulging specific details, he said the carrier would do everything to ensure it remains a strong and vibrant player.
The shareholders of SpiceJet, which is a listed company, have approved fundraising of Rs 1,500 to Rs 2,000 crore, and some of the amounts have already been raised, he said on the sidelines of an event of industry body Assocham.
However, he did not reveal how much stake the airline will sell.
Industry sources had said the cash-strapped carrier was in talks with a West Asian airline, which has expressed interest to pick up a 24 per cent stake and a board seat in SpiceJet.
The budget carrier has also been approached by a big Indian conglomerate for a stake in the airline. Ajay Singh and family own a 59.4 per cent stake in the airline.
The low-cost carrier is looking for urgent recapitalisation to maintain smooth operations. The airline is in talks with investors who could infuse capital into the business in exchange for partial equity.
The budget carrier was affected by a ransomware attack. On May 27, the airline said it had been forced to delay its announcement of full-year results for FY22 because of the ransomware attack that had affected "the completion of its audit process". As a result, its board meet on May 30 had been postponed.
It still hasn't announced a date when the board will meet to approve its results for the previous financial year.
The airline had reported a profit of Rs 28 crore in Q3 after being steeped in losses – and it may close FY22 in the red. SpiceJet has been making losses for the last four years. It incurred net loss of Rs 316 crore in 2018-19, Rs 934 crore in 2019-20 and Rs 998 crore in 2020-21. It is yet to declare results for January-March, 2022.
Fleet expansion
Singh said the airline plans to add seven more Boeings by the end of December.
"We are doing it by way of the government-supported scheme ECLGS, getting new aircraft from Boeing and therefore through the SLB process, exploring options for fundraise ... we are exploring all options," he said.