Call to recast labour laws
The Survey said Rajasthan gained in terms of capital investment, employment, growth in factories since 2014-15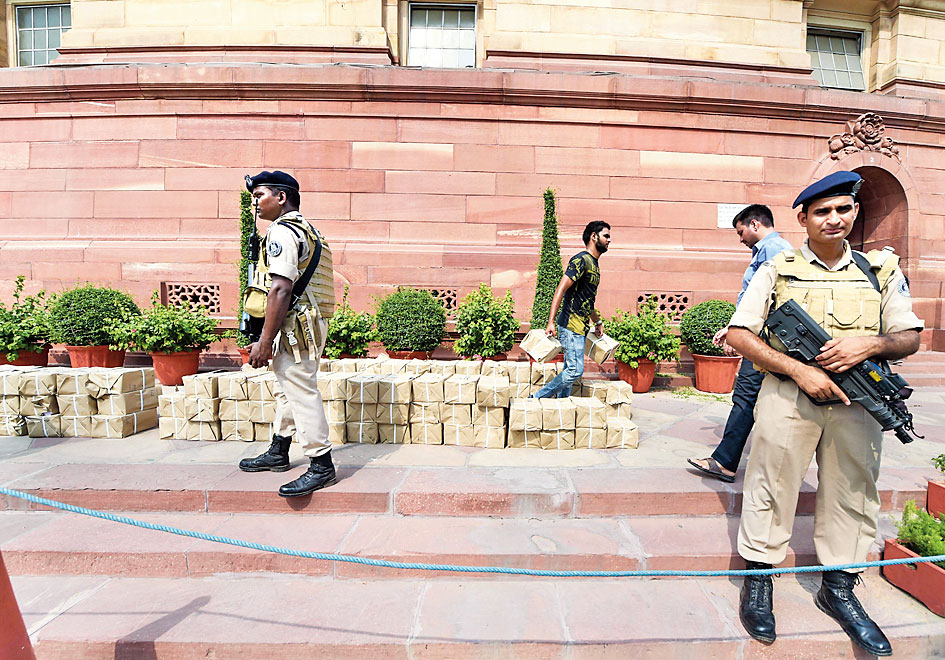 Security personnel guard copies of the Economic Survey in New Delhi on Thursday.
PTI
---
New Delhi
|
Published 04.07.19, 07:18 PM
|
---
Flexible labour laws can boost employment and factory productivity, the Survey said, while citing the labour law amendments in Rajasthan as a model.
"Deregulating labour law restrictions can create significantly more jobs as seen by the recent changes in Rajasthan when compared to the rest of the states."
However, the Bharatiya Mazdoor Sangh, the labour wing of the RSS and the country's largest trade union, has opposed the move. "We had opposed the Rajasthan model and would oppose any move to dilute the rights of the workers in other states," Virendra Kumar, organising secretary of the BMS, said.
Rajasthan had amended its rules and permitted workers to set up a union only if they formed 30 per cent of the total workforce. The changes were made by the previous BJP government under Vasundhara Raje Scindia. Besides, units with more than 300 workers need government permission for layoffs against 100 workers previously.
The Survey said Rajasthan gained in terms of capital investment, employment, growth in factories since 2014-15. It said the state performed better than the others across parameters such as the number of factories employing more than 100, average number of workers per factory and total output .
The labour ministry wants to create four labour codes – wages, industrial relations, social security and welfare and occupational safety and health and working conditions — by rationalising 44 central laws.
The cabinet on Thursday approved the Code on Wages Bill, which the Modi government is trying to pass in the current session of Parliament .
Higher retirement age
Rise in the retirement age for most of India's working population from 60 years seems inevitable due to increase in life expectancy, the Survey said. "Since an increase in the retirement age is perhaps inevitable, it may be worthwhile signalling this change well in advance – perhaps a decade before the anticipated shift."