Calcutta start-up dares Big 2
Fooza Foods Private Limited, founded by entrepreneurs Dibyendu Banerjea and Reena Lath, announced the launch of mobile application Fooza on Monday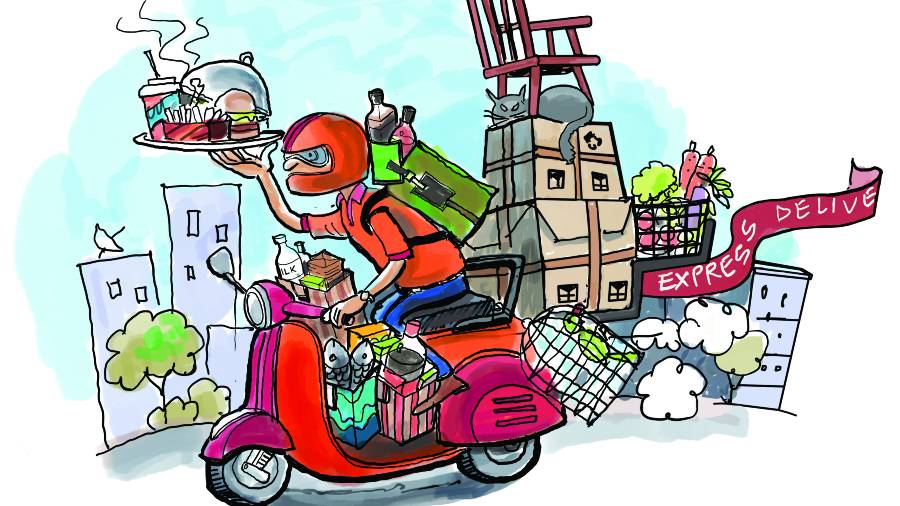 ---
Calcutta
|
Published 23.12.20, 02:19 AM
|
---
A homegrown food tech firm is gearing up to take on the food delivery duopoly of Swiggy and Zomato with an eye on breakeven in 7-9 months.
Fooza Foods Private Limited, founded by entrepreneurs Dibyendu Banerjea and Reena Lath, announced the launch of mobile application Fooza on Monday.
Banerjea, who has past experiences in the hospitality sector as the general manager of The President Hotel of IHCL in Mumbai, operations head of Boston Group of Hotels and COO of Microtel Inns and Suites, said that discussions were on with a mix of domestic and overseas investors for capital support as the company expands in new cities over the next two years.
"The idea is not to just take money and increase the value of the company. We are working on a model where internal accruals are more than the funds coming in. Me and my partner will be holding a majority stake in the company," said Banerjea.
The company is currently serving close to 300 orders a day and after Calcutta is planning to expand to Mumbai, Delhi, Noida, Gurgaon, Bangalore, Jaipur, Lucknow, Hyderabad and Chennai. "In the next 7-9 months we should be in a break even kind of position,"  said Banerjea.
Idea in pandemic
Banerjea said that the idea of the business was born during the peak months of the pandemic where several chefs were affected as hotels and restaurants were closed to prevent the spread of the Covid-19 pandemic.
Many of the chefs were looking for a platform/marketplace for the delivery of quality cooked meals from home. Subsequently, there was also demand for such a platform from home chefs and with the gradual lifting of the lockdown, the company has also started discussions with major restaurants to make the model sustainable.
Banerjea said that there were gaps in the present food delivery model such as proper fleet management, wider delivery radius, pre-order and bulk delivery of food, flexible work hours for chefs among others which Fooza intends to address.
"We are serving a radius of almost 30 kilometres within the Calcutta Metropolitan Area," he said.
Market size
Goldman Sachs has estimated the food delivery market in the country at $3.7 billion gross transaction value in 2019-20 and the market is estimated to grow to $8.8 billion in 2024-25.
Swiggy and Zomato account for 90 per cent of the total market. But profitability has been an industry wide concern with high cash burn.
"We believe a combination of higher take rates, rationalisation of rider incentives, and lower spend on promotions will help the industry reach profitability, but we expect this only in 2022-23," Goldman Sachs said in its report.
City base
Banerjea, who was born in Calcutta and studied in Institute of Hotel Management, Calcutta before going to Cornell University, is bullish about the city being the base of operation.
"My passion was to do something from Calcutta because I was born in the city. I think in New York and Calcutta, people really understand food, cuisine and service. So if you can make it over here, you can make it anywhere," he said.