By 2024, the battle of the skies could well be between Tata Air India and Indigo
With two strong airlines, it should be possible for India to reclaim its own international market from Gulf carriers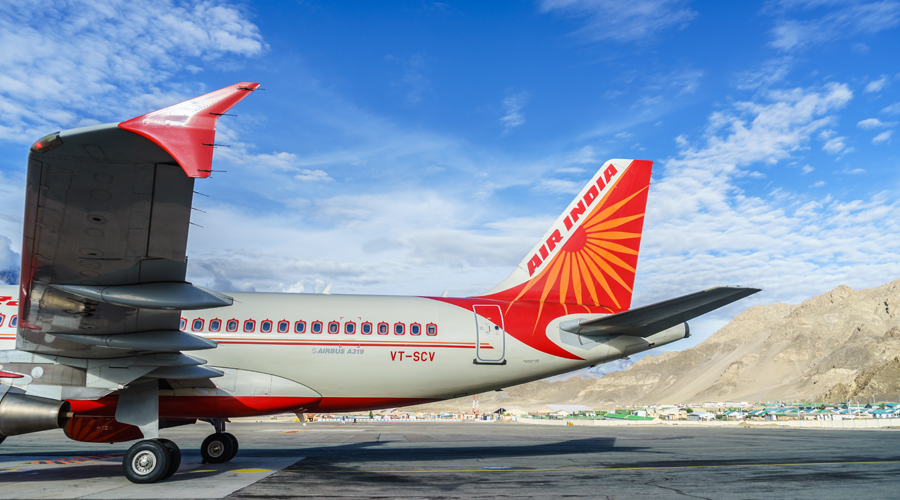 Representational image.
Shutterstock
---
New Delhi
|
Published 01.10.21, 10:38 PM
|
---
The government is denying media reports that it has approved a bid by Tata Sons to  take over Air India. But it seems a virtual certainty that the airline will be sold to the Tatas with Bloomberg reporting that an official announcement is expected in the next coming days. So let's take a peek to see what India's aviation market might look like in years to come.
Fast-forward to 2024. There's a fierce battle over Indian skies between IndiGo Airlines and the old-new challenger Tata Air India (let's call it TAI). Tata was the only real bidder for Air India in 2021 and finally walked away with the not-so-glittering prize that it wasn't quite sure what to do with.
TAI has had a hard time from the day it began flying under the new nomenclature proudly emblazoned on all its aircraft. By 2021, IndiGo had already built up a market share of around 59-60 per cent of the Indian passenger market and was the undisputed choice of a majority of the flying public.
Any challenger was bound to be punched on the nose – more than once. By contrast, TAI – created from the merger of Air India, Vistara and Air Asia India – together only added up to about 25 per cent of the Indian flying market that had been badly battered by the global pandemic.
On the ground, too, there were battles to be fought. Ask any corporate honcho and they will tell you that bringing about a merger between two companies is always a nightmare with both sides fighting for dominance in the new entity. In fact, after a decade, there are still rivalries between the old Indian Airlines staff and people from the former Air India who think that the people from the domestic airline stole the best jobs.
The Tatas had a nightmare three-way logistics and personnel problem on their lap: they had to bring together the vastly different cultures of the Government-run Air India. By contrast, Vistara, jointly owned by the Tatas and Singapore Airlines, had been tightly run with a CEO from Singapore. Air Asia India, though, had never got its management structure right and had never been able to make a dent in the Indian market. Says an aviation industry expert: "Merging three different airlines with three totally different cultures represents a huge challenge."
To add to the complications, Air Asia was a low-cost airline and Vistara a full-service airline. Air India too, had its full-service airline and Air India Express, its low-cost sibling. It's standard wisdom in the aviation industry that you can't mix the two airline models.
Initially, there were fears that both Singapore Airlines and Air Asia would object to this new merger. But Air Asia has its own difficulties at home and wanted out of the Indian market. It originally had a 49 per cent stake in Air Asia India and in 2020 sold about 33 per cent to the Tatas. That left them with about 15 per cent and it was rumoured they were ready to sell for just under $18 million. By and large, Air Asia has washed its hands of its Indian subsidiary. It's even changed the email addresses of the Indian subsidiary. Its website is now airasia.co.in from airasia.com.
Singapore was less keen, but after being battered by the pandemic was ready to go along and hope that TAI might be able to take on IndiGo. Vistara was well-managed and heading in the right direction but with only a 4 per cent to 5 per cent share of the Indian market, had a long struggle ahead. TAI had to figure how to fit into the new organisation Vistara CEO Vinod Kannan, a Singaporean Indian, who had been sent to India by Singapore Airlines.
The biggest question of all was who should head TAI and could a person with the right experience be found in India or should it launch a mammoth headhunting operation in the international aviation industry. One decision-maker would clearly be Bhaskar Bhat, the long-time managing director of Titan, who had been the Vistara chairman since 2016. Bhat has always been highly regarded in every industry he has been in.
TAI did have its strengths right from the day it began flying under the new nomenclature. The biggest of these was Air India's international long-haul routes like Delhi and Mumbai to San Francisco and JFK, in New York. "Air India has good long-haul routes. If they can hold on to that definitely in three-four years it will be a huge opportunity for the Tatas," says an airline industry executive. However, he points out that one weak point for Air India is that most of its fleet is on the older side.
Also, Air India Express, headquartered in Kochi, had managed to get a good bite of the Gulf traffic.
By contrast, IndiGo has made only hesitant steps internationally. It started a flight to Istanbul but it had one stop in the Gulf. It had also earlier started flights to destinations like Riyadh and Singapore.
IndiGo is very conscious that a key factor in keeping its costs low has been flying one type of single-aisle aircraft that can be used on any route. In 2024, it's slated to take possession of the Airbus A321XLR, a single-aisle aircraft that can fly to Europe and East Asian markets like Singapore. However, it won't be able to have a business class on such flights.
With two strong airlines, it should be possible for India to reclaim its own international market. In the 2010-2020 decade, it lost most of the international market to foreign carriers.
The biggest chunk of the Indian market has been taken by the Gulf carriers like Emirates and Qatar Air. In fact, only about 15 per cent of Indian passengers were flying on Indian carriers. And Indian travellers who stop at Dubai or Doha, form about 30 per cent of passengers for the Gulf carriers.
Airline experts believe that in the wake of the pandemic, globally passengers will want to not change flights. Says one expert: "I see hub-and-spoke operations coming down after Covid-19. People will not want to risk two flights rather than one."
On the domestic front, TAI will have a different problem. Around 80 per cent of the Indian market is made up of low-cost flyers. Vistara and Air India mostly offer full-service flights. Says an aviation industry expert: "In economy, you cannot charge more than IndiGo."
One solution to this problem might be to run full-service flights on the metro routes – the airline would be able to cash in by carrying business class passengers. Then, on smaller city routes, like say, Ranchi to Delhi, it could have low-cost flights.
IndiGo has, for over a decade, had a tried-and-tested model. The question is whether the Tatas will be able to match it.