Big goals for oil refining, gas use
India may conclude lucrative long-term LNG contracts now at a time the world is facing an LNG glut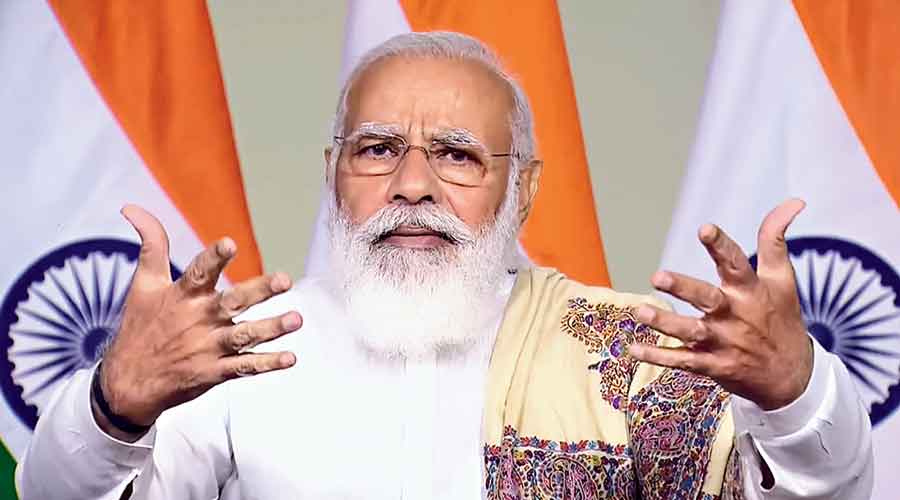 ---
---
The country plans to nearly double its oil refining capacity in the next five years and reduce carbon footprint by 30-35 per cent by increasing the use of natural gas by four times this decade, Prime Minister Narendra Modi said on Saturday.
Setting an aggressive timeline for the energy sector despite the Covid-19 pandemic, Modi, who was speaking at the convocation ceremony of Pandit Deendayal Petroleum University (PDPU), said, "In the oil and gas sector alone, crores of rupees are going to be invested during this decade, so you (students) have a lot of opportunities in this field."
Modi's comment on doubling the refining capacity seems to suggest that the government hasn't quite dropped its plans for a massive 60-million-tonne per annum refinery in the west coast in which Aramco of Saudi Arabia and Adnoc of Abu Dhabi had agreed to partner public sector giants such as IOC. The project had appeared to run aground after facing land acquisition problems in Maharashtra's Ratnagiri district a couple of years ago and some talk of disagreements between the partners. 
Further, given the government's natural gas ambition, India may conclude lucrative long-term LNG contracts now at a time the world is facing an LNG glut. Petronet LNG had struck LNG supply contracts with RasGas of Qatar and Exxon for gas from Australia's Gorgon project that have proved to be exorbitant. New LNG deals at substantially reduced prices might enable Petronet LNG to renegotiate the Qatar and Australian deals after overcoming strong resistance from those countries.
Modi also expressed confidence that the country will achieve its renewable energy generation target "before time".
"Today, the per unit cost (of solar power) has come down to less than Rs 2 from Rs 12-13 earlier. Today, solar power has become the country's priority. We have made a commitment to generate 175 gigawatt renewable energy and I am confident that we will achieve this before 2022," he said.
"Also, our renewable energy target of 450 gigawatt by 2030, a big aim, will be achieved before time...I am confident of that," he said.