Bengal govt partially agrees to Centre's latest GST shortfall formula
Bengal finance minister Amit Mitra has called for another meeting of the GST Council to discuss the proposal to borrow an additional sum of Rs 72,000 crore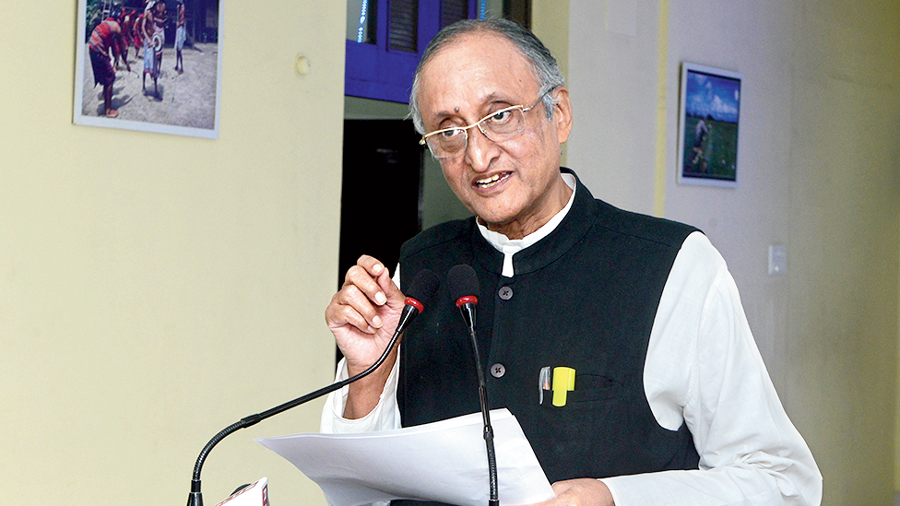 Bengal finance minister Amit Mitra.
File picture
---
Calcutta
|
Published 14.11.20, 02:55 AM
|
---
The Bengal government has partially agreed to the latest formula proposed by the Centre to clear the shortfall in GST compensation to the states.
While it has decided to go along with the Modi government's proposal to borrow Rs 1.10 lakh crore, which constitutes two thirds of the outstanding dues, and pass it on to the states, it has refused to accept an accompanying proposition that the states must borrow the remaining amount.
After three rounds of protracted meetings of the GST Council, Union finance minister Nirmala Sitharaman wrote to the chief ministers of all the states, stating that it accepted the demand raised by various states, including Bengal, to borrow a sum of Rs 1.10 crore and pass it on to the states.
She also proposed that the rest — around Rs 72,000 crore constituting about one-third of the total estimated shortfall of GST compensation cess — would have to be borrowed by the states. Accordingly, the Centre relaxed limits by permitting states to borrow an additional 0.5 per cent of state's gross state domestic product (GSDP).
In a letter written to Sitharaman on Friday, Bengal finance minister Amit Mitra argued that borrowing by the states would result in higher borrowing costs and a bigger debt servicing burden than if the Centre borrowed the sum on their behalf.
While the central formula proposes to apportion the borrowing requirement between the states and the Centre, the burden of meeting the shortfall will fall on the common people. In either case, both the principal and the interest of the loan will be met by extending the period of collecting the compensation cess beyond 2022. The cess is largely imposed on luxury products and demerit goods such as cigarettes.
Mitra has called for another meeting of the GST Council to discuss the proposal that the Centre ought to borrow the additional sum of Rs 72,000 crore. 
"May I also point out that the GoI (Government of India) has been able to borrow the initial compensation funds from the special window of the RBI at a low rate of 5 per cent, approximately, whereas the interest rates paid by the states for competitively borrowing from the RBI auction is as high as 6.8 per cent," Mitra said in his letter. 
"In other words, by asking the states to borrow one-third of the potential compensation funds from the competitive auction market of the RBI, a lot more debt servicing burden will be generated for the states, to be paid from the cess collection. This huge differential in interest rates between the GoI's special window rate and the market borrowing rate of the state, provide a cogent reason for the GoI to borrow the whole amount from the special window," Mitra added.