Banks told to push Re-linked trade deals
Finance ministry bid to promote the settlement of international trades in rupees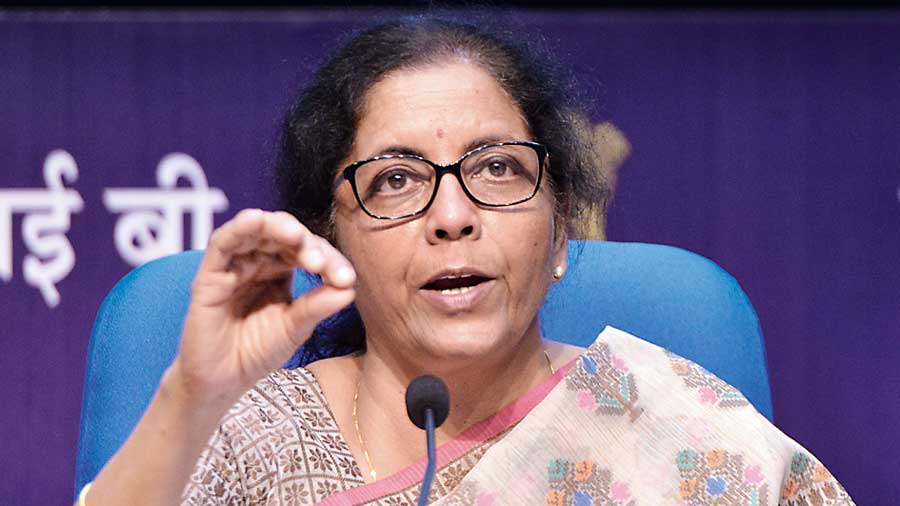 Union finance minister Nirmala Sitharaman
File picture
---
Mumbai
|
Published 08.09.22, 02:00 AM
|
---
The finance ministry on Wednesday held a meeting with banks and other stakeholders as it sought to promote the settlement of international trades in rupees.
In July, after the rupee had touched record lows, the Reserve Bank of India (RBI) announced an arrangement wherein trades can be settled in the domestic currency. It was also designed to facilitate trade with Russia which is facing sanctions because of the invasion of Ukraine.
The sanctions meant exporters and importers dealing with the Russians could not use the dollar for transactions, which hurt India as it was buying crude oil from Russia at low prices. The rupee facility is yet to be adopted by banks because they fear sanctions by the Western countries.
They were concerned that they may face strictures if an arrangement is entered with an entity that has been sanctioned.
The Centre has now reportedly alleviated these apprehensions by saying that they can enter into such an arrangement with entities that are not under any sanction.
At a press conference soon after the RBI raised the repo rate by 50 basis points last month, deputy governor RabiSankar had said they had received some requests from banks even as the larger lenders are finalising their respective arrangements.
The meeting on Wednesday is understood to have been chaired by financial services secretary Sanjay Malhotra and it was called to ask banks to encourage exporters to negotiate on rupee trade.
In rupee trade, banks will have to open a special rupeevostro accounts of the correspondent bank of the partner trading country.
A vostro account is an account opened by a bank in its home country on behalf of a foreign lender.