Bane sparks boom for tea growers as prices spike
Tea Board data suggests that in July, August and September, north India tea prices were higher by more than 50 per cent than the corresponding months of 2019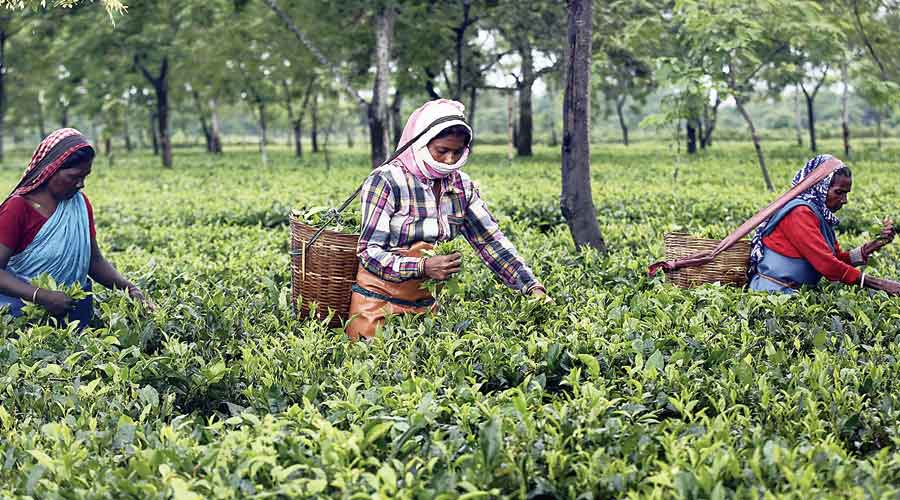 ---
|
Calcutta
|
Published 14.10.20, 01:15 AM
---
Tea — the golden elixir — brought some shine back to its hapless producers after a gap of seven years as the pandemic tightened supply by weeding out excess crop from the market and household consumption increased as people preferred to work from home.
The ongoing trend of supply outstripping demand as small tea growers flooded the market was reversed from June onwards as the lockdown induced disruption and floods destroyed crops, resulting in more than 50 per cent higher auction prices during the July-September period.
Even after factoring in a 20 per cent drop in production, a lot is left on the table for the producers, especially the well-managed ones. Large planters — the garden owners — had their best quarter in this period, helping them wipe off some of their losses of past years. They, however, are unsure if the party will last long as prices have started correcting sharply after hitting a high in mid August.
Listed companies will come out with their second-quarter results some weeks later but Atul Asthana, managing director of Goodricke Group, agreed that the second quarter should be better than the first.
"Prices were firm and demand was strong. There was an uptick in domestic at-home consumption too. Packet tea is doing good too, making up for the slack in sale of loose tea. I expect the trend to continue at least till September of 2021," Asthana told The Telegraph.
Goodrick is part of Camellia Group Plc, the world's largest producer of bulk tea.
Tea Board data suggests that in the months of July, August and September, north India tea (Assam, Darjeeling, Dooars & Terai) prices at the auction were higher by more than 50 per cent than the corresponding months of 2019. If an annual average is taken, prices are higher by 26 per cent between January and September.
So far there has been a 153 million kg crop loss till August, representing an 18.3 per cent cut from 2019. Initial estimates suggest that September production was less than last year too, all but balancing out the 160-170 million kg surplus in the system at the start of the year.
As plants remained unattended and leaves grew bigger during the lockdown resulting in minimal production of the first flush, planters took up deep skiffing — a form of pruning — which resulted in good quality tea when plucking started from June.
"Packet tea players had bought large quantities in the early period as they had to maintain a certain blend quality throughout the year. However, it appears they are not as aggressive now as they used to be," an industry insider said.
Hindustan Unilever (HUL), India's largest packet tea seller, said it experienced double digit growth in tea sales in the first quarter as it raised prices a bit to offset input cost pressure. Tata Consumer Product Ltd (formerly Tata Tea), the second largest player, said it had 4 per cent volume and 8 per cent value growth in the first quarter.
Chandra Kant Dhanuka, past president of the ITA and owner of Dhunseri Tea, said it was about time that prices go up as it was stagnant for seven years while costs increased by 8-10 per cent during this period. Offering an ingenious take on inflation adjusted historical prices, Dhanuka threw up a tantalising proposition: "By profit from 1 kilo of tea, I could buy 10 kilo of potato during 1974-99. Today with the same profit, I may be able to buy just 2 kilo."
Dhanuka said his company would make good profit but the future is hazy as prices have "crashed". It is a fact that Calcutta auction prices have come down by 17 per cent to Rs 258.59 a kilo by October 10, after hitting a high of Rs 314.22 a kilo in the week ending August 15.
Unsold quantities in the auctions are growing, driving a downward pressure on prices. At least one source said packeteers are picking up from that lot but offering extended payment terms.
Asthana, however, predicted that next season could start with a shortfall in the pipeline (as against a surplus) this year and the demand-supply will not reach equilibrium before September when usually higher quantities of crop is produced.
"By then, there will be a new benchmark in tea prices. Let's face it. A Rs 100 per kilo rise translates into only Rs 0.25 increase in per cup of tea. I think all consumers can afford it and it would ensure long term survival of Indian tea industry," he said.
ITA secretary Sujit Patra believed that higher domestic consumption could hold up the price going forward. Exports, however, would be lower this year, industry sources said.