Andhra Pradesh aces business reforms
New methodology of user feedback system implemented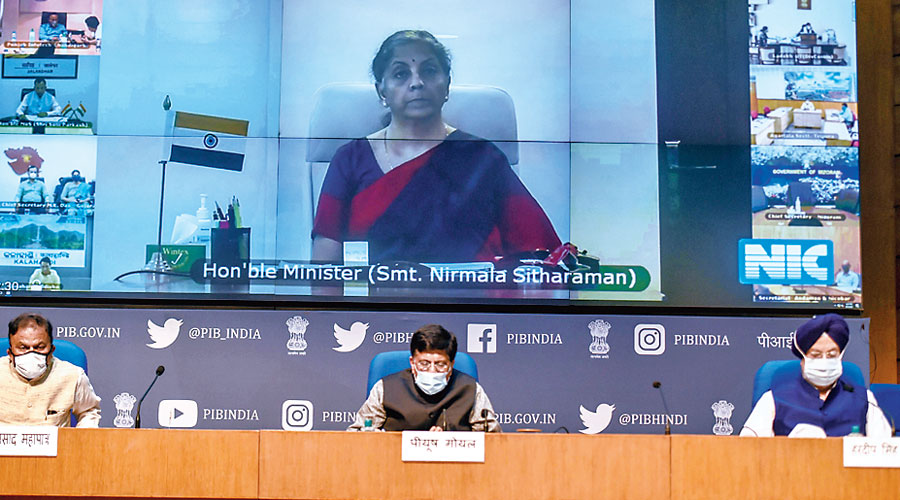 ---
---
Andhra Pradesh retained the top spot in the ranking of states and Union Territories based on the implementation of the Business Reform Action Plan, according to a report released by finance minister Nirmala Sitharaman on Saturday.The new methodology of user feedback system dragged down the performance of several states as their claims did not align with feedback from users.
The ranking of Uttar Pradesh vaulted to the second position from 12th in the previous round under the new methodology, while Telangana dropped to third in the rankings from the second position a year ago in ease of doing business for 2019, according to the report prepared by the department for promotion of industry and internal trade (DPIIT).
Bengal ranked ninth in the report, up one rank from last year.
Several states such as Haryana (16th from 3rd), Karnataka (17th from 8th) and Odisha (29th from 24th) saw their ranks dip significantly as the latest Business Reform Action Plan is based on user feedback, ignoring the reform claims by state governments.
The ranking, which was introduced in 2015 with 285 action points, expanded to 372 measures in 2017-18 spread across 12 areas, including registering property, paying taxes and labour regulation enablers.
Sitharaman said the ranking makes states and Union Territories a better place to do business. The parameters include areas such as construction permit, labour regulation, environmental registration, access to information, land availability and a single-window system.
The DPIIT conducts the exercise for all states/Union Territories under the Business Reform Action Plan. The ranking is based on the implementation of this plan.
Sitharaman said the fact that the rankings were linked 100 per cent to user feedback indicated that the government was committed to take the benefits down to the grassroots.
"The competition will get healthier and more reforms will come rolling out in the years to come," she said.
"The ranking per se does not reflect that one is superior to the other. It captures the effort that states are making to better their ranking," pointed out commerce and industry minister Piyush Goyal.
It is a competitive ranking and if a state has done good work and another does better, it can jump up the ranks, added Goyal.
"With a unique model of competitive and cooperative federalism and diligent work by all states, India is succeeding in emerging as an attractive investment destination as is seen in the recent surge in FDI," said Chandrajit Banerjee, director-general of the Confederation of Indian Industry.