AMNS maps out expansion plan in Gujarat, Odisha
CEO Dilip Oommen speaks about the company's roadmap in India, which includes significant investment in renewable energy to reduce carbon footprint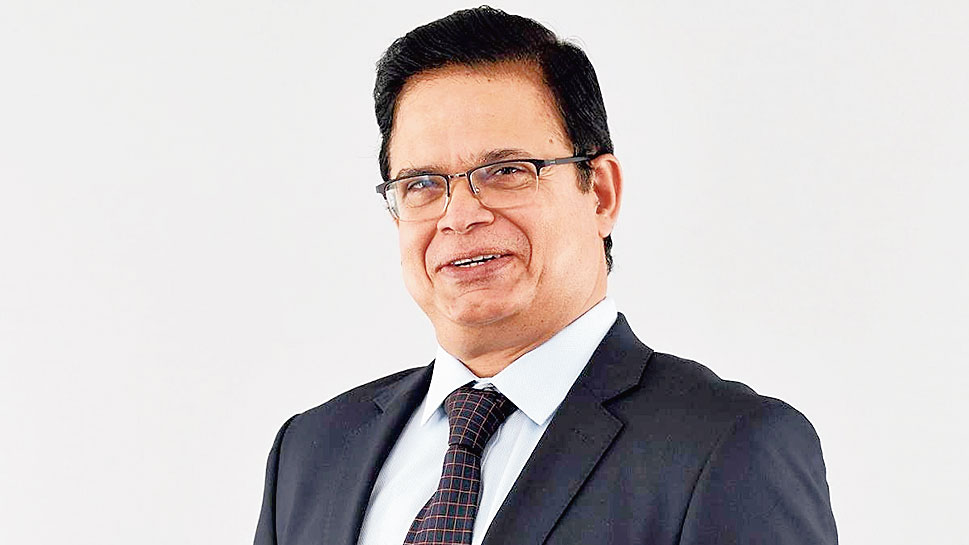 ---
Published 29.11.21, 01:20 AM
|
---
AMNS India, the joint venture between ArcelorMittal and Nippon Steel, is on the cusp of a major breakout. The company, which owns and operates the erstwhile Essar Steel plant, is taking up a Rs 12,000 crore project to expand value added steel capacity and debottleneck the existing unit. Simultaneously, the company is doing preparatory work to take the capacity to 15mt by 2025.
AMNS India CEO Dilip Oommen speaks to The Telegraph about the company's roadmap in India, which includes significant investment in renewable energy to reduce carbon footprint. An edited excerpt:
We see a divergent trend in the India steel sector. Taking advantage of the buoyancy in steel prices resulting in strong cash flow, some are repairing the balance sheet, the rest are fast tracking expansion. Where does AMNS see itself?
Fortunately, we are not very heavily leveraged.  Our debt to EBIDTA ratio is healthy and it stands at 1.5. Our cost of capital is also under control. The focus of AMNS is to expand its footprint in Gujarat and  Odisha, growing both upstream and downstream.
I understand the plan is to take Hazira capacity to 8.6 million tonne and then to 15mt. Where do you stand now?
Work on the debottlenecking and expansion of value added products range are going on right now.
Simultaneously, the preparatory work such as engineering, selection of OEM suppliers, construction agency are being done as we speak even for the second phase up to 15mt.
What will be the investment in the first phase?
It will be about Rs 12,000 crore —- the downstream units in itself will cost about a billion dollar.
What are the downstream units coming up at Hazira?
Several units are coming up. Cold rolling mill, galvanising plant, coated product, continuous annealing line. These units will be ready within two years (2023). We are looking at higher grades of automotive steel.
When do you expect the second phase to be ready and what will be the investment?
By 2025. It will cost about Rs 24,000 crore because the project is almost like a new plant. We have carved out an area for this project.
AMNS also committed to put up a 12mt plant in Kendrapara in Odisha and another 6mt at Paradip. How soon are they likely to materialise?
We have our own land in Paradip. But there is some rehabilitation to be done. Kendrapara could take a little more time.
The pace of growth is likely to be faster at Hazira but we are also simultaneously putting effort in Odisha to start work.
The government is undertaking a disinvestment programme in the steel sector. Neelachal Ispat Nigam Ltd (NINL), NMDC steel plant at Nagarnar and RINL in Vizag will be sold off in phases. Will you bid?
We have kept all the three on our radar. We will evaluate all the opportunities that may come up.
How do you plan to finance such large ambition?
First priority will be to use our own accruals. But there will be some shortfall. This will be met by debt. We will see how to keep the cost of capital lowest.
Any plans for an IPO?
None as of now.
How do you foresee expansion to align with the goals to reduce carbon footprint?
You know that AM and Nippon Steel are frontrunners in production of green steel and reduction in CO2. AMNS will thus have access to the best of technologies available globally.
Up to 14mt, the pace of CO2 reduction will be slower as the production would be based on traditional methods. But even in the blast furnace, we will use the best technology to achieve high efficiency standards.
Beyond that, we will look at technology which has a low CO2 footprint. Eventually we might even look at phasing out Corex because it is not very efficient in CO2 emission.
Our final aim is to go to hydrogen, to use it both as the fuel and a reductant. Apart from hydrogen, we will also look at renewable energy. We are making a foray into the space of renewable energy.
Could you take us through this?
We will have a big requirement of renewable energy with the expansion which is taking place. The ultimate requirement, because to produce hydrogen you require electricity, will be a combination of our requirement for production of steel as well as hydrogen so that it can be used at the steel plant.
What kind of capacity are you looking at?
We are looking at 5,000 megawatt of renewable energy to meet the requirement of AMNS India. This will include production of hydrogen. But we will do it in phases, 500MW to begin with and then see how soon it can be ramped up. However, there are other ways to ramp up fast.
Acquisitions?
No comment.
How soon will renewables come up?
We are incentivised to get into the renewable space by 2025. The government has announced a waiver of transmission charges for renewable and storage energy. Our aim is to keep the cost below Rs 4 per unit.
Is production of hydrogen commercially viable now?
Cost of production of hydrogen is high. Right now it is about $3.5 a kg.
This has to come down to $1-1.25 a kg to make it commercially viable.
AMNS has also secured iron ore mines in Odisha in auction. How much does the company plan to mine in the next 12 months?
About 10mt. When the two mines are fully ramped up, the production will reach 15mt.