Amit Mitra busts Modi's inclusion myth
The principal chief adviser to the Bengal CM called for urgent intervention to help out entrepreneurs at the 'bottom of the pyramid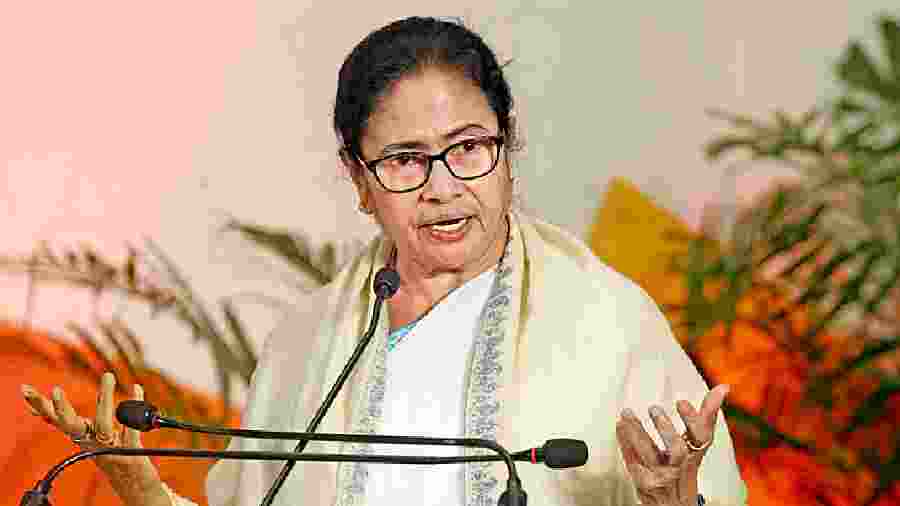 Chief minister Mamata Banerjee in Calcutta on Monday.
A Telegraph picture
---
Calcutta
|
Published 10.01.23, 02:00 AM
|
---
A large section of weavers and artisans are being denied bank credit after the recent regulatory changes by the Modi government left them out of the formal financial system, Amit Mitra, the principal chief adviser to the Bengal chief minister, has alleged.
In a letter written to Union finance minister Nirmala Sitharaman on Monday, which coincided with the G20 convention on global partnership for financial inclusion under the Indian G20 presidency taking place in Calcutta, Mitra called for urgent intervention to help out entrepreneurs at the 'bottom of the pyramid'.
Reminding that the changes brought about by the finance ministry and the RBI are anathema to financial inclusion and contradictory to G-20's action plan, Mitra urged that necessary rectification should be done to support the creative economy that artisans and weavers are part of.
Quoting data from Bengal alone, Mitra pointed out that over 60 per cent of applications from weavers and artisans were rejected between April and September, 2022.
"In a recent meeting of the state level bankers' committee, which I mentor, it became evident that the cause of the huge level of rejections by the banks was the stringent notification by the government of India which made mandatory a variety of requirements including a PAN card, for even these micro weavers and artisans. Unfortunately, the RBI has brought out a similar notification," Mitra wrote.
Later, speaking to The Telegraph, Mitra argued that the extra burden of compliance is uncalled for given that the credentials of the artisans and weavers applying for bank loans are usually verified by district industries centres.
"Imagine a weaver from Murshidabad to register online in a government portal, which requires several documents, including PAN, to qualify for a bank loan. The process, which is being thrust upon forcefully, is very far from the ground reality," Mitra said this evening.
He wondered that rejections could run into '5-10 lakhs' in the country as a whole, if the number from Bengal alone is over 40,000.
"I humbly urge you to pursue both the RBI and the MSME department of the government of India to rectify the notifications and allow self certification by micro weavers and artisans for loan applications, as was the case in the initial notification," Mitra wrote.
The new notification was introduced in November 2020 but enforced from the beginning of this fiscal.
Mamata at G20
While Mitra highlighted how the Modi government's policy was throwing people off the formal economy, Bengal chief minister Mamata Banerjee painted a contrasting picture, showcasing her government's efforts in financial inclusion through digital means.
Participating in the 3-day G20 convention on global partnership for financial inclusion(GPFI) in Calcutta, Banerjee welcomed delegates from participating countries and recounted the policies undertaken by the state to empower women, students, artisans, self-help groups, and MSMEs.
"Ours is a government with a human face — free food to poor, free education to girlchild, free treatment in hospitals…We give women empowerment — cash money directly to banks by digital transfer.(About) $1.5 billion we spent only for women — it combined digital financial inclusion," Banerjee said.
She pointed out how credit to MSMEs and SHGs havemultiplied during her 12-yeartenure as CM. Some of Bengal's flagship welfare schemesinclude Kanyashree (free education to girls) and LakshmiBhandar (direct cash transferto women).