Akasa Air begins commercial operations on Sunday
Aviation minister Jyotiraditya Scindia virtually flags off first flight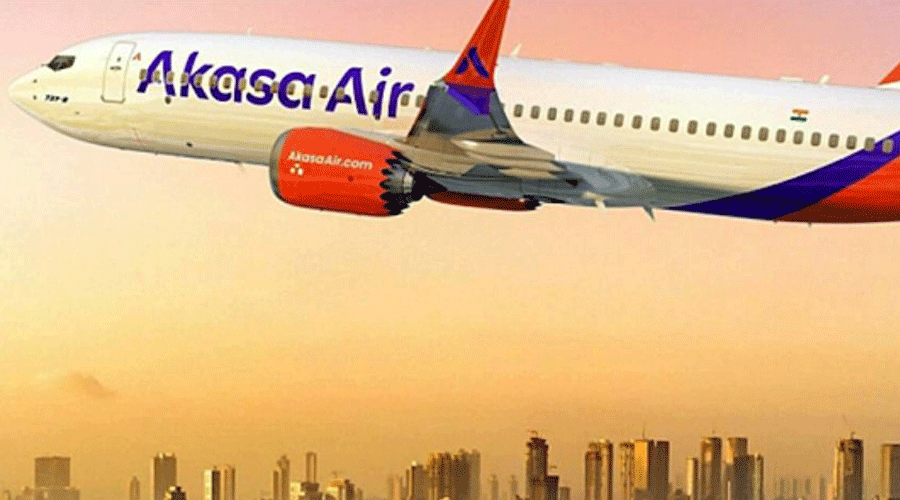 Maiden flight from Mumbai to Ahmedabad.
The Telegraph
---
Mumbai
|
Published 08.08.22, 01:36 AM
|
---
India's newest budget carrier Akasa Air, which is backed by billionaire Rakesh Jhunjhunwala, began commercial operations on Sunday with a maiden flight from Mumbai to Ahmedabad.
Aviation minister Jyotiraditya Scindia virtually flagged off Akasa Air's first commercial flight.
Starting from Sunday, Akasa Air will operate weekly flights from Mumbai to Ahmedabad, a commercial hub in the neighbouring state of Gujarat, the company said in a statement.
"We want to serve our country by creating strong transportation links which are the underpinning of any economic growth engine," Vinay Dube, founder and CEO of the airline, said in the statement.
Jhunjhunwala, known as "India's Warren Buffett", has teamed up with ex-Jet Airways CEO Dube and former IndiGo head Aditya Ghosh to set up Akasa.
Akasa, which has a total of 72 Boeing planes on order, will compete directly with other budget carriers such as IndiGo, SpiceJet and GoFirst.
Jhunjhunwala, who was present at the Mumbai airport, said in his speech: "I must thank you (Scindia) because people say that India has a very very bad bureaucracy but the co-operation that the ministry of civil Aviation has given us, it is unbelievable."
Nowhere in the world has an airline been conceived and born in 12 months, he added.
"Normally a child is born in nine months, we took 12 months. It would not have been possible without the cooperation of the ministry of civil aviation," he noted.
After virtually flagging off the flight, Scindia said this indeed is a "new dawn" for the civil aviation sector in India in more ways than one. "The sector across the world has been through a very trying time through the last decade or two. Many black swan events have turned the fate of this industry globally," he said.
In India, this was a sector that once saw a plethora of new entrants, new entrepreneurs and new ideas. But over the past decade, it has witnessed a closure of many visionary airlines, he noted.
"Therefore, I say this is a new dawn in many ways for our sector in India," he said.
Domestic air travel in India has made a sharp recovery this year with airlines flying over 57 million passengers in the first half, up 238 per cent from last year, government data showed.
Akasa Air is slated to begin services on the Bangalore-Kochi, Bangalore-Mumbai and Chennai-Mumbai routes from August 13, August 19 and September 15, respectively.
Healthy growth
The country's civil aviation sector is poised for a phenomenal and healthy growth in terms of passengers, aircraft and airports, with the number of air travellers projected to touch 40 crore by 2027, Scindia said.
With Akasa Air commencing services on Sunday, Scindia said it is a very important day in the history of civil aviation in India.
"It has been eight long years since an airline has been launched in India. In the last almost two decades, all we have heard is how difficult it has been for airlines to function, multiple issues they have internally faced and we have seen seven airlines being shut down (over last 20 years)," Scindia told PTI.
According to the civil aviation minister, with Akasa Air, a reborn Jet Airways and a re-invented Air India, the signs are very clear that it is going to be a growing market in the country.