Aditya Ghosh touches down on OYO
For the first time, we have this opportunity to create a brand out of India that's truly global, says the OYO CEO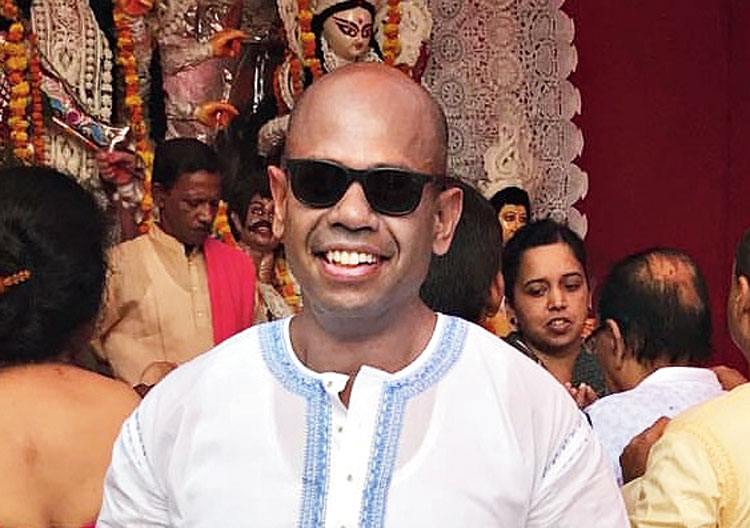 Aditya Ghosh dressed up for Durga Puja
Source: Aditya Ghosh's Instagram
---
Published 16.03.19, 07:18 PM
|
---
When Aditya Ghosh left IndiGo in April 2018, he could have joined any big company with a legacy. After careful consideration, he chose OYO Hotels & Homes, which its 25-year-old founder Ritesh Agarwal has taken from being a start-up to a company valued at $5 billion and present in 10 countries.
Everybody wanted to know the logic behind Ghosh's decision to join OYO as its CEO (India and South Asia). To find out, we met the 42-year-old at Delhi's India Habitat Centre moments after the company announced a commitment of Rs 1,400 crore ($200m) for the India and South Asia business as part of expansion plans and to improve customer experience.
On a lawyer becoming CEO
First I studied science and maths in school. Then history and then law. As a lawyer, you are trained in a way to declutter and come back to what is important for that particular case on that particular day. You are trained to look for a needle in the haystack. Having said that, my biggest learnings have been with the leaders I have worked with. And more importantly, the line folks I got to work and interact with. I am ever curious, constantly asking questions. I always want to learn something new. I am ever grateful for the people around me, be it at the airline or today. The amount of patience people show answering my questions, I have always benefitted from that.
On meeting Ritesh Agarwal
I met him in early-August for the first time. We have bumped into each other at award functions and things like that but we didn't know each other nor did we have each other's numbers. He often says that I was constantly talking myself out of the job. Frankly, I was not meeting him for a job. We met to exchange ideas and discuss some challenges. I just couldn't see why he would need someone else to come and partner with him. He has got a great leadership team, nothing is broken in the business, he is growing at a phenomenal scale, attracting talent left, right and centre. And more than anything else, he was (then) just 24 years old. So he was not tired!
We could connect at a level where there was no pressure. In the first two days we spent 13 hours with each other and then we had a series of conversations. What became obvious was the chemistry between the two. What is important is that we are not identical people — we have different interests in food, music and films. But dare I say that we are also very complementary.
The ah-ha moment came when I realised two things — on one hand it is a similar business (customer, market segments, price points) but it also pushed me completely out of my comfort zone because it has nothing to do with the airline business. And then, for the first time, we have this once-in-a-lifetime opportunity to create a brand out of India that's truly global. You can go buy a KitKat in Asansol, Durgapur, Roorkee and Chikmagalur but can you go to the Midwest in the US or the interiors of Europe and find an Indian brand in a street corner? After having the phenomenal opportunity in my previous job, where I was able to be a part of a story where you can create from scratch a world-recognised brand from India, this opportunity fell into my lap… of creating a global brand this time, which hopefully will have consistency in terms of quality, reach and depth.
On holidaying between jobs
I was camping in the interiors of Kashmir... no glamping. It was serious camping, complete with cooking on wood fire. My exposure to OYO was when one day, Ritesh, at 11.30 at night, said let's go and see a few properties. We made bookings on the OYO app and showed up at some hotels in Delhi and Gurgaon. Finally, on one of those nights, at around 1.30am I told him let's go and see the office. We landed up at the OYO office; nobody was there and the guards didn't recognise us. Further, he didn't have his identity card. So we walked down to the basement and then to the 12th floor. There is a terrace there and we spent two hours walking up and down while talking.
On the unlearning curve
I come from the background of one brand and one product and one type of service. And everything gets built around that. It took sometime to understand the logic and now I am a big champion of it... about why we should have a multi-brand strategy. For a CEO of a low-cost carrier, who constantly talked of one product, to now come in and say, no, seven brands may work or even 20 brands may work... is a different experience. The way the customer behaves here is very different because they are divided by price point, they are divided geographically, they are divided by demographic.… So you already have a matrix.
Then you think that the same customer one day has a certain need when he is with his kids, another day he has different needs when he is with college friends. When you put all these probabilities into a grid, there are a large bunch of possibilities. What do legacy hospitality businesses do? They say, we will have this number of blocks or pigeonholes and you either fit in or don't. We are doing the exact opposite. We will say if there are 16 possibilities, we will address all 16; we will take on that additional complexity; we will create different brands and price points; we will take the brand to where you are. This was a major learning and to some extent an unlearning.
On Bangla and being a Bengali
My favourite food in the world is posto. I work out intensely — I do weight training — to Rabindrasangeet! That may sound really strange. I take a lot of pride in my heritage. My wife is a Punjabi, my sister-in-law is a Tamilian. We speak Bangla at home. Here is an interesting story. I grew up in Delhi and so I studied English and Hindi. As a kid, whenever there were arguments, I argued in English because I was thinking in English. My mother told me, if you have to argue, argue in Bangla. At home I speak Bangla. I was born in Calcutta but I was brought up in Delhi. But my summer vacations were spent in Calcutta. Everybody in the family, other than my parents, still live in Calcutta.