World's oldest travel firm collapses
Fall of Thomas Cook blamed on falling value of pound and Brexit uncertainty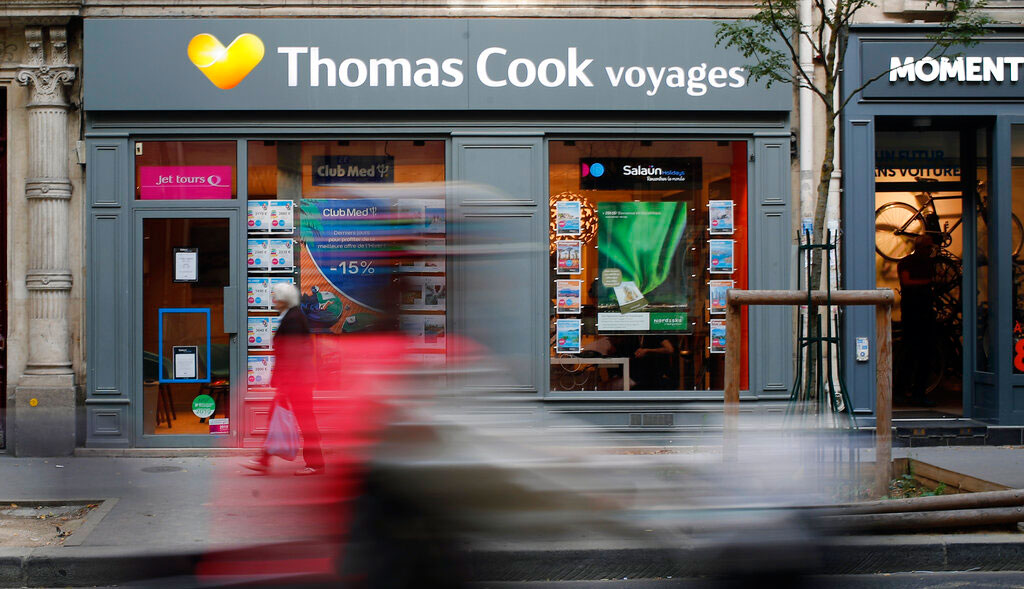 People walk past a Thomas Cook travel shop in Paris on September 23, 2019.
(AP)
---
London
|
Published 23.09.19, 07:38 PM
|
---
Lewis and Amy Bromiley, a young couple from Manchester who got married in August, were about to set off for their dream honeymoon in the Maldives but have been now caught out by the overnight collapse of Thomas Cook, Britain's and indeed the world's oldest travel firm.
It was set up by an enterprising cabinet maker 178 years ago in 1841.
What is happening to the Bromileys tells the human side of the story. It is estimated that 600,000 holidaymakers are affected, 165,000 of them British for whom the UK government is organising the biggest peacetime repatriation operation using 47 charter aircraft on 64 routes across the world.
Lewis Bromiley told of his disappointment: "Me and my wife are devastated. We wanted to go to Maldives as it's paradise and we're looking to plan for children soon, so we wanted to tick it off out bucket list, before we couldn't.
"We booked it over a year ago, so we got the best deal, and now it's cancelled. It appears we won't be able to go to the same place now, and will have to wait a while to get our £7,000 refunded."
The bigger picture is that the collapse of Thomas Cook is offering a disturbing vision of Brexit Britain. Many factors, such as management problems lie behind the company's demise, but the falling value of the pound and the uncertainty caused by Brexit are also said to be responsible. It also hasn't helped that customers today book online rather than use Thomas Cook travel shops in High Streets.
Thomas Cook India is going out of its way to reassure its customers that their travel plans are not affected since it is a separate company from Thomas Cook (UK).
"Please be reassured that all your bookings and transactions will continue to be smooth and we look forward to having you enjoy your trip with Thomas Cook India," it said in a statement.
It explained: "Thomas Cook PLC (UK) has no relationship with Thomas Cook India as we were acquired by Canada based Fairfax Financial Holdings (Fairfax) in 2012. We are completely independent of Thomas Cook UK & hence the news of their situation does not impact us."
Although Thomas Cook India shares have been affected, its chairman and managing director Madhavan Menon gave out the same message: "Thomas Cook (India) Ltd. was acquired by Fairfax Financial Holdings via a 77 per cent stake in 2012. Thomas Cook UK has had no stake in Thomas Cook (India) Limited since then."
In London, last minute talks to save Thomas Cook, which was asking for a bail out of £250 million, failed, with closure declared at 2am on Monday. As a result, 22,000 employees in 16 countries, including 9,000 in the UK, are now out of work.
Shailesh Vara, the Indian origin Tory MP for North-West Cambridgeshire, said that of the 9,000 jobs being lost, "1,200 are in my constituency where the company's headquarters are based (in Peterborough). I will be doing all that I can to assist those affected."
The government is to spend £100 million on getting British holidaymakers home.
Britain's transport secretary Grant Shapps announced that the government and the Civil Aviation Authority have hired charter planes to fly customers home free of charge.
Shapps said: "Thomas Cook's collapse is very sad news for staff and holidaymakers." When asked why the government hadn't simply bailed Thomas Cook out, he replied: "The company were asking for up to £250 million, they needed about £900 million on top of that and they've got debts of £1.7 billion, so the idea of just spending taxpayers' money just wasn't really a goer."
One man in the firing line is Peter Fankhauser, Thomas Cook's Swiss chief executive, who has taken home £8.3m in pay since he took the helm in 2014, including a £2.9m bonus in 2015 even though the company was struggling.
He said: "This marks a deeply sad day for the company which pioneered package holidays and made travel possible for millions of people around the world.'
"Generations of customers entrusted their family holiday to Thomas Cook because our people kept our customers at the heart of the business and maintained our founder's spirit of innovation.
"Despite huge uncertainty over recent weeks, our teams continued to put customers first, showing why Thomas Cook is one of the best-loved brands in travel."
The Prime Minister Boris Johnson told reporters on board the RAF Voyager travelling to New York for the United Nations General Assembly why the £250m bail out had been refused.
"Clearly that's a lot of taxpayers' money and sets up, as people will appreciate, a moral hazard in the case of future such commercial difficulties that companies face," he said.
He added: "It's a very difficult situation and obviously our thoughts are very much with the customers with Thomas Cook, the holiday makers, who may now face difficulties getting home. One way or the other the state will have to step in quite rightly to help stranded holidaymakers."
There have been some reports of customers being held hostage by their hotels who feared they would not be paid for the bookings. But the CAA is contacting hotels to reassure them that the cost of accommodation will be covered by the government, through an insurance scheme known as the Air Travel Trust Fund and Air Travel Organiser's Licence (Atol).
Richard Moriarty, chief executive of the CAA, said: "The task is enormous, the biggest peacetime repatriation in UK history. So there are bound to be problems and delays."
He made it sound as though there had been a bereavement in the family which is probably not too far from the truth given the iconic status of Thomas Cook: "We know that a company with such long-standing history ceasing trading will be very distressing for its customers and employees and our thoughts are with everyone affected by this news."