World's largest bottle of whisky sells for 1 million pounds
There is enough Macallan single malt in the bottle, which is just below 6 ft, to fill 444 standard bottles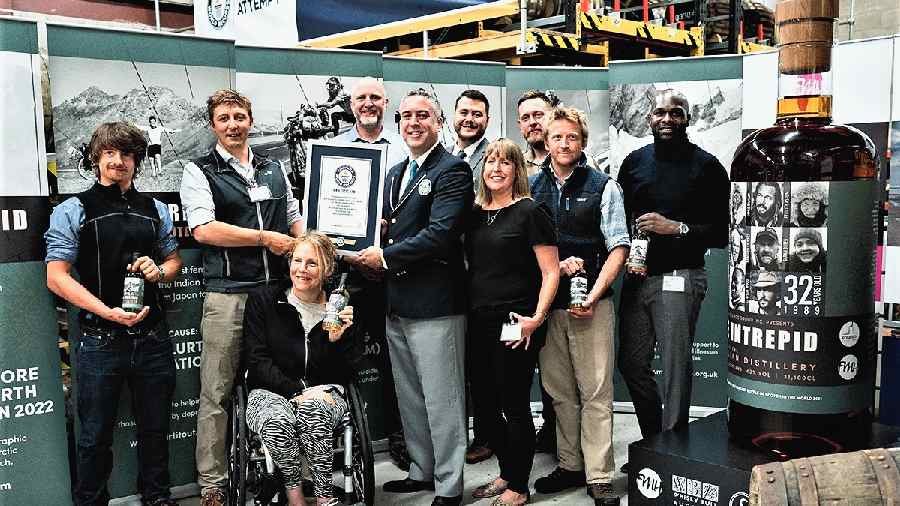 Team Intrepid with the world's largest bottle of whisky in Edinburgh
Sourced by The Telegraph
---
London
|
Published 27.05.22, 01:03 AM
|
---
This would keep serious malt drinkers in India in business for quite some time but the world's largest bottle of whisky, standing an inch short of 6 feet, has been sold by Edinburgh-based auctioneers Lyon & Turnbull for £1.1 million.
There is enough Macallan single malt in there to fill 444 standard bottles.
The bottle, named "The Intrepid" after 11 well known British explorers, was bought online on Wednesday by an anonymous collector after bidding from across the globe.
Pouring the precious malt, which took 32 years to mature, into the bottle was itself an exciting journey of exploration, with experts from Guinness World Records on hand to certify that the whisky bottle was indeed the largest on the planet.
Incidentally, whisky is a matter of contention in the Free Trade Agreement now being negotiated between the UK and India. Whisky manufacturers in Scotland are pressing India to reduce the duty from 150 per cent. The British Prime Minister, Boris Johnson, who had talks with Narendra Modi in Delhi in April, wants some kind of a deal by Diwali. One way and another, the prospect is for more malts to find their way into India, one of the world's largest whisky importers.
In appearance, the malt is described as "pale gold with khaki lights". Its aroma is "a very mild and gentle nose. Gradually opens to present scents led by baked apple (and baked apple skin), supported by pear in syrup and a suggestion of flaked almond, on a base note of short-crust pastry. All subtle and understated. A drop of water introduces a trace of vanilla fudge and a whisper of dry sherry".
It has "a smooth texture, and a sweet overall taste with some white pepper in the lengthy, warming finish and a suggestion of French apple tart in the aftertaste. Lightly mouth drying at reduced strength, and more spicy".
Overall, it is said to be "an elegant whisky, with subtle complexity. Its pale hue implies second or third fill casks, which has prevented the flavour being dominated by wood extractives. Intriguing and easy to enjoy straight – with (many!) friends — on any occasion."
For malt lovers, there is detail on provenance. It was distilled on May 3, 1989, filled into two numbered American oak hogsheads, had "lain undisturbed at the Macallan Distillery for 32 years", and was "vatted together on September 9, 2021, by Duncan Taylor Scotch Whisky, Huntly, to produce The Intrepid".
The project was created by Daniel Monk, of Fah Mai and Rosewin Holdings, a whisky investment firm, in memory of his father Captain Stanley Monk "who was himself an explorer and achieved many amazing things during his life".
His son said: "I wanted to do something positive over lockdown. I started contacting explorers to get them on board and found people who could make and fill the largest bottle of Scotch whisky and together we have achieved the dream."