Winter storms in Japan and South Korea causes disruption
Subzero temperatures in South Korea and heavy snowfall in Japan impacts travel during Lunar New Year holidays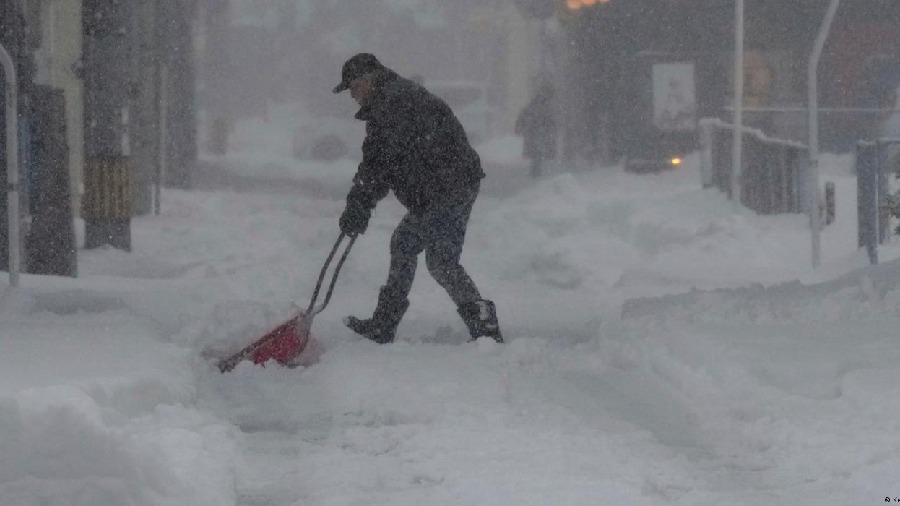 A man pictured shifting snow in Japan
Deutsche Welle
---
Published 27.01.23, 11:29 AM
|
---
At least one person has died in Japan and two other deaths were being investigated in connection with  record low temperatures in the country, Chief Cabinet Secretary Hirokazu Matsuno said on Wednesday.
Large amounts of snow blanketed much of the country, with some areas recording their lowest temperatures in a decade, according to officials at the Japan Metereological Agency.
In an area in southern Kumamoto prefecture, on the island of Kyushu, temperatures dropped to minus 9 degrees Celsius (16 degrees Fahrenheit), the coldest since 1977, when weather tracking began.
People using train services in Kyoto and Shiga prefectures were forced to stay overnight in carriages or stations, Kyodo News reported, while hundreds of flights had to be canceled.
Subzero temperatures in South Korea
In South Korea, temperatures dipped to around minus 15-20 C across the mainland.
Hundreds of flights in and out of Jeju, the country's popular holiday island, were grounded Tuesday because of strong winds and snow. Around 40,000 travelers visiting the island for Lunar New Year holidays were stranded.
Air traffic in Jeju slowly returned to normal on Wednesday and some 540 flights, including around 70 additional flights, were scheduled out of the island as of Wednesday afternoon.
The greater Seoul area and nearby regions are expecting heavy snowfall from late Wednesday to Thursday afternoon, according to the Safety Ministry.
Temperatures dip in North Korea
Cold weather warnings were also issued in North Korea, where authorities reportedly called for "thorough measures" to prevent any economc damage from the snow.
Temperatures in the capital, Pyongyang, were forecast to dip to minus 19 C during Wednesday morning, South Korea's Yonhap news agency reported, citing an official North Korean radio broadcast.