What the second part of BBC film on Modi shows
Apart from the broad brush treatment of events that followed the dilution of Article 370 in Kashmir and the introduction of the citizenship act matrix, the BBC focuses on the fate of four Muslims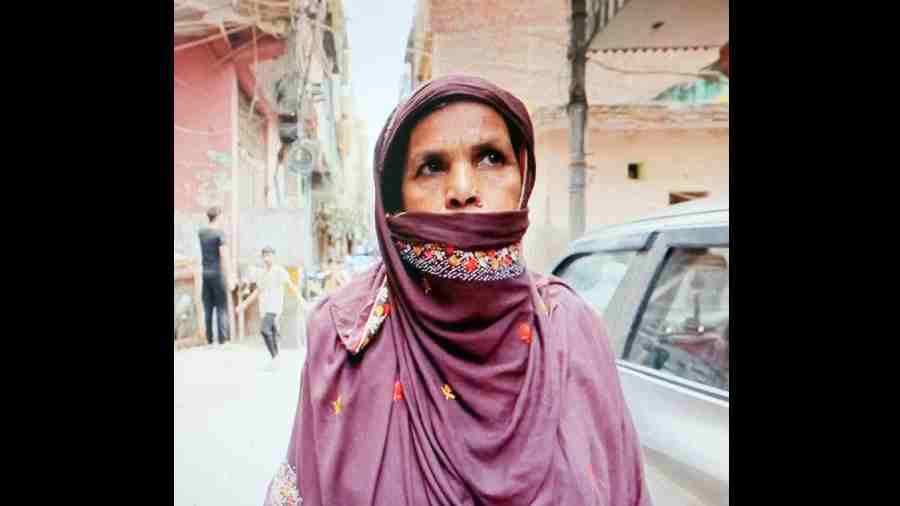 A screenshot from the BBC documentary shows Kasmatun, mother of Faizan
Sourced by The Telegraph
---
London
|
Published 26.01.23, 03:32 AM
|
---
The second part of the BBC2 documentary, India: The Modi Question, which was shown on Tuesday night in the UK, tries to tell the story of what has been happening to Muslims since Narendra Modi came to power in 2014 and especially since he was re-elected in 2019.
Apart from the broad brush treatment of events that followed the dilution of Article 370 in Kashmir and the introduction of the citizenship act matrix, the BBC focuses on the fate of four Muslims.
They are the lynching of trader Alimuddin Ansari on the suspicion of carrying beef in Jharkhand. His wife says she is looking for justice. The BBC points out that the eight Hindus convicted of his murder, including the BJP district spokesman Nityanand Mahato, were garlanded by Union minister Jayant Sinha, and the killers are still out on bail.
Footage is shown of 23-year-old Faizan being beaten by police during the Delhi protests against the CAA. His mother Kismatun does not appear to be getting anywhere trying to identify the guilty cops. Her son died in hospital from his injuries. The documentary also looks at attempts to deal with illegal immigration in Assam and how a rickshawpuller, Noor Hussain, who didn't have documents that proved he was not a Bangladeshi, spent 18 months in detention with his wife, Sahara, and their two children.
A fourth case picked up by the BBC is that of Safoora Zargar, a student at Jamia Millia Islamia university, who spent 74 days in Tihar Jail while pregnant after being accused of being involved in the planning of the Delhi riots. The BBC shows footage of the police breaking into the university and beating up the students.
Author Arundhati Roy spoke of her reaction when she first saw footage of Faizan being assaulted by police. "When I saw that video, I really thought what a disgusting society we are, what a disgusting society we are," she summed up.
She said: "This regime wants to disenfranchise the Muslims and make India a Hindu nation. If you look back at it now, the lynchings are the beginnings of things that became bigger and bigger. They are so disturbing and horrifying. They were the early warning system of what was coming.
"This regime wants to accommodate the Hindus and basically disenfranchise the Muslims. The idea is to make India a Hindu nation.
"This is not a country that's trying to manage your refugee problem. This is a country that's manufacturing refugees out of its own population. This is incredible.
"We are talking to each other saying, 'do you think it'll happen? Do you think it's really going to be like Rwanda?' Why do I speak to you on this film? Only so that there's a record somewhere that all of us didn't agree with it. But it's not a call for help because no help will come."
Safoora, who remains on bail, told the programme: "All we wanted was one march to Parliament to register our protest against the CAA and the NRC. I strongly believe that the CAA can make a lot of Muslims stateless. That is why we've been very vocal. The police barricaded the road to stop the students from marching forward. That is when some students tried to cross the barricade.
"Tear gas shell is fired and it just falls right in front of me. I just couldn't breathe. One of my friends was completely drenched in blood. We did not expect that a students' protest would be met with such brutality by the police. It was an unbelievable situation to be in Delhi, in the heart of the capital — suddenly seemed like a warzone."
Safoora said: "They (the police) beat up the students. They vandalised the university, created an environment of fear and terror to teach us a lesson to never protest again.
"I think more and more people became aware of the consequences of the CAA and NRC, and that is why I feel that this protest became a movement."
She recalled: "On 10th of April, the doorbell rang. My husband just said some people have come to ask you questions. One group of 7 to 8 policemen said, 'Pack your bags'.
"There were charges against me, including hate speech, rioting, criminal conspiracy, murder, attempt to murder. The maximum sentence would be lifetime imprisonment."
She was kept initially in isolation in Tihar Jail –- "India's most hardened criminals are kept here".
She said: "I was pregnant, and it was my first baby. My biggest nightmare was giving birth in jail and I couldn't imagine doing it all alone inside a prison.
"It started like a complete witch-hunt of all those people who were involved in the anti-CAA protest, to suppress dissent, to make an example out of us and to put us behind bars. I'm very confident that they will not be able to prove even one charge against us."
Safoora concluded: "They have dehumanised Muslims in the country. It is being made very clear. Muslims will have to live like second-class citizens."
Explanations are offered as to why the West will not distance itself from Modi.
Chris Ogden, who is listed as "series consultant" and is a "Senior Lecturer/Associate Professor in Asian Security" at St Andrew's University in Scotland, said: "India is important to the West not only economically but also politically. Any big conversation in international affairs, climate change, global finance, requires India to be in the room. There can be no solution without India. But it looks to be descending into some form of authoritarianism where power is in the hands of one individual.
"I think we have a high degree of certainty he will win the next election, maybe win the election after that. And that means for young people in India, that will be the only India they know."
He set out "the price of Modi coming to power: there is intercommunal violence in India. Sometimes this involves lynching of Muslims, of Hindus, of Sikhs. But definitely we can say that after 2014, there are increased numbers of lynchings towards the Muslim population.
"They (the Modi government) realise that they can quickly instigate their agenda. The fundamental aim is to Hinduise the way that India functions and irrevocably change the political, social and cultural nature of India. Essentially the gloves are off."
A similar view is put forward by Christophe Jaffrelot, professor of Indian politics and sociology at the India Institute at King's College London and author of the forthcoming book, Gujarat Under Modi.
"The West is looking at India as the best way to balance China and that is the reason why they will not criticise, they will not condemn most of the decisions which have been made. Human rights are not very high on the list anymore, because there is a bigger challenge." He also spoke of what happened after the Delhi protests against the CAA: "The irony is that when after the riots were over, the victims became the guilty men and women and were accused of being responsible for the riot. So many were sent to jail and they are still in jail."
Others interviewed for the documentary include the journalist Nilanjan Mukhopadhyay, author of Narendra Modi — The Man, The Times, who said: "The first act of Mr Modi after becoming Prime Minister in his second tenure was to make an amendment in the UAPA which permitted the government to declare individual citizens as terrorists, which was completely different from organisations being declared as a terrorist organisation. Anybody could be declared a terrorist and be put behind bars and would not be able to get bail for a long period of time.
"What was politically incorrect has now become the consensus. No longer does a Hindu think that it is wrong to demand special rights for Hindus. Mr Modi has been able to successfully give voice to the sentiment.
"The clear message is that this is a Hindu majoritarian country, and anybody who does anything or takes any action, which is against the sentiment of the Hindus of India, are going to be targeted."
Another journalist, Siddharth Varadarajan, spoke of the erosion of press freedom: "Reporting today has become more risky, more dangerous, more difficult. And quite frankly, based on where we are today, the path looks even rockier.
"I think he believes in the politics of full-spectrum dominance. From his point of view, throttling the media or exercising a high degree of control over the media is essential to his project."
On what happened in Kashmir, human rights lawyer Habeel Iqbal claimed: "People had been taken in the dead of the night and they were subjected to extreme physical torture. One guy I met, torture was being done on him. And at the same time, a public address system was kept near so that the entire village could hear him cry. It was the tactic to intimidate the entire population."
Aakar Patel, the chair of Amnesty International India which has had to be closed down, allegedly for "breaking the law by circumventing rules around foreign donations", said: "What he has done, in effect, is to be able to shut down a very large part of civil society in this country. Thousands of NGOs have shut after 2015 and it's quite dire. I don't think that the NGO space, the civil society space, has seen such a time ever in the history of independent India."
Swapan Dasgupta, journalist and Rajya Sabha member, spoke up for the government as he had done in part one of the documentary. He argued that the dilution of Article 370 "was a hugely popular decision within the country. It may have been contested and there might be other issues vis-àvis relations with Pakistan. But within the country, it was hugely popular."
On the lynchings, he said: "If there is evidence that certain people have been guilty of things like lynching, it is not the business of a political party to condone them or felicitate them. At the same time, to generalise from this incident to mean that this is the standard practice in India, this is the character of the BJP is, to my mind, an unwarranted assumption."
He commented: "The Muslim migration into Assam has been for economic reasons. The Hindu migration was basically because of religious persecution and edging out of the minorities from Bangladesh."
And, "in the larger scheme of things, the Delhi riots were not important but they were important to the media because it means less work and you can get good media footage just at your doorstep."
He said: "The perception that Mr Modi is anti-Muslim is widespread. I don't deny that it's there. But I think what is important to realise: is there a single institutional obstacle which debars Muslims or gives Hindus exceptional privilege? There isn't.
"Our democracy may not be perfect, but it keeps on improving and I think there's enough elbow room for everybody to have opinions whether they are rational or otherwise."
There have been pro-Modi developments in Britain.
Dolar Popat, the British Prime Minister's trade envoy to Uganda, Rwanda and the Democratic Republic of Congo, wrote to Tim Davie, the BBC's director-general, alleging that "the documentary (part one) was heavily one-sided".
He urged the BBC not to show part two.
He told Davie: "I was shocked by the documentary produced by the BBC implicating the Hon. Prime Minister of India in the Gujarat riots of 2002. The documentary was heavily one-sided and failed to reflect the series of events that have unfolded since the riots. Prime Minister Modi was cleared of his involvement by the Indian judiciary and parliament, which helped to lead to his re-election as a trusted leader.
"The UK is a tolerant place and a place where religious freedom is seen as vitally important. As part of this, I condemn the stirring up of religious hatred in the United Kingdom by failing to accurately represent the situation in India. This false representation has (reopened) old wounds by creating hatred between British Hindus and Muslims by attempting to paint India as an intolerant nation where Muslims are persecuted. If this had been the case, the Muslims would have left India by now. On the contrary, the Muslim population of India is now more than Pakistan's and many Muslims from Bangladesh are moving to India as a result of the progress it is making."