What a welcome for Mr Bond!
Rave reviews greet 'No time to die'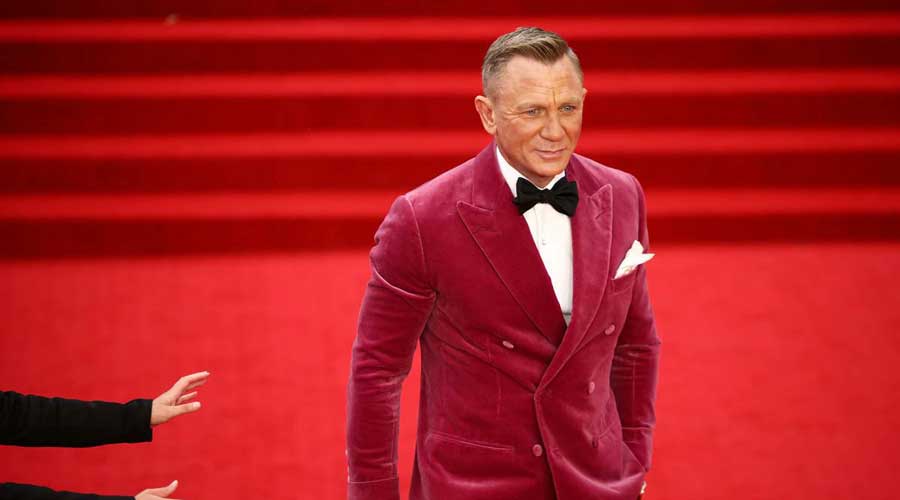 Daniel Craig
(twitter.com/qwerty14117587)
---
London
|
Published 30.09.21, 02:23 AM
|
---
After a delay of nearly two years, the 25th film in the Bond franchise, No Time to Die, had its world premiere at the Royal Albert Hall in London on Tuesday.
Daniel Craig, making his fifth and final outing as the legendary British spy, turned up for the super-glamorous occasion in a surprisingly pink tuxedo.
Significantly, film critics got to see the film for the first time.
Sure, there are a few quibbles here and there but generally the reviews are ecstatic. The Daily Telegraph's Robbin Collin gave the film five out of five and remarked: "We've been expecting you, Mr Bond, for quite some time — and what a joy and relief it is to have you back."
Kevin Maher, writing in The Times, described the movie as "it's better than good. It's magnificent", delivering on the potential of Craig's first Bond film, Casino Royale.
The Daily Mail's Brian Viner summed up: "No Time To Die is a triumph: an explosive, tense, daring, and most of all surprising adventure, toying with our preconceptions about the world's greatest secret agent and exploring his personal life more intimately than ever before. It is superbly spearheaded by Daniel Craig's Bond, even if he is as scarred emotionally as his supremely creepy adversary Lyutsifer Safin (Rami Malek) is physically.
"The film's extravagant running time, 163 minutes, makes it almost an hour longer than the first in the venerable series, 1962's Dr No. But the breathless pace rarely slackens, not even to allow for the touchy-feeliness that has become such a key part of Craig's 007 package."
On the red carpet with Craig were his co-stars Léa Seydoux (as Madeleine Swann, the love interest), Ana de Armas, Lashana Lynch and Rami Malek; and the filmmaker Cary Joji Fukunaga, the first American to direct a Bond film.
Also in attendance were Prince William with Kate, the Duchess of Cambridge, and Prince Charles with Camilla, Duchess of Cornwall, along with the film's producers, Barbara Broccoli and Michael G. Wilson. Several healthcare workers and members of the armed forces were also admitted as a "thank you" for their work during the pandemic.
Among others lucky enough to be invited was 18-year-old US Open champion Emma Raducanu who "looked ethereal" in a dazzling silver maxi dress.
Peter Bradshaw, in The Guardian, compared the movie to the Marvel and DC superhero world, with Fukunaga delivering the film "with terrific panache" — but said "most of all it is big: big action, big laughs, big stunts".
Bradshaw felt "Craig's final film as the diva of British intelligence is an epic barnstormer, with the script from Neal Purvis, Robert Wade, with Phoebe Waller-Bridge delivering pathos, action, drama, camp comedy (Bond will call M 'darling' in moments of tetchiness), heartbreak, macabre horror, and outrageously silly old-fashioned action in a movie which calls to mind the world of Dr No on his island."
One of the few to express reservations was Clarisse Loughrey, of The Independent, who said the film was uneventful, Malek's performance as the villain underwhelming, and that the Oscar-winner "gives almost nothing to the role beyond his accent and stereotyped disfigurement makeup".
But she said Craig "outshines everything around him".
Craig said the role was "incredibly important to cinema and to history, and the weight of that has been on my shoulders for a while".
"I've been incredibly lucky," he added.
The film goes on general release in the UK — and India — on Thursday but will be held back in the US until October 8.
Actress Lynch, who has joined the cast as a new secret agent called Nomi, said the character's addition was a step forward for the franchise.
"I like to watch cinema that really makes me feel as though I'm included, that my narratives are being told. The women that I was raised with and the women that I continue to love and respect are people like Nomi. The fact that she was even an idea on the page is reflective of the world that I see, how I see it through my black eyes, and I just feel really proud to be able to add my culture to such a beautiful and rich franchise."
Producer Broccoli, who controls the franchise with co-producer Wilson, said they would not start thinking about Craig's replacement until next year. "We want Daniel to have his time of celebration. Next year, we'll start thinking about the future."
Who will be the next Bond? Will 007 be a woman, possibly even Black in the era of Black Lives Matter? How will the character evolve?
Amy Hitchcock, arts and entertainment editor for Sky News, said: "The most striking thing for me — the film opens and ends with scenes dominated not just by females but the narratives of young girls. A hint to a progressive tone and perhaps a new beginning for the franchise."
Claire Gregory, entertainment reporter and Backstage podcast host, also for Sky News, called No Time To Die "a genre-bending Bond".
She said that "in a post-pandemic world, a weapon spread by touch feels all too prescient (though this was of course written before the coronavirus outbreak) and there are moments that may remind viewers that sadly we all too well understand things like exponential spread these days.
"The film promised to view women through a more modern lens and Lashana Lynch is a brilliant addition, playing the antithesis to Craig's 007, and treading a line between newbie and a necessary part of the action."
She asked: "But what of Bond's legacy? What does No Time To Die tell us about the future of the franchise? Well, of course we know Craig won't be back, and the film makes no apologies for giving him a send-off which is almost reverential.
"But there are certainly doors left open for some characters, and without Daniel Craig around to kick through them, we may see Bond taking a very different shape in the future."