Washington mayor fights for control
Muriel Bowser gets Black Lives Matter painted near White House to poke President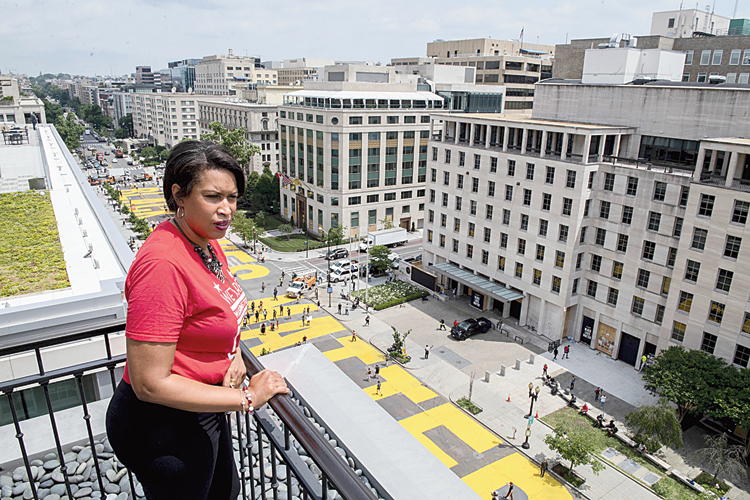 ---
---
After federal law enforcement agents and military troops lined up for days against protesters outside the White House, mayor Muriel E. Bowser of Washington responded emphatically on Friday: She had city workers paint "Black Lives Matter" in giant yellow letters down a street she has maintained command of that is at the centre of the confrontations.
The strong poke to President Trump within sight of his home underscored a larger power struggle between the two leaders over which one — the Democratic head of the District of Columbia or the President headquartered there — should decide who controls the streets that Trump has promised to dominate during protests over the killing last month of George Floyd in Minneapolis.
Bowser, a Washington native long steeped in city politics, again called on Trump on Friday to pull back all federal law enforcement officers and National Guard troops patrolling the city, including unidentified agents in riot gear, and said she would stop paying for the hotels for the Utah National Guard that she does not want in the city to begin with.
She renamed as Black Lives Matter Plaza the area in front of Lafayette Square where federal officials used chemical spray and smoke grenades on Monday to clear protesters ahead of Trump's photo op at a historic church that faces the road that Bowser had painted. (The money for the paint job came out of the city's mural programme.)
"We're here peacefully as Americans on American streets," Bowser said at the scene, standing near a sign reading, "Support DC Statehood".
Trump, who has tried to appeal to his base by proclaiming himself a President of law and order, escalated the fight, calling Bowser "incompetent" on Twitter.
Bowser "who's budget is totally out of control and is constantly coming back to us for 'handouts', is now fighting with the National Guard, who saved her from great embarrassment," Trump wrote. "If she doesn't treat these men and women well, then we'll bring in a different group of men and women!"
Bowser met this with her usual cool shrug. Asked about the President calling her incompetent, she said, "You know the thing about the pot and the kettle?"
Still, Trump officials appeared determined to make the standoff personal. Kenneth T. Cuccinelli II, the acting deputy secretary of the department of homeland security, further belittled Bowser on Twitter by comparing her request to reduce the number of federal troops in Washington with the mentally ill wanting less medication.
While Trump has clashed with governors and mayors in recent months over his administration's response to the coronavirus pandemic and deployment of the National Guard in their streets during nationwide protests of police killings, his face-off with Bowser pits the President in his current home, the international symbol of the US, against the city in which it sits, one that lacks the self-governing authorities of other states and cities.
New York Times News Service