Warrant pierces Putin aura
Court's symbolic move deepens leader's isolation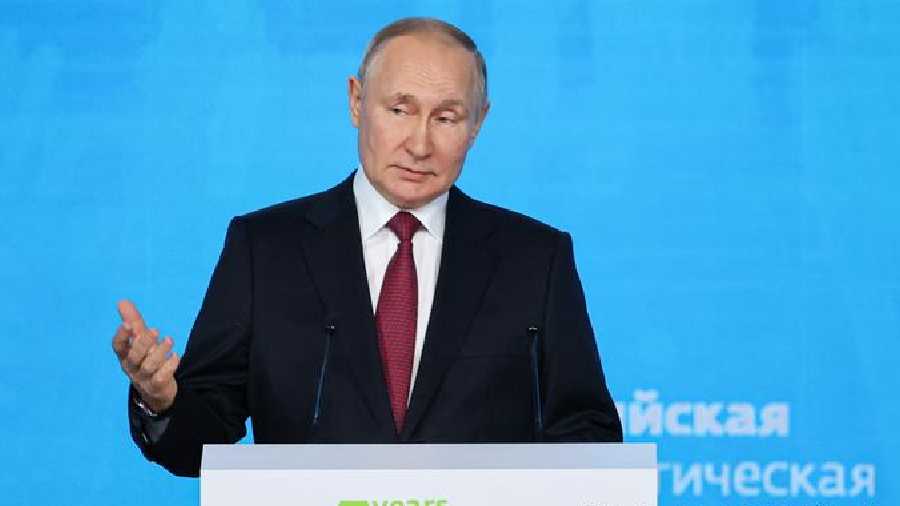 Vladimir Putin
File picture
---
London
|
Published 19.03.23, 12:40 AM
|
---
The International Criminal Court accused the Russian President, Vladimir V. Putin, of war crimes and issued a warrant for his arrest on Friday, a highly symbolic step that deepened his isolation and punctured the aura of impunity that has surrounded him since he ordered troops into Ukraine a year ago.
The court cited Putin's responsibility for the abduction and deportation of Ukrainian children, thousands of whom have been sent to Russia since the invasion.
It also issued a warrant for Russia's commissioner for children's rights, Maria Lvova-Belova, the public face of the Kremlin-sponsored program that transfers the children out of Ukraine.
There is little prospect of Putin standing trial in a courtroom anytime soon.
The International Criminal Court cannot try defendants in absentia and Russia, which is not a party to the court, dismissed the warrants as "meaningless."
Yet the court's move carried indisputable moral weight, putting Putin in the same ranks as Omar Hassan al-Bashir, the deposed President of Sudan, accused of atrocities in Darfur; Slobodan Milosevic, the Serbian leader imprisoned for abuses during the Balkans war; and the Nazis tried at Nuremberg after World War II.
"There are reasonable grounds to believe that Putin bears individual criminal responsibility," said the court, which was created two decades ago to investigate war crimes, genocide and crimes against humanity.
Both Russians, the court said, bore "responsibility for the war crime of unlawful deportation of population and that of unlawful transfer of population from occupied areas of Ukraine to the Russian Federation".
As a practical matter, the warrant could restrict Putin'stravels, since he could face arrest in any of the 123 countries that have signed on to theInternational Criminal Court— a list that includes virtually all European countries and several in Africa and Latin America, but not China or the United States.
Human rights activists and Ukrainian officials hailed the warrants as proof that Putin and his lieutenants could no longer act with impunity inUkraine.
For Putin, who already operates with a tight circle of advisers in the Kremlin, it makes the world a smaller place, even as he plans to welcome President Xi Jinping of China, perhaps his most powerful ally, to Moscow next week.
The warrants also shine a light on one of the most harrowing, poignant sub-plots of Russia's brutal war: the forcible transfer of Ukrainian children to Russia or Russian-controlled parts of Ukraine.
Many are orphans, but Ukrainian officials say that others were separated from their parents or legal guardians. Russia has acknowledged transferring 2,000 children; Ukrainian officials say they have confirmed 16,000 cases.
UN grain flow
With the endpoint near on a crucial deal that allowed Ukrainian grain shipments through a Russian naval blockade, the United Nations said it was racing to bridge differences to extend the agreement, which has helped alleviate food shortages and limit price increases.
Russia and Ukraine have been at odds over how long to extend the deal, which is set to expire late Saturday.
Moscow has said it would agree to an extension of only 60 days because its own food and fertiliser exports were being hampered by sanctions. Ukraine, Turkey and the UN have pushed for a 120-day renewal, in line with the initial agreement in July and with a subsequent extension in November.
The deal allows ships carrying grain and fertiliser from Ukraine safe passage to Turkish waters, where they are inspected by a joint team of Turkish, UN, Ukrainian and Russian officials.
It was a rare diplomatic breakthrough between Ukraine and Russia since Russia's invasion.
New York Times News Service