Volodymyr Zelensky vows to probe war crimes
'I want every mother of every Russian soldier to see the bodies of the killed people in Bucha, in Irpin, in Hostomel'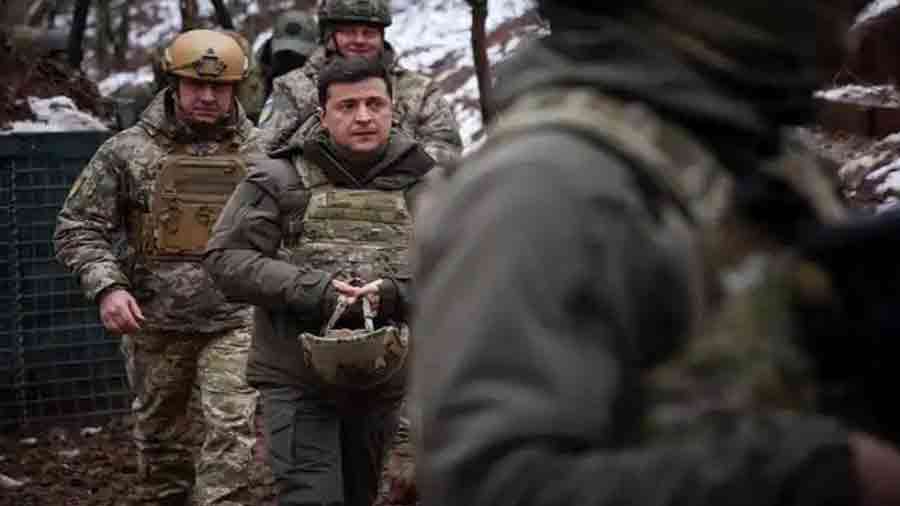 Volodymyr Zelensky.
File Photo
---
Published 05.04.22, 03:35 AM
|
---
President Volodymyr Zelensky of Ukraine said on Sunday that he had approved the creation of a "special mechanism of justice" to investigate anyone who committed or participated in Russia's war against Ukraine, in a steely video address that called on the world to "make the war crimes of the Russian military the last manifestation of such evil on earth".
Zelensky's remarks came as world leaders expressed horror at images that appeared to show civilians lying dead, some with their hands bound behind their backs, in the streets of Bucha, a town near Kyiv, after Russia withdrew troops from the area. Earlier on Sunday, on CBS's Face the Nation, the Ukrainian President described Russia's actions as genocide.
"I want every mother of every Russian soldier to see the bodies of the killed people in Bucha, in Irpin, in Hostomel," Zelensky said.
Zelensky also skewered what he called the West's "indecision" and appeasement of Russia over the years, noting that Sunday is the 14th anniversary of a Nato summit in which Germany and France opposed extending membership to Ukraine.
He referenced Angela Merkel and Nicolas Sarkozy by name in his address, inviting the former leaders of the two countries to see the dead bodies of Ukrainian civilians "with their own eyes".
Still, Zelensky specified that blame for civilian attacks lay only with Russian soldiers who perpetrated them and the Russian leaders who gave orders. Russia's defence ministry on Sunday called the reports of atrocities in Bucha "fake". The ministry also said that it had destroyed an aviation management centre in the Kyiv region and large fuel depots near Mykolaiv.
Russian news coverage has largely focused on those strikes and other Russian advances, with little mention of forces retreating from the Kyiv region.
(New York Times News Service)