Vladimir Putin tries to cast war in historic terms
The Russian leader's defiant remarks came as Ukrainian officials warned that Moscow was opening a new offensive aimed at capturing more of eastern Ukraine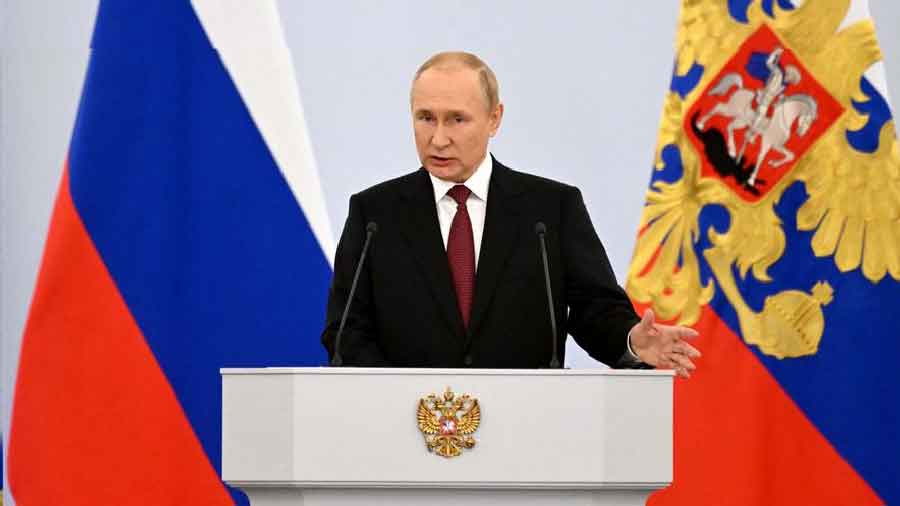 Vladimir Putin
File picture
---
New York
|
Published 03.02.23, 01:02 AM
|
---
Casting his war in Ukraine as a virtuous fight despite mounting deaths and his forces' plodding progress, President Vladimir V. Putin vowed on Thursday that Russia would prevail, using a speech in the city formerly known as Stalingrad to compare his invasion with the Soviets' defeat of the Nazis in a decisive World War II battle.
"The legacy of generations, values and traditions — this is all what makes Russia different, what makes us strong and confident in ourselves, in our righteousness and in our victory," Putin said.
The Russian leader's defiant remarks came as Ukrainian officials warned that Moscow was opening a new offensive aimed at capturing more of eastern Ukraine and giving Putin his first significant battlefield success in months.
Russia's slow gains in the east and its attempts to capture the nearby city of Bakhmut have come at a huge cost in lives, Ukraine says, as the Kremlin throws thousands of often inexperienced fighters into brutal ground combat against dug-in Ukrainian forces. But there was no mention in Putin's speech of Russia's mounting losses.
Instead, speaking at a "celebratory concert" marking the 80th anniversary of the Soviet triumph in Stalingrad, now known as Volgograd, Putin lashed out again at western nations, which are sending increasingly advanced weapons to Ukraine. He made his most direct remarks yet in response to Germany's recent decision to provide Ukraine with Leopard 2 battle tanks, calling it part of "the aggression of the collective West".
New York Times News Service