Vladimir Putin defends invasion of Ukraine
Russian President says attacking the eastern European country was 'inevitable' and 'the only correct decision'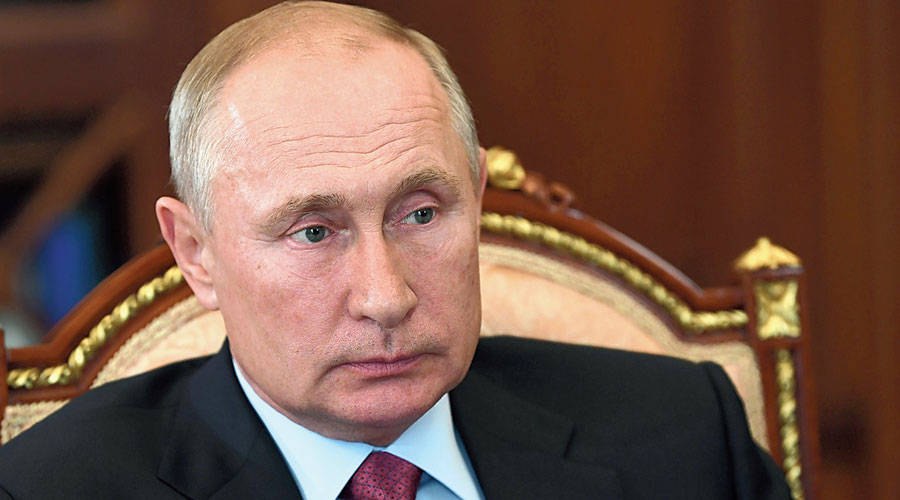 Vladimir Putin.
File Photo
---
Published 10.05.22, 01:50 AM
|
---
President Vladimir V. Putin used his Victory Day speech on Monday to try to channel Russian pride in defeating Nazi Germany into support for this year's invasion of Ukraine. But contrary to some expectations he did not make any new announcements signalling a mass mobilisation for the war effort or an escalation of the onslaught.
Putin, speaking in Moscow's Red Square on Russia's most important secular holiday, marking the anniversary of the Soviet victory in World War II, restated his past claims that attacking Ukraine was "inevitable" and "the only correct decision". He said Russian troops in eastern Ukraine were fighting "on their land", an indication that Putin had no plans to relinquish control of the territory his forces had taken in recent months.
"You are fighting for the Motherland, for its future, so that no one forgets the lessons of World War II," Putin said, addressing Russian forces in Ukraine. "So that there is no place in the world for executioners, punishers and Nazis."
It was, as expected, a call to battle using rhetoric slandering Ukraine's defenders as "Nazis" while evoking Russia's victorious World War II past — perhaps the most unifying element of the country's diverse identity.
 And in a rare acknowledgment of the Ukraine war's toll, Putin said the death of every soldier was a "grief for all of us" and promised that the government would do "everything to care for" the families of the dead; he said he had signed a decree on Monday to give "special support to the children of dead and wounded comrades".
But the speech was also conspicuous for what it did not include.
Putin did not try to frame any part of the Ukraine war as a "victory", offering no signal of an imminent end to the conflict. His army's efforts have fallen well short of expectations: They have been vanquished around Kyiv, Ukraine's capital; pushed back in the northeast; and are making only sporadic gains in the Donbas, the eastern region Russia now says it is focused on.
Putin spoke from his rostrum set up by the Lenin Mausoleum, overseeing Moscow's traditional Victory Day military parade.
It featured 11,000 participants and 131 armoured vehicles, but an aircraft flyover was cancelled because of bad weather, the Kremlin said.
The Russian leader did not renew his implicit threats of nuclear war, after warning late last month that countries that "create a strategic threat to Russia" during the war in Ukraine could expect "retaliatory strikes" that would be "lightning fast".
Putin did lash out at the US, as he has in the past, depicting America as the true aggressor and Russia as a stronghold of patriotism and "traditional values".
New York Times News Service