US to operate around Taiwan despite threat
Officials said they did not want to escalate the tense confrontation, which China maintains was provoked by last week's visit to the island by Speaker Nancy Pelosi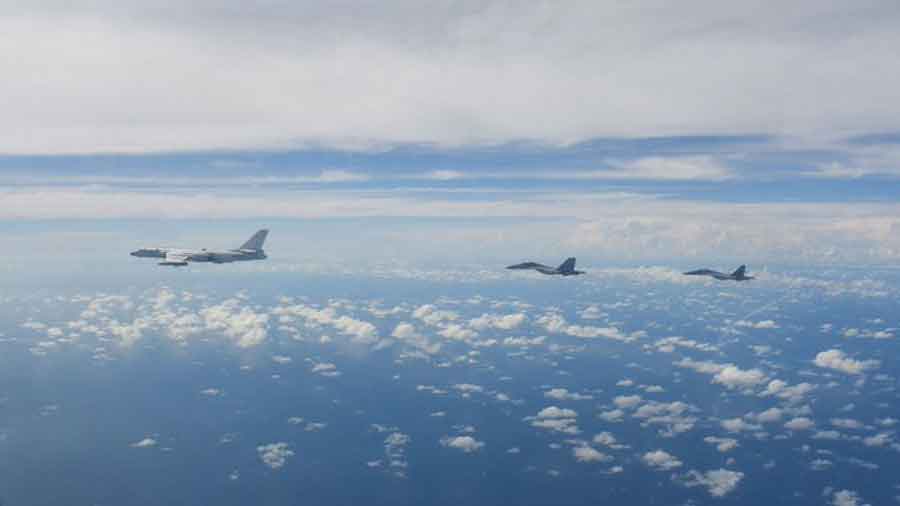 ---
New York
|
Published 11.08.22, 02:04 AM
|
---
The Biden administration is vowing to continue sailing warships through the Taiwan Strait and to conduct air operations in the region in response to Chinese military drills that US officials say are evolving into a long-term strategy of heightened military pressure on the island.
Administration officials said they did not want to escalate the tense confrontation, which China maintains was provoked by last week's visit to the island by Speaker Nancy Pelosi.
But in interviews and public statements, American and Taiwanese officials made clear they now believe China used Pelosi's visit as a pretext to step up its operations to intimidate Taiwan for months or years to come, and perhaps speed the timetable of its plans to establish control over the island's 23 million people, much as it did in Hong Kong.Within a few weeks, officials said, the US Navy is planning to run ships through the Taiwan Strait, ignoring China's recent claim that it controls the entire waterway.
Officials said they would not send Ronald Reagan, the Japan-based aircraft carrier, because it would be too provocative.Colin H. Kahl, the under secretary of defence for policy, told reporters this week that China was trying to "coerce" Taiwan and the international community.
"And all I'll say is we're not going to take the bait, and it's not going to work," he said.He insisted the US would conduct business as usual: "What we'll do instead, is to continue to fly, to sail and operate wherever international law allows us to do so, and that includes in the Taiwan Strait."
Asked about the rising tensions, President Biden said Monday he was "concerned that they're moving as much as they are," an apparent reference to the Pentagon's assessment that China has dispatched 20 destroyers and frigates to the waters surrounding Taiwan.
When asked whether it was a "wise move" for Pelosi to visit the island despite China's warnings, Biden said simply: "That was her decision."
Interviews with a variety of administration, intelligence and military officials, and outside experts, revealed a growing sense that China's exercises were not just a reaction to the speaker's brief visit, but a turning point in China's strategy.Several officials said they believe President Xi Jinping is seeking to demonstrate a greater willingness to use force to accomplish reunification,if necessary.In a white paper the Chinese government published on Wednesday, Beijing said that it would prefer unification by peaceful means but also made clear it was keeping all options on the table.
And even as the Chinese military's Eastern Theatre Command indicated that it had completed its drills, which had continued this week and included anti-submarine activity,it said it would organize regular combat patrols directed at the island.
On Tuesday, Joseph Wu, Taiwan's foreign minister, said he suspected China was trying "to routinize its action in an attempt to wreck the long-term status quo across the Taiwan Strait,'' and was using its missile tests "to deter other countries from interferingin its attempt to invade Taiwan."
Several American officials said they were designing responses to show that they would not be deterred from the defence of the island.The exercises came only weeks after a new US intelligence assessment concluded that Xi might try to move against the island in the next year and a half.
The intelligence suggests Xi fears his military advantage may diminish as the US moves to arm Taiwan more quickly, including with weapons that proved effective against Russian forces during the invasion of Ukraine.Now, Taiwan has emerged as such a central feature of Xi's agenda — and such a flashpoint with the US — that it threatens to overwhelm Biden's efforts to find a series of issues in which the world's largest and second-largest economies can work together. 
New York Times News Service