US option for Saddam - Washington puts disarmament before regime change
Read more below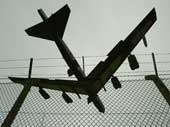 ---
Published 04.03.03, 12:00 AM
|
---
A B-52 bomber prepares to land at the Fairford Royal Air Force base in Gloucestershire, England, on Monday. British military sources said a large group of US warplanes are due in Britain this week, including the long range B-52s. (Reuters)
Washington, March 3 (Reuters): The US today said Iraq President Saddam Hussein would not be allowed to stay in power if war is launched against Iraq, but did not rule out allowing him to remain if he fully disarmed beforehand.
"Nobody should think, not even for a second, that military action could be possibly taken to disarm Saddam Hussein that would leave Saddam Hussein at the helm to re-arm up later. No, that's not an option," Fleischer told reporters.
Asked whether a full disarmament by Saddam before any conflict would satisfy US demands for a "regime change," he said: "Let's first see him completely totally and immediately disarm, and see if that takes place."
A spokesman for UN weapons inspectors in Baghdad said Iraq will submit a new report on VX nerve gas and anthrax stocks in a week's time, as Baghdad scrapped more of its banned missiles.
The US and Britain have justified their build-up for war by charging that Iraq has failed to account for all the chemical and biological agents that were slated by the UN for destruction after the 1991 Gulf War.
Britain dismissed the latest Iraqi concessions. "Given the history of deception, cheating and lies it is understandable that we should be approaching what we are seeing at the moment with a degree of scepticism," a government spokesman said.
US and British warplanes raided southern Iraq overnight and Iraq said six civilians were killed and 15 injured.
The US military said planes patrolling Iraq's southern "no-fly" zone struck air defence targets in response to fire from the ground.
The raids came after US defence officials said Washington had extended targets for air patrols in "no-fly" zones over Iraq to include weapons that could hinder a ground invasion.
Iraq says it has destroyed all its chemical and biological arms, but chief UN weapons inspector Hans Blix, due to report on Iraqi compliance to the UN Security Council at week's end, says Iraq has provided no details to back up that claim.
Iraq and UN arms experts discussed yesterday Baghdad's proposal for "quantitative verification" of VX and anthrax. Iraq says it has carried out recent excavations that proved it has destroyed "important quantities" of the banned substances.
"Iraq will be providing a report on the VX and anthrax in a week's time," Hiro Ueki, spokesman for UN weapons inspectors in Baghdad said. Ueki also said six more Iraqi al Samoud 2 missiles and two empty warheads were destroyed today at Taji base, some 40 km north of Baghdad.
It was the first time warheads related to the missile were destroyed.