US top diplomat Blinken visits Israel, urges de-escalation
The US secretary of state strongly condemned recent attacks by Palestinian gunmen in east Jerusalem, but also urged restraint from Israelis in their response.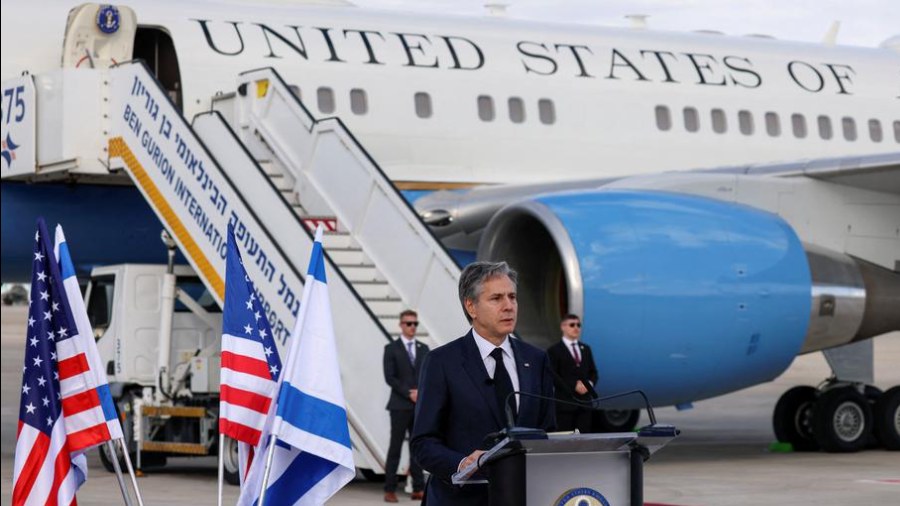 US Secretary of State Antony Blinken is alarmed by recent violence in the Middle East region
Deutsche Welle
---
Published 31.01.23, 09:39 AM
|
---
US Secretary of State Antony Blinken called for de-escalation upon his arrival in Tel Aviv on Monday, as Israeli-Palestinian tensions have flared in recent weeks.
"It is the responsibility of everyone to take steps to calm tensions rather than inflame them," Blinken told journalists after arriving in Israel.
He also said a two-state solution was the "only path" forward in the longstanding conflict.
U.S. Secretary of State Antony J. Blinken landed today in Ben Gurion airport for an official visit to Israel. The Secretary will meet with @IsraeliPM & other senior leaders to reinforce U.S. support for Israel's security & shared democratic values. pic.twitter.com/ljHuTNToXg

— U.S. Embassy Jerusalem (@usembassyjlm) January 30, 2023
Blinken: Synagogue attack 'especially shocking'
The US top diplomat strongly condemned recent attacks by Palestinian gunmen in east Jerusalem.
A 13-year-old Palestinian opened fire near the Old City of Jerusalem on Saturday, leaving two people injured.
The latest shooting came just a day after a 21-year-old Palestinian opened fire outside an east Jerusalem synagogue, killing seven people.
"To take an innocent life in an act of terrorism is always a heinous crime but to target people outside their place of worship is especially shocking," Blinken said, referring to the Friday attack.
Blinken called the shooting near the synagogue in east Jerusalem "an attack on the universal act of practicing one's faith." The deadly shooting also occurred as the world commemorated International Holocaust Remembrance Day.
Speaking from Tel Aviv, Blinken also urged the Israelis to be restrained in their response to the attacks. "Calls for vengeance against more innocent victims are not the answer," Blinken said.
Israeli Prime Minister Benjamin Netanyahu has pledged a "strong, swift and precise" response to the attacks in Jerusalem.
On Saturday, Netanyahu's Security Cabinet vowed to speed up the gun licensing process for Israeli civilians. At the same time, Netanyahu called on Israelis to not engage in vigilante violence.
The Security Cabinet also promised to demolish the homes of Palestinian attackers and to punish "the families of terrorists that support terrorism."
Foreign Minister Shoukry and I discussed the U.S.-Egypt partnership, the mounting consequences of Russia's invasion of Ukraine and U.S. support for Egypt as it responds to global challenges. pic.twitter.com/NBa1Kve8iM

— Secretary Antony Blinken (@SecBlinken) January 30, 2023
Blinken, Netanyahu discuss security, Iran
Blinken also met with Netanyahu in Jerusalem later on Monday. Blinken is the highest US official to personally meet with Netanyahu since he returned to power last month at the helm of a far-right coalition government.
During the meeting with Netanyahu, Blinken said he wants the Israeli government and people to "know America's commitment to their security remains ironclad."
Blinken reiterated his calls for de-escalation in the meeting with the Israeli leader.
Netanyahu thanked Blinken for his "continual friendship." He expressed gratitude to the US for helping Israel in its efforts to fight delegitimization at the UN.
Netanyahu also highlighted security risks from Iran during the Blinken meeting.
"Our policy, and my policy, is to do everything in Israel's power to prevent Iran from acquiring nuclear weapons and the means to deliver them," Netanyahu said.
Blinken to also visit West Bank, meet Palestinian Authority leader
After his trip to Israel, Blinken will also visit the West Bank and meet with senior Palestinian Authority officials in Ramallah.
According to the State Department, Blinken will meet with Palestinian Authority President Mahmoud Abbas, with "Israeli-Palestinian relations and the importance of a two-state solution" on the agenda.
The Palestinian Authority has voiced outrage over recent actions taken by the Israeli government.
The Palestinian Authority has said Israel is engaging in collective punishment with its security measures against Palestinians after the deadly attacks in Jerusalem.
An Israeli raid last week in the West Bank city of Jenin also sparked anger. It has left 10 Palestinians dead, including an elderly woman.
Israel said the raid was intended to target members of the Palestinian Islamic Jihad terrorist organization and thwart future attacks. The Israeli Foreign Ministry said "8 terrorists were neutralized" in the operation and vowed to not "allow Jenin to become a place of refuge for terrorists."
The Palestinian Authority, meanwhile, decried the raid in Jenin and ended its security coordination with the Israeli government. Palestinian Ambassador to the UN Riyad Mansour said Israel is using "counter-terrorism" measures to entrench its occupation in the West Bank.
Blinken's visit to Israel and the occupied West Bank comes after the top US diplomat visited Egypt. During that visit, Blinken met with Egyptian President Abdel Fattah El-Sissi and Foreign Minister Sameh Shoukry, with regional stability and Russia's war on Ukraine among the topics discussed.