Ukraine not respecting truce, says Russia
Moscow claims it was defending itself against continuing Ukrainian strikes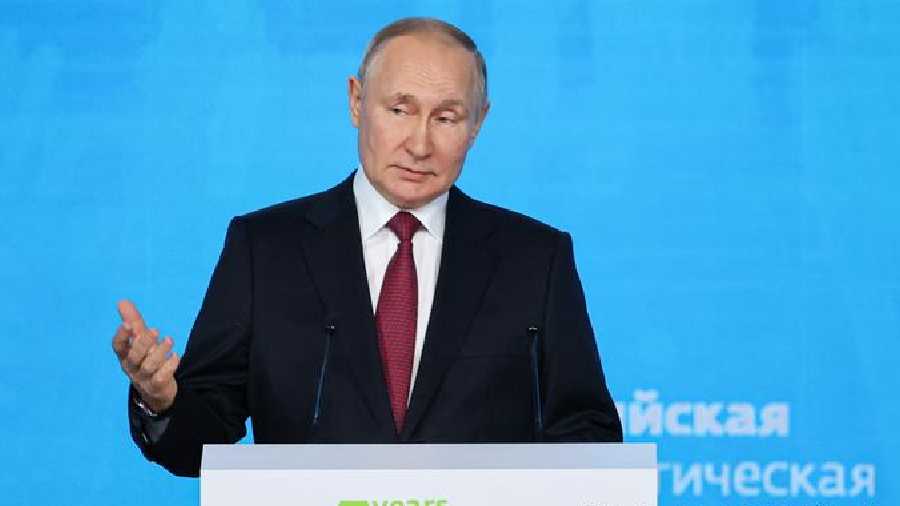 Vladimir Putin
File Photo
---
New York
|
Published 07.01.23, 01:26 AM
|
---
A unilateral Russian ceasefire announced for Friday appeared to have little effect in its early hours.
Moscow claimed it was defending itself against continuing Ukrainian strikes. Ukraine — which had not agreed to the ceasefire — reported continued Russian attacks, though it was unclear if they were before or after the pause was to begin.
Residents in Bakhmut, in the Donbas region, said that the sounds of fighting continued on Friday and that nothing had changed in the area despite the purported pause.
The Ukrainian authorities have criticized the Russian announcement of a ceasefire as a bluff, with President Volodymyr Zelensky saying in his overnight address that the government in Moscow "wants to use Christmas as a cover" to pause Ukrainian advances and reposition troops and ammunition.
"Everyone in the world knows how the Kremlin uses lulls in the war to continue the war with new force," he added, and he addressed the Russian people directly, speaking of those who "sent all of your people to be slaughtered" and "do not strive for peace".
The proposed unilateral 36- hour ceasefire was set to begin at noon, local time, on Friday. Less than an hour later, an air-raid alert was issued for all of Ukraine. Though it ended within a couple of hours, such alarms are disruptive even when sounded as a precaution and no actual strikes follow.
Analysts have said that the Kremlin's order for the ceasefire could be an attempt to buy some time for Russian forces to regroup before relaunching offensive operations on the front lines in eastern Ukraine. They have also said that the move might also be part of a broader initiative to garner support at home.
Russia's defence ministry later said that Ukrainian forces had fired on Russian positions in the Donetsk, Luhansk and Zaporizhzhia regions and that Russian forces returned fire. Ukrainian officials did not respond to those claims.
Ukraine's military later countered that Russian jets had fired 12 missiles in the regions of Donetsk and Dnipropetrovsk and Russian forces fired on Bakhmut and in and around the regions of Kharkiv in the northeast and Kherson in the southeast.
New York Times News Service