Ukraine mall hit by missile
Site posed no danger to Russian army: Zelensky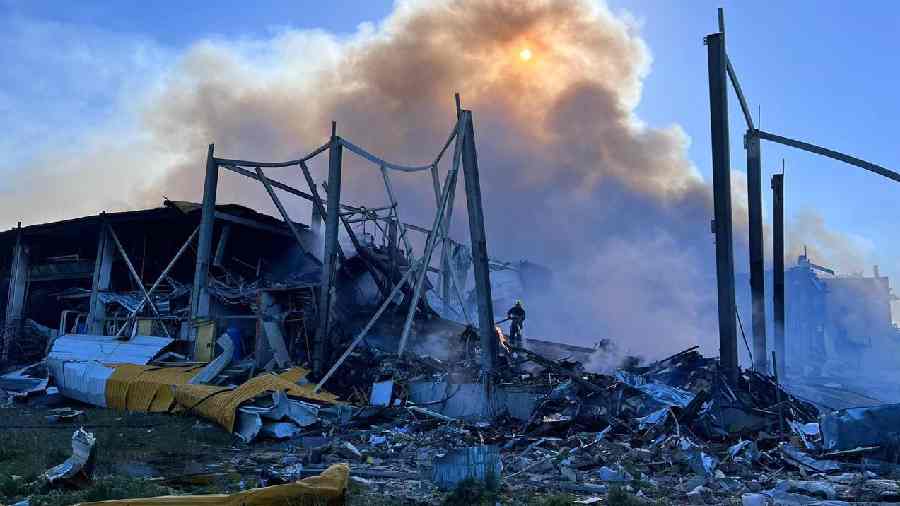 Rescuers help firefighters after the shopping mall in Kremenchuk, Poltava regionof Ukraine, was hit by a Russian missile strike on Monday.
Twitter
---
Kyiv
|
Published 28.06.22, 01:52 AM
|
---
A shopping centre in Ukraine's central Poltava region was hit by a Russian missile strike on Monday afternoon, the Ukrainian authorities said.
An estimated 1,000 people were inside the building, though the number of casualties is unknown.
"Unfortunately, there are victims," Dmitry Lunin, the governor of the Poltava region, wrote on Telegram, confirming the attack. "More details later."
Videos posted online of the site, near the railway station in the industrial city of Kremenchuk, showed a fire raging as emergency workers worked frantically to try to extinguish the flames.
Other videos showed injured patients being loaded into ambulances on stretchers. President Volodymyr Zelensky said the site had posed "no danger to the Russian army," in comments posted to Telegram.
"No strategic value. Only the attempt of people to live a normal life, which so angers the occupiers. Russia continues to place its powerlessness on ordinary citizens. It is useless to hope for adequacy and humanity on its part."
The strike on Kremenchuk came after Russia fired more than 65 missiles at Ukraine on Saturday and Sunday, including a strike in the capital, Kyiv, in which one person died.
An oil refinery in Kremenchuk has been targeted repeatedly by Russian missiles, according to the local news media, as part of Moscow's strategy to destroy the country's fuel production and storage infrastructure.
Air defence system The US will announce this week that it is sending Ukraine an advanced air defence system, US officials said on Monday, ramping up President Biden's pledge to give the country the military equipment it needs to defend against Russian aggression.
The Biden administration will buy Ukraine a NASAMS system — an advanced, medium-to-long-range surface-to-air missile defence system— that will allow Ukraine to defend its forces from greater distances, an official familiar with the decision said.
Biden's decision to authorise the new system came just a day after Russia fired missiles into Kyiv, the capital of Ukraine, as leaders of the group of 7 wealthy nations were beginning a summit in Germany.
Jake Sullivan, Biden's national security adviser, told reporters at the G7 summit that the US intended "to finalise a package that includes advanced, medium and long-range air defence capabilities for the Ukrainians", but did not provide further details onany specific system.
He said the package would include "some other items that are of urgent need, including ammunition for artillery and counter-battery radar systems." 
New York Times News Service