Russia hits eastern targets
The Pentagon estimated that the transcontinental country has already sent 11 more battalion tactical groups into Ukraine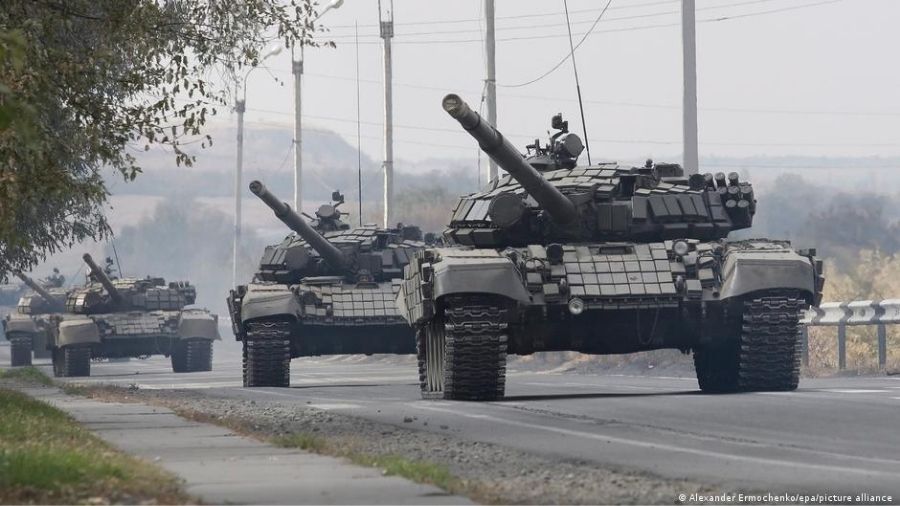 Ukrainian and Pentagon officials said Russian forces appeared to be engaged in 'shaping operations'
File Photo
---
Published 20.04.22, 02:28 AM
|
---
Russia declared on Tuesday that its offensive for control over Ukraine's industrial heartland was underway as it bombarded targets across the sprawling eastern front, with Ukrainian officials saying they were mounting a spirited defence.
"Another phase of this operation is starting now," foreign minister Sergey V. Lavrov said, as Russia's defence ministry announced that its missile and artillery forces had struck hundreds of Ukrainian military targets overnight. The strikes hit facilities in the eastern Ukraine region known as Donbas and also in the southern region of Mykolaiv, a key stronghold on the way to the Black Sea port of Odessa, Russia said.
The Pentagon estimated that Russia has already sent 11 more battalion tactical groups into Ukraine, additional forces likely to comprise 8,000 to 11,000 soldiers. It also has tens of thousands more in reserve north of Ukraine who are being resupplied and readied to join the fight, US officials said.
Ukraine said that it had repulsed seven different Russian thrusts, destroying 10 tanks and 18 armoured units in the battles. The claims of both militaries could not be independently verified.
Ukrainian and Pentagon officials said Russian forces appeared to be engaged in "shaping operations", smaller attacks that are often precursors to larger troop movements, or serve as a distraction from other fronts. This campaign, they said, was likely to be much more methodical than the deep raids and rapid advances that Russia unsuccessfully attempted in the first weeks of the war.
As Russian forces pounded Ukrainian targets along much of the 300-mile frontline, for the third day in a row the Ukrainian government said that fighting in the east made it impossible to evacuate civilians, leaving hundreds of thousands trapped. "A very large part of the entire Russian army is now focused on this offensive," President Volodymyr Zelensky said overnight. "No matter how many Russian soldiers are driven there, we will fight."
Frontline town seized
In the first big reported success of Russia's new assault, Ukraine said the Russians had seized Kreminna, a frontline town of 18,000 people in Luhansk, one of the two Donbas provinces.
 Russian forces were attacking "on all sides", authorities were trying to evacuate civilians and it was impossible to tally the civilian dead, Luhansk regional governor Serhiy Gaidai said.
 Moscow gave few details about its new campaign, but foreign minister Sergei Lavrov confirmed that "another stage of this operation is beginning". Defence minister Sergei Shoigu said Russia was "methodically" carrying out its plan to "liberate" Donetsk and Luhansk, provinces which Moscow demands Kyiv cede fully to separatists.
 In the ruins of Mariupol, Russia gave the last Ukrainian defenders holed up in a giant steel works an ultimatum to surrender by 0900 GMT or die.
All who lay down their arms are guaranteed to remain alive," the defence ministry said, later adding it had opened a corridor so those who surrender could leave.
(New York Times News Service and Reuters)