Ukraine crisis: Dnipro heartland fears worst
Residents who have stayed say they have been without water and electricity for over a month, and are feeling suffocated by the drawn-out battle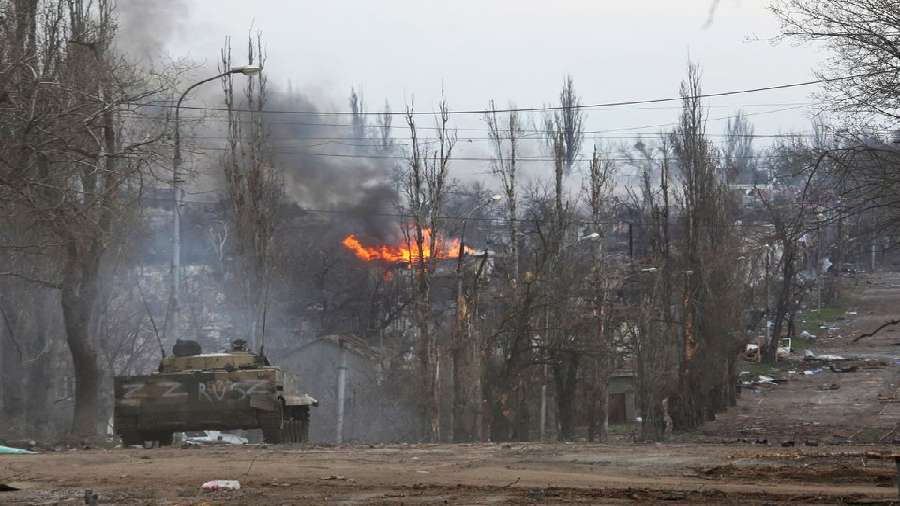 The Zaporizhzhia region, which shares a name with its biggest city, is an artery to Ukraine's heartland along the Dnipro river, and is home to the largest nuclear reactor complex in Europe
File Picture
---
Orikhiv, Ukraine
|
Published 17.04.22, 12:45 AM
|
---
Five tanks roared past Ihor Dubyna's home along the road that leads to the last Ukrainian checkpoint before the frontline and, on the horizon, to Russian troops.
Minutes later came an eerie whistle and a deafening explosion. The shells landed about 100 yards away. Then, two more, seemingly closer.
"I hear sounds like this every day and night," Dubyna said. "The earth trembles."
Just days before, a shelling attack collapsed Dubyna's roof. Zhenya Tkach, a neighbour repairing Dubyna's roof, estimated there are only eight families left in this town near the southeastern city of Zaporizhzhia.
This is what daily life is like in towns and villages along the frontline near Zaporizhzhia, where Russian forces are battling for control by shelling residential communities relentlessly.
The Zaporizhzhia region, which shares a name with its biggest city, is an artery to Ukraine's heartland along the Dnipro river, and is home to the largest nuclear reactor complex in Europe. As Russia redeploys troops towards the east, it is likely to try to expand its grasp to this region.
Residents who have stayed say they have been without water and electricity for over a month, and are feeling suffocated by the drawn-out battle. They say they are living in a humanitarian disaster.
On the main road to the Ukrainian checkpoint, about 30 miles east of Orikhiv, Tetyana Rozhenko's home is one of the few still standing.
Her neighbourhood in Huliapole has transformed into a ghost town, where residents sleep in cold, dark and crowded bomb shelters every night.
"We read things on the Internet. There is not a single mention of Huliapole," said Rozhenko. "Why do we have to suffer?"
In a phone call on Saturday morning, she said seven explosions had rocked her neighbourhood overnight, damaging a kindergarten. She is eager to evacuate, but would struggle to bring her 89-year-old mother whom she cares for, she said.
While Russian ground troops are not yet in her town, the horrors of Bucha — the suburb of the capital, Kyiv, where retreating Russian soldiers left behind dozens of dead civilians — are on her mind.
"We are afraid,"  Rozhenko said by phone. "If they did it there, where is the guarantee that they won't do it here?"
New York Times News Service