UK: Prime Minister faces defection from within
Boris however refuses to resign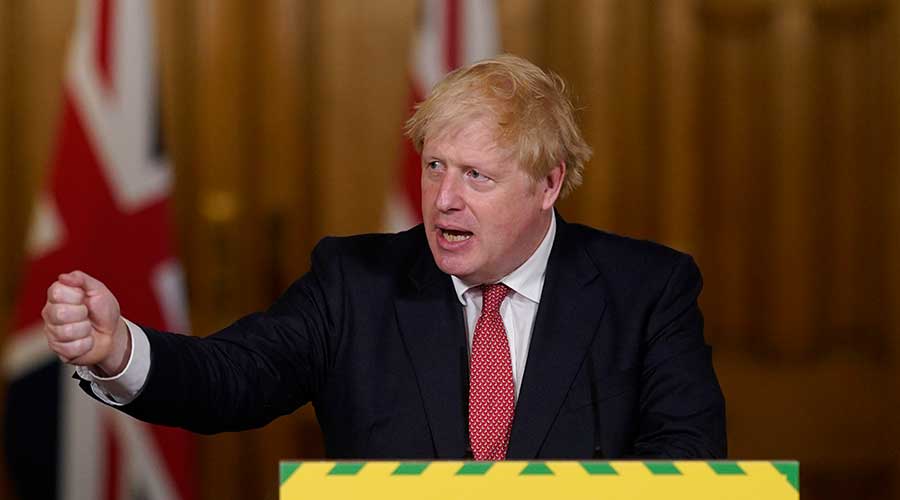 UK Prime Minister Boris Johnson
File Picture
---
London
|
Published 20.01.22, 01:27 AM
|
---
The Commons witnessed a moment of high drama on Wednesday just before the start of the weekly Prime Minister's Questions when a defecting Tory MP crossed the floor of the House and took his seat directly behind the Labour leader Keir Starmer.
Christian Wakeford won Bury South for the Tories in December 2019 with a majority of just 402. The seat had previously been held by Labour for 22 years.
It was one of Labour's "Red Wall" seats which fell to the Tories under Boris Johnson's leadership and helped to give him a commanding majority of 80 in the Commons.
At the time, it seemed that Boris would also win the 2024 general election and remain Prime Minister for a decade.
Now with each passing day, his position appears increasingly precarious.
Wakeford had already put in a letter to the chairman of the 1922 backbench committee seeking a leadership contest. But this may not now count since he has joined Labour.
His defection — the first Tory to do so in 15 years — was probably motivated by self-interest. He probably realised he was at risk of losing the seat at the next election. 
He was also given a warm welcome by Starmer who asked Boris to resign but first said with barely disguised glee:  "The Labour Party has changed and so has the Conservative Party. He and anyone else who wants to build a new Britain built on decency, security ... is welcomed in my Labour Party."
Boris, however, said he would not resign.
As for Bury South, added Boris, "the Conservative Party won Bury South for the first time in generations under this Prime Minister... and we will win again in Bury South at the next election".
Just as wounding and perhaps a touch more shocking was the call for him to go from one of the more senior Tories, David Davies, who was the former Brexit secretary under Theresa May.
Davis said he spent "weeks and months defending the Prime Minister" and reminded constituents of Boris's success in delivering Brexit and the vaccine rollout.
"But I expect my leaders to shoulder the responsibility for the actions they take," he told MPs. "Yesterday, he did the opposite of that.
"So I'll remind him of a quotation altogether too familiar to him — of Leo Amery to Neville Chamberlain —
'You have sat there too long, for all you have done. In the name of God, go!'"
Outside the Commons, Davis added: "It's not what I expect from a leader. Up until now I had been supporting him.. but it's not leadership. Yesterday's interview (on "Partygate' by Boris) was an attempt to escape responsibility not to shoulder it. And that is a test of leadership."
His intervention  came after as many as 11 of Boris's Red Wall MPs submitted letters of no confidence on Wednesday morning as part of a "pork pie plot" to oust him.
A meeting of these MPs has been dubbed the "pork pie plot" because it was hosted by Alicia Kearns, who represents Rutland and Melton, the home of Melton Mowbray pies.
The big change in recent days for the prime minister has been the loss of faith among some of the 107-strong 2019 intake of MPs, the largest grouping in the Conservative parliamentary party. Many come from ex-Labour Red Wall seats.
On behalf of Boris, there was a show of force by the Indians in his cabinet. Rishi Sunak, the chancellor, Priti Patel, home secretary, Suella Braverman, Attorney General, and Alok Sharma, who has been president of COP26, sat alongside him, masks on, on the front bench.
In order to trigger a leadership contest, 54 MPs have to submit letters.
One minister said: "I don't believe we will get to 54. It is a big number. You would need to see more people coming out publicly. 
People need to calm down. We would look like a bunch of numpties on the world stage if we got rid of the PM over a drinks party."
Boris indicated that the report by the senior civil servant Sue Gray, who is investigating "Partygate" might come "next week".
The cabinet met on Wednesday morning to discuss the likely easing of current Covid restrictions.