UK PM race: Votes to be counted as Liz Truss all set to romp home
New research into the composition of the Conservative Party indicates it has been infiltrated by hard-right former members of UKIP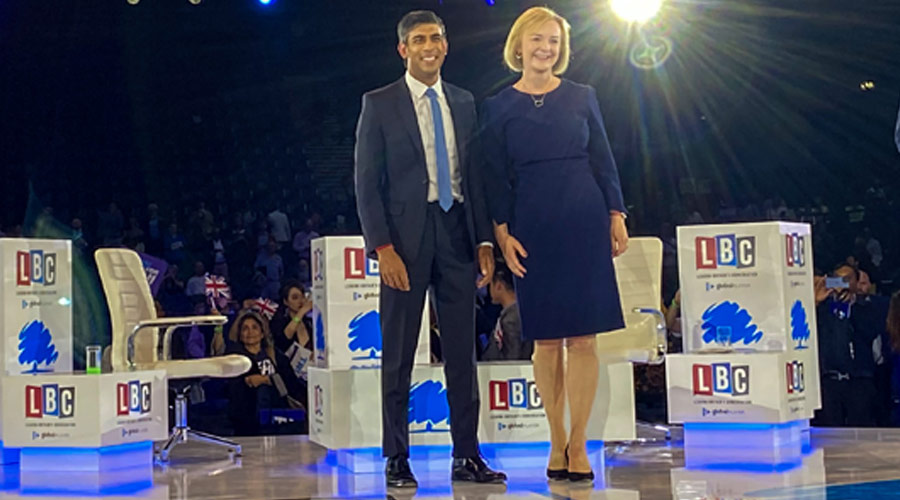 Rishi Sunak and Liz Truss
File Picture
---
London
|
Published 04.09.22, 01:06 AM
|
---
Votes are being counted this weekend in the Tory leadership contest, with Liz Truss expected to be confirmed as Boris Johnson's successor as Britain's new Prime Minister just after noon on Monday.
New research into the composition of the Conservative Party indicates it has been infiltrated by hard-right former members of UKIP (United Kingdom Independence Party) and the Brexit Party, both of which were led by Nigel Farage. The UKIP leader forced David Cameron to hold a referendum on whether Britain should remain within the EU.
That suggests Rishi Sunak was going out to bat with his legs strapped together.
Chris Curtis, head of political polling at Opinium and a neutral observer, revealed that the party membership became dominated by Leave voters before the last general election.
He said: "In the run-up to Boris Johnson becoming leader, lots of people who were ex-UKIP and Brexit Party supporters switched over and joined the Conservatives, so I think the membership is more Right-wing now as a consequence of that."
"The big thing we know about Conservative Party members, in comparison to voters as a whole, is that they are much more Right-wing on economics, and that's clearly part of what the Liz Truss appeal is. Part of that, of course, is that many of them are high-income earners who would benefit from such a thing (a cut in income tax) or small business owners who will benefit from a corporation tax cut." 
The Conservative Party will not disclose how many members it has nor who they are for polling purposes. But the number is thought to be between 150,000 and 200,000, less than half the size of the Labour Party. They pay £25 a year for membership, which was frozen in June, a month before Boris resigned as Prime Minister.
Research by Queen Mary University in London has established that almost three quarters, 71 per cent, of the membership, are male, compared with half, 51 per cent, of the population.
Over 60 per cent of members are over 55, compared with 26 per cent of the population.
More than three quarters, 76 per cent, of members are Leave voters, whereas just over half, 52 per cent, of the population supported Brexit.
And this is a significant finding — 97 per cent of members are classified as White British or White Other, compared with 87 per cent of the population.
It would require a revolution for them to go against advice from the Daily Telegraph, the Daily Mail, the Daily Express and the Sun to vote for Truss — even though Rishi was the choice of Tory MPs.
Middle-class individuals, classified as ABC1, make up 86 per cent of the Tory membership, compared with approximately 59 per cent of the population
With only 5 per cent of the Conservative membership being between 18 and 24, Rishi's appeal to older voters not to pass the credit card bill to future generations fell on deaf years.
Tim Bale, lead author of Queen Mary University's research report into political memberships, said that older members may resent Rishi for being "preternaturally young and smooth", while men may be drawn to Truss for the same reason many supported Thatcher — "they rather like a disciplinarian governess type".
Once Truss becomes Prime Minister, she may have to put up with greater scrutiny of her private life and her affair with a married Tory MP.
The Times reported on Saturday that "her ambitions of becoming an MP were almost ended just as they were beginning after revelations that she had embarked on an 18-month affair with Mark Field, a Tory MP ten years her senior.
"The affair was exposed by the Daily Mail shortly after she had finally won a seat on Greenwich council and Truss had given birth to her eldest daughter, Frances. Truss was confronted by a journalist as she pushed her two-month-old baby outside her home in Greenwich.
"The affair began in 2004, when Truss was campaigning with Field, who was the MP for the Cities of London & Westminster. But it was not exposed until 2006 when Truss had just been added to David Cameron's A-list of Tory candidates as part of a drive to increase the number of women and ethnic minority candidates and she was selected for the safe seat of South West Norfolk."
Some in the constituency association wanted to drop her but were overruled by Cameron.