Uber in London loss
Transport for London (TfL) justified the cancellation by pointing out a number of security breaches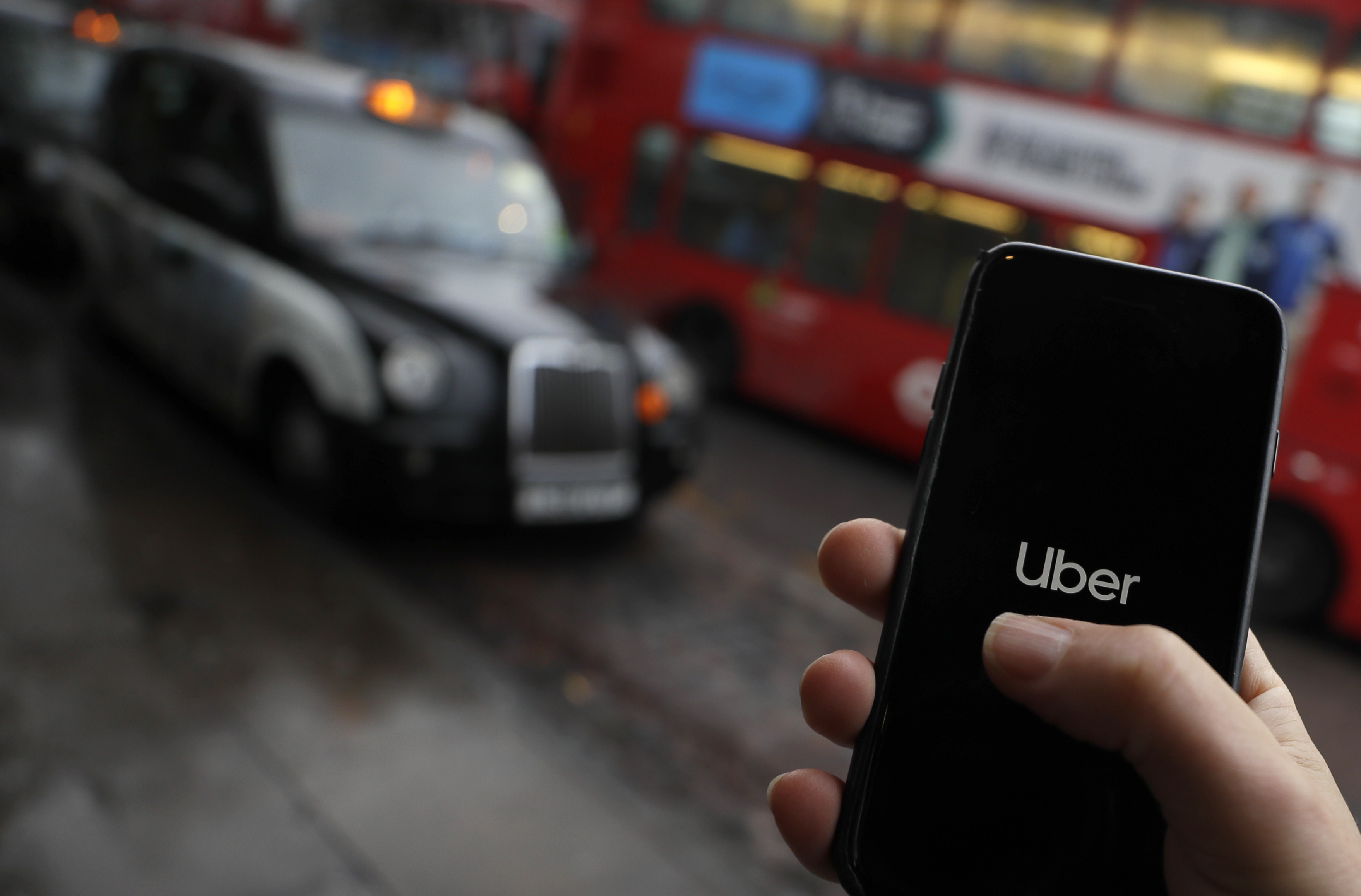 In this posed picture, the Uber app is opened on a mobile phone, backdropped by other transport services in London, Monday, November 25, 2019
(AP)
---
London
|
Published 25.11.19, 08:41 PM
|
---
Uber's licence to operate in London has been cancelled, immediately placing at risk Sadiq Khan's prospects of being re-elected mayor of the city in 2020.
Transport for London (TfL) justified the cancellation with effect from 11.59pm on Monday by pointing out a number of security breaches, some serious, but the fact is that some 3.5 million passengers have got used to using Uber and will resent being forced to return to the far more expensive black cabs.
The convenience of using an Uber app to call up a ride anywhere and everywhere has become part of the way of life in the city, especially for young people, who in many cases simply cannot afford black cabs which are only available in central London and cost three times more.
A typical passenger, Rachel Wilkinson, whose experience will be identical
to those of countless others, told the BBC that she used Uber in London "every single day" and loved the service.
She said: "I must have met and travelled with more than a thousand drivers. In all that time I've only had two incidents where I thought, 'Wow, he was rude/weird'.
"I've always been collected and got where I needed to quickly and efficiently. In fact, I'm continually amazed by how efficient they are."
Sadiq, who chairs TfL, acknowledged: "I know this decision may be unpopular with Uber users, but their safety is the paramount concern. Regulations are there to keep Londoners safe, and fully complying with TfL's strict standards is essential if private hire operators want a licence to operate in London."
Sadiq's chances of being re-elected next year are in doubt, anyway, because he is not thought to have done enough to reduce knife crime in London.
Also Indian voters have felt that Sadiq, the otherwise popular son of a Pakistani bus driver and former Labour cabinet minister, could have done more to prevent a violent Pakistani demonstration over Kashmir that took place outside India House. And Indian voters make up the biggest ethnic minority group in London.
To be fair to Sadiq, he has never backed the Pakistani campaign on Kashmir. But now, angry reaction by Uber customers may tip the balance against him when he stands for re-election next year. Some 45,000 drivers, who lose their jobs, will also hit back. A significant proportion of them are immigrants and Muslim.
Uber cars will not disappear from London immediately because the company will be allowed to operate while an appeal is heard. Uber started a fightback by emailing its customers: "Today Transport for London (TfL) announced that they will not be renewing Uber's licence to operate in London. We think this decision is wrong and we will appeal. You and the 3.5 million riders who rely on Uber in London can continue to use the app as normal.
"Over the last two years we have fundamentally changed our business, and TfL found us to be a fit and proper operator just two months ago. We remain 100 per cent committed to your safety."
TfL first cancelled Uber's licence in September 2017 over "safety fears". Since then, its licence was extended only for short periods. Now, it is being withdrawn for good, assuming the appeal is won. TfL announced it has not granted the ride-hailing firm a new private hire operator's licence due to "several breaches that placed passengers and their safety at risk".
It found that a change to Uber's systems allowed unauthorised people to upload their photographs to legitimate driver accounts, enabling them to pick up passengers. This happened for at least 14,000 trips in 2018 and early 2019.
All of these journeys were uninsured and some took place with unlicensed drivers, including one who had previously had his licence revoked. Another failure allowed Uber drivers who were dismissed or suspended to create a new account with the firm and continue carrying passengers, TfL said.
Uber claimed it has audited every driver in London over the past two months and has robust systems in place to confirm the identity of drivers. Uber's chief executive Dara Khosrowshahi said: "We understand we're held to a high bar, as we should be. But this TfL decision is just wrong.
"Over the last two years we have fundamentally changed how we operate in London. We have come very far and we will keep going, for the millions of drivers and riders who rely on us." TfL's director of licensing, regulation and charging, Helen Chapman, said: "While we recognise Uber has made improvements, it is unacceptable that Uber has allowed passengers to get into minicabs with drivers who are potentially unlicensed and uninsured.
"It is clearly concerning that these issues arose, but it is also concerning that we cannot be confident that similar issues won't happen again in future."