UAE joins summer Mars launches
The 'Amal' or 'Hope' probe, blasted off from Japan early Monday, starting the Arab's first interplanetary trip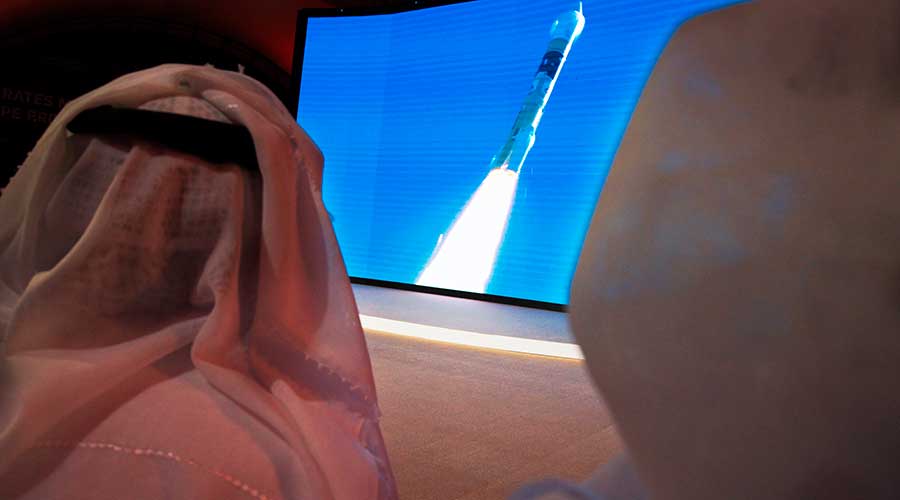 Emirati men watch the launch of the "Amal" or "Hope" space probe at the Mohammed bin Rashid Space Center in Dubai, United Arab Emirates on Monday
AP
---
New York
|
Published 21.07.20, 01:23 AM
|
---
You'll be hearing a lot about Mars in the weeks to come this summer. Three missions are launching toward the red planet, taking advantage of the way Earth and its neighbour get closer every 26 months or so, allowing a relatively short trip between the two worlds. If they launch successfully, the spacecrafts will arrive at Mars early next year.
The first of the three missions, built by the United Arab Emirates, lifted off on Monday morning from a launch site in Japan (it was the end of Sunday afternoon in the US). 
Carried into calm skies by a Mitsubishi H-IIA rocket, the spacecraft separated from the rocket about an hour later and began a journey to Mars that will last until February. The trip to the red planet begins a bold entry into interplanetary exploration by a small country that has previously only sent a few small satellites to orbit.
The Emirates Mars Mission, also known as Hope, is an orbiter that will study Mars from above the planet. It will join a fleet of six other spacecrafts studying the red planet from space, three operated by Nasa, two by the European Space Agency and one by India. Each contains different instruments to help further research of the Martian atmosphere and surface.
The Hope orbiter is carrying three instruments: an infrared spectrometer, an ultraviolet spectrometer and a camera. From its high orbit — varying from 12,400 miles to 27,000 miles above the surface — the spacecraft will give planetary scientists their first global view of Martian weather at all times of day. 
Over its two-year mission, it will investigate how dust storms and other weather phenomena near the Martian surface speed or slow the loss of the planet's atmosphere into space. The Emirates had built and launched three earth observing satellites, gaining experience from a tie-up with a South Korean company.