Trump 'rejected Corbyn request for meeting'
Khan 'not a good mayor'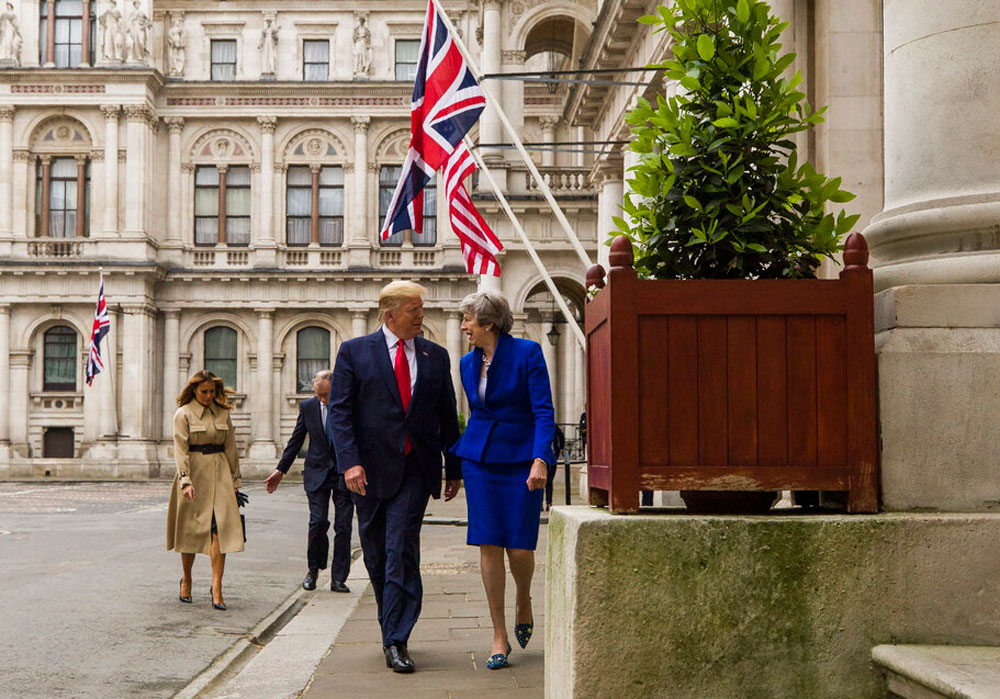 ---
|
London
|
Published 04.06.19, 07:32 PM
---
President Donald Trump described Jeremy Corbyn as "somewhat of a negative force" and revealed that the Labour leader had sought a meeting with him but he had turned down the request.
The US President made the startling disclosure during a joint news conference with the British Prime Minister Theresa May held in the Foreign Office in London, even as Corbyn was addressing a packed anti-Trump rally in Trafalgar Square.
Referring to Corbyn, who will walk into 10 Downing Street, if Labour wins the next general election, Trump said he did "not know him, never met him, never spoke to him".
He said: "He wanted to meet today or tomorrow and I decided I would not do that. I think he is from where I come from somewhat of a negative force.
"I think the people should look to do things correctly as opposed to criticise — I really don't like critics as much as I like and respect people who get things done — so I decided not to meet."
Trump was also asked about Sadiq Khan, the Labour mayor of London, who was dismissed with equal derision.
"I think he has been a not very good mayor from what I understand," commented Trump. "He has done a poor job, crime is up, a lot of problems, and I don't think he should be criticising a representative of the US that can do so much good for the UK... He should be positive not negative — he is a negative force not a positive force.
"If you look at what he said, he hurts the people of this great country and I think he should actually focus on his job, it would be a lot better if he did that — he could straighten out some of the problems that he has caused."
Trump also disclosed Boris Johnson, the favourite to succeed May as Prime Minister, had spoken to him on the phone for 20 minutes.
"I know Boris. I like him. I have liked him for a long time. I think he would do a very good job."
Turning to the foreign secretary, Jeremy Hunt, seated in the front row at the news conference, Trump added: "I know Jeremy, I think he would do a very good job."
Trump promised a "phenomenal" free trade agreement with the UK once it had left the EU, "double or even triple" the current level which stands at $100 billion.
Asked whether Britain's National Health Service would be up for grabs during negotiations for a trade agreement, Trump struck a jarring note by insisting: "I think everything with a trade deal is on the table. When you're dealing in trade everything is on the table so NHS or anything else, a lot more than that, but everything will be on the table, absolutely."
The NHS is considered sacrosanct by British politicians of all colours. May said diplomatically: "But the point in making trade deals is of course that both sides negotiate and come to an agreement about what should or should not be in that trade deal for the future."
But the health secretary, Matt Hancock, one of the leadership candidates, issued a firm rebuttal: "Dear Mr President. The NHS isn't on the table in trade talks — and never will be. Not on my watch."
As a baby Trump blimp flew over Parliament Square, the shadow foreign secretary Emily Thornberry argued the President did not "deserve the honour" of a state visit.
"The truth is he has tried to close borders with Muslim-majority countries, he is caging small Mexican children, he has grabbed women and boasted about it," she said. "He is a sexual predator, he is a racist and it's right to say that."
Trump said reports of demonstrations against his visit constituted "fake news" but Corbyn told protesters: "I am very disappointed, particularly today on the wonderful festival of Id, that our mayor of London Sadiq Khan has been attacked in the way that he has. I am proud that our city has a Muslim mayor, that we can chase down Islamophobia, anti-Semitism, any form of racism within our society because racism divides."
American private companies would not be allowed to take over "our precious, wonderful National Health Service", Corbyn declared, adding, "We will not stand for that. We will fight with every last breath of our body to defend the principle of a healthcare system free at the point of need for everybody as a human right."
After the news conference, Trump and his wife Melania, travelled the short distance in his armour-plated Cadillac to the Old War Office in Whitehall for a tour of the rooms occupied during World War II by Winston Churchill, one of the President's great heroes.
"The Old War Office is now part of my hotel," Gopi Hinduja confirmed to The Telegraph.