Trump reaches out to Republican state legislators from Michigan
He has also asked aides what Republican officials he could call in other battleground states to prevent the certification of results formalising his loss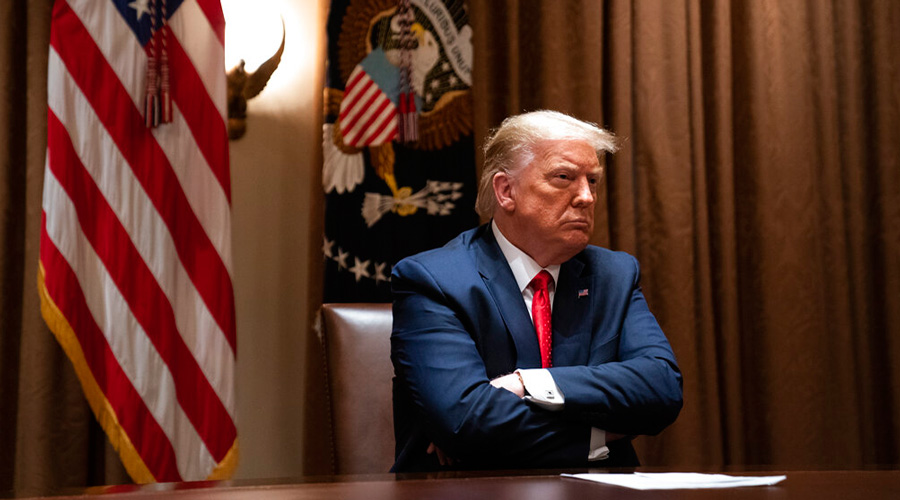 ---
|
New York
|
Published 21.11.20, 03:36 AM
---
President Trump on Thursday accelerated his efforts to interfere in the nation's electoral process, taking the extraordinary step of reaching out directly to Republican state legislators from Michigan and inviting them to the White House on Friday for discussions as the state prepares to certify President-elect Joseph R. Biden Jr. the winner there.
For Trump and his Republican allies, Michigan has become the prime target in their campaign to subvert the will of voters backing Biden in the recent election. Trump called at least one Republican elections official in the Detroit area this week after she voted to certify Biden's overwhelming victory there, and he is now set to meet with legislators ahead of Michigan's deadline on Monday to certify the results.
The President has also asked aides what Republican officials he could call in other battleground states in his effort to prevent the certification of results that would formalise his loss to Biden, several advisers said. Trump allies appear to be pursuing a highly dubious legal theory that if the results are not certified, Republican legislatures could intervene and appoint pro-Trump electors in states Biden won who would support the president when the Electoral College meets on December 14.
The Republican effort to undo the popular vote is all but certain to fail, as even many Trump allies concede, and it has already suffered near-total defeats in courts in multiple states, including losses on Thursday when judges in Georgia and Arizona ruled against the Trump campaign and its allies.
The President suffered another electoral blow on Thursday when Georgia announced the completion of a full recount, reaffirming Biden's victory there.
Biden, whose transition has been hindered by Trump's attempt to cling to power, on Thursday delivered his most forceful condemnation yet of the president's refusal to acknowledge his loss, saying Trump would be remembered as "one of the most irresponsible Presidents in American history".
"It sends a horrible message about who we are as a country," Biden said in remarks in Wilmington, Delaware.
"It's hard to fathom how this man thinks," Biden added. "I'm confident he knows he hasn't won, and is not going to be able to win, and we're going to be sworn in on January 20."
Late Thursday, Senator Mitt Romney joined Biden in criticising the actions by Trump, saying in a statement that the President had tried to "subvert the will of the people" and that it was "difficult to imagine a worse, more undemocratic action by a sitting American President".
Poll officials and legal experts say there is virtually no scenario in which a Republican-controlled state legislature could legitimately override the results of a properly held vote.
New York Times News Service