Trump, Kim talks collapse abruptly
Leaders failed to agree on steps towards N-disarmament or measures to ease tension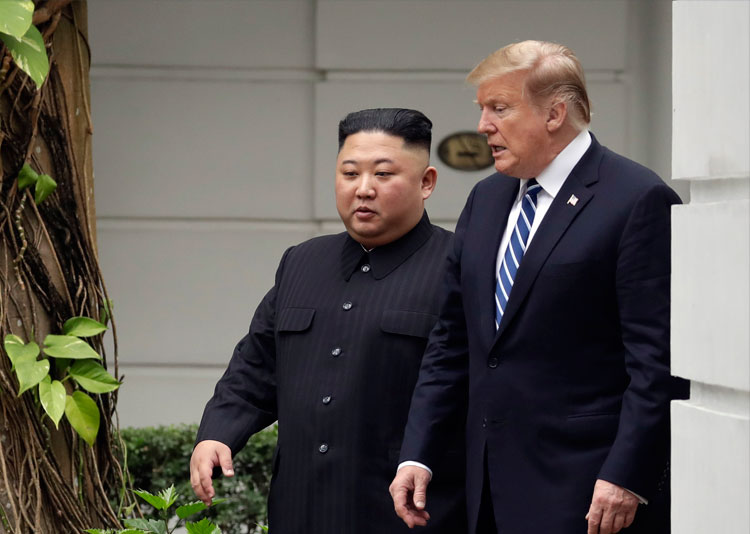 ---
|
Hanoi
|
Published 28.02.19, 08:02 PM
---
President Trump and Kim Jong-un, North Korea's leader, abruptly ended their second summit meeting on Thursday after talks collapsed with the two leaders failing to agree on any steps towards nuclear disarmament or measures to ease tensions on the Korean Peninsula.
"Sometimes you have to walk," Trump said at an afternoon news conference in Hanoi, Vietnam. He said Kim had insisted that all of the harsh UN sanctions imposed on the North be lifted in exchange for dismantling its most important nuclear facility but not other elements of its weapons programme.
"It was about the sanctions," Trump said. "Basically they wanted the sanctions lifted in their entirety, but we couldn't do that."
But in a late-night news conference in Hanoi, North Korea's foreign minister, Ri Yong-Ho, contradicted Trump's account, saying the North had asked only for some sanctions to be lifted — those that affect ordinary people — in exchange for "permanently and completely" dismantling the facility in question.
"Given the current level of trust between North Korea and the US, this was the maximum step for denuclearisation we can offer," Ri told reporters, according to South Korea's Yonhap news agency.
The premature end to the negotiations leaves the unusual rapprochement between the US and North Korea that has unfolded for most of a year at a deadlock, with the North retaining both its nuclear arsenal and facilities believed to be producing additional fissile material for warheads.
It also represents a major setback at a difficult political moment for Trump, who has long presented himself as a tough negotiator capable of bringing adversaries into a deal and had made North Korea the signature diplomatic initiative of his presidency.
Even as Trump prepared to sit down with Kim, his longtime lawyer and fixer, Michael D. Cohen, was delivering dramatic and damaging testimony in Congress, accusing him of an expansive pattern of lies and criminality.
Trump had flown across the world to try to work face-to-face with Kim for the second time, an effort to reduce what American officials regard as one of the world's foremost nuclear threats. Experts estimate that the North has 30 to 60 nuclear warheads and possibly a ballistic missile that can hit the continental US.
Trump said Kim did promise on Thursday to continue a halt on nuclear and ballistic missile tests, despite the failure to reach a deal. But there is no formal agreement on that, and Kim could resume testing to force the Americans to return to the negotiating table or to offer better terms.
Trump said that Kim had agreed to take an important step towards dismantling a central part of his nuclear programme — the Yongbyon enrichment facility — but that Kim said he would do so only if all sanctions were lifted.
The President and secretary of state Mike Pompeo said the North would have to dismantle other parts of the program before all sanctions were lifted. They added that the two sides would continue negotiations in other settings, and stressed that there were nuclear sites that American officials are aware of but that are unknown to the public.
In response to a question, Trump also acknowledged that his administration was aware of a second enrichment site other than Yongbyon.
If, as Trump said, Kim insisted that the US lift all economic sanctions in exchange for just the dismantlement of Yongbyon, that was a severe misreading of the American strategy.
American officials have said that the sanctions are their main leverage with North Korea, and that keeping them tight is critical to the goal of full denuclearisation.
There was talk before Thursday that the Americans might allow more economic exchange between South Korea and the North as part of a deal, but that probably would have been as far as alleviation of sanctions would have gone at this point.
Before ending the news conference to fly back to Washington, Trump tried to put a good face on the surprising turn of events.
"This wasn't a walkaway like you get up and walk out," he said. "No, this was very friendly. We shook hands." "There's a warmth that we have and I hope that stays," he added.
The collapse of the talks came in the shadow of withering congressional testimony in Washington by Cohen, who spent hours on Wednesday describing Trump's lies and deep character flaws.
Asked at the news conference about Cohen, Trump said, "He lied a lot."
"I think having a fake hearing like that and having it in the middle of this very important summit is really a terrible thing," Trump said, alluding to his earlier criticism that the hearing had been organised for partisan purposes. Trump said Cohen had indicated in testimony that he did not know of any collusion between Trump and the Russians.