Trump for college free speech
President mulls stopping federal aid if opinion of students is not shielded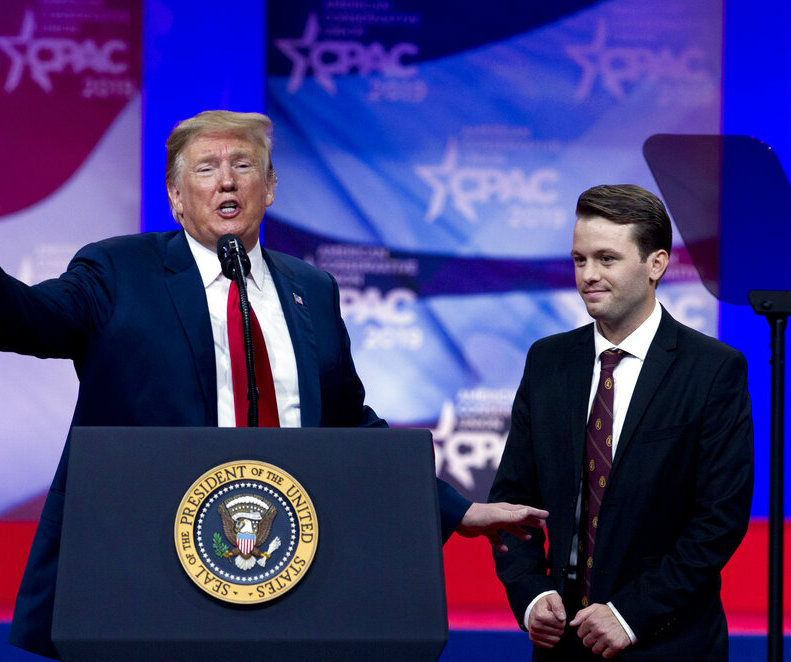 ---
Maryland
|
Published 03.03.19, 11:35 PM
|
---
President Donald Trump said on Saturday that he planned to issue an executive order that would help guarantee free speech at colleges and universities by putting their federal aid at risk if they do not protect the viewpoints of students of all political stripes.
The President made the announcement during a rambling two-hour speech to activists at the Conservative Political Action Conference outside Washington, but he did not provide any details about the possible executive order. Several White House officials did not respond to emails or telephone calls seeking additional information.
The White House did not respond to questions about when the President might sign the order.
The issue of free speech on college campuses has for years been a cause célèbre among young conservative activists, who point to instances around the country in which conservative voices have been shunned by liberal students and professors.
The crowd, which included many college-age conservatives, welcomed Trump's announcement, leaping to their feet when he pledged to hold school administrators accountable for ensuring that conservatives were permitted to express their views on campuses, often places where liberals outnumber them.
The President cited the case of Hayden Williams, a young activist who was beaten up last month as he was recruiting for a conservative organisation at the University of California, Berkeley — long one of the leading centres of liberal academic thought.
"If they want our dollars, and we give it to them by the billions, they've got to allow people like Hayden and many great young people, and old people, to speak," Trump said, drawing huge applause.
Trump invited Williams, who was in the audience, to address the crowd briefly, calling him strong and urging him to sue the university because of the episode. Williams thanked the President for supporting young conservatives such as himself.
Floyd Abrams, a leading First Amendment lawyer, expressed concern about the President's proposed executive order.
"The visage of the most congenitally anti-free-speech administration in American history making a series of decisions as to which campus conduct is pro- or anti-free speech is more than alarming," Abrams said in an email on Saturday afternoon.
The President has raised a similar threat before, implying he would withhold federal funds from Berkeley after it cancelled a speech by Milo Yiannopoulos, a conservative speaker and professional provocateur.
Students at multiple campuses threatened to boycott events where Yiannopoulos was to speak, forcing them to cancel the appearances.
In 2017, at Claremont McKenna College, a private liberal arts school in Southern California, about 250 people blocked entrances to an auditorium where Heather Mac Donald, a conservative writer who has criticised the Black Lives Matter movement, was speaking.
That same year, students at Middlebury College in Vermont disrupted a speech by Charles Murray, a scholar known for his 1994 book The Bell Curve, which links socio-economic status with race and intelligence. Protesters chanted, "racist, sexist, anti-gay, Charles Murray, go away!"
It is unclear how Trump's executive order would change that dynamic, though he hinted that universities and colleges would have to do more to prevent such demonstrations or risk the loss of grant money that the institutions receive from the federal government to support research.
He said the executive order would "require colleges to support free speech if they want federal research" funding.
It is not clear how long the idea has been under consideration at the White House or whether the President decided to pursue an executive order because of the episode involving Williams, which Fox News and other conservative outlets covered extensively.
It is also unclear how much the President can withhold federal aid to colleges without congressional action. Previous discussions of that issue in conservative circles have focused on passing legislation to change the requirements for colleges to request grant funding from the federal government.
c.2019 New York Times News Service