Tories urged to remove Boris Johnson over Gray report
The report was held up until Scotland Yard had completed its investigations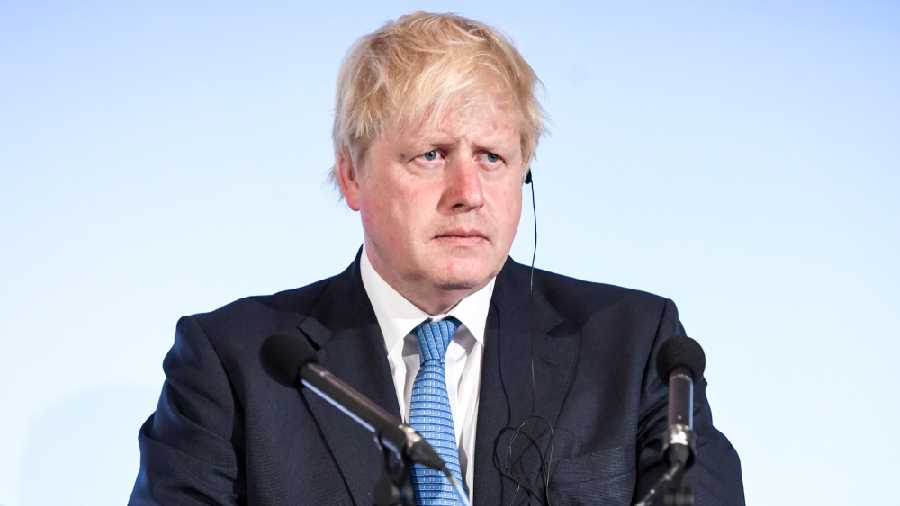 Boris Johnson
File picture
---
London
|
Published 26.05.22, 01:24 AM
|
---
Boris Johnson's fate rests with Tory MPs following the publication on Wednesday of the much anticipated report by senior civil Sue Gray who carried out a detailed inquiry into Partygate and breaches of Covid rules at 10 Downing Street.
Commenting on the drinking culture in Downing Street when Covid isolation rules applied in the UK, Gray said: "The senior leadership at the centre, both political and official, must bear responsibility for this culture."
Gray's report was held up until Scotland Yard had completed its investigations. The police have issued 126 Fixed Penalty Notices, including one each to Boris and Sunak.
Gray, who looked into 16 events, said she had commented "on what I found to be failures of leadership and judgement in No 10 and the Cabinet Office. The events that I investigated were attended by leaders in government.
Many of these events should not have been allowed to happen.
"It is also the case that some of the more junior civil servants believed that their involvement in some of these events was permitted given the attendance of senior leaders."
Her report runs to 60 pages and contains nine photos of gatherings in Downing Street during the pandemic, including images of Boris and the chancellor Rishi Sunak at the prime minister's birthday party in June 2020. A glass of orange juice suggests not everyone was drinking alcohol.
In her findings Gray says "some members of staff drank excessively" at some events. At a party on June 18, 2020, she reports that "one individual was sick" and "there was a minor altercation between two other individuals".
She cites numerous examples of cleaning and security staff being treated with a lack of respect, and says some workers who objected to the parties were afraid to blow the whistle. "This was unacceptable."
One message revealed in her report shows Martin Reynolds, Boris's principal private secretary, boasted that staff  "got away with" breaking the rules.
But Gray does not ask the prime minister to resign. She says this is "outside of the scope of this report and is for others to consider", but she does "offer a reflection".
Gray observes: "While there is no excuse for some of the behaviour set out here it is important to acknowledge that those in the most junior positions attended gatherings at which their seniors were present, or indeed organised.
"I have no doubt that they will have taken the learning from this experience and, while this is not a matter for me, I hope this will be taken into account in considering any disciplinary action."
In his first Commons statement on the Gray report, Boris made it clear he had no intention to step down.
He said: "I want to conclude by saying that whatever the failings of Number 10 and the Cabinet Office, for which I take full responsibility, I continue to believe that the civil servants and advisers in question – hundreds of them, thousands of them, the very people who've received fines, are good, hardworking people, motivated by the highest calling to do the very best for our country. And I will always be proud of what they achieved, including procuring essential life-saving PPE, creating the biggest testing programme in Europe, and helping to enable the development and distribution of the vaccine, which got this country through the worst pandemic of a century.
"And now, we must get our country through the aftershocks of Covid with every ounce of ingenuity and compassion…now that she has reported, we will be able to move on and focus on the priorities of the British people, standing firm against Russian aggression, easing the hardship caused by the rising costs that people are facing, fulfilling our pledges to generate a high wage, high skilled, high employment economy that will unite and level up across the whole of our United Kingdom. That is my mission. That is our mission. That is the mission of the whole of the government and we will work day and night to deliver it."
In response, the Labour leader Keir Starmer appealed to Tory MPs to remove Boris from office.
He said: "The door of number 10 Downing Street is one of the great symbols of our democracy. Those who live behind it exercise great power, but they do so knowing their stay is temporary. Long after they've gone, that door and the democracy it represents, will remain firm and unyielding. But Britain's constitution is fragile. It relies on members of this house and the custodians at number 10 behaving responsibly, honestly, and in the interests of the British people. When our leaders fall short of the standards, this house has to adapt.
"But who could read this report and honestly believe the prime minister has upheld those standards?"
The Labour leader addressed Tory MPs: "Members on the opposite benches now also need to show leadership. This prime minister is steering the country in the wrong direction. They can hide in the back seat, eyes covered, praying for a miracle or they can act stop this out of touch, out of control, prime minister from driving Britain towards disaster.
"We waited for the Sue Gray report. The country can't wait any longer. The value symbolised by the door of Number 10 must be restored. Members opposite must finally do their bit. They must tell the current inhabitant, their leader, this has gone on too long. The game is up. You cannot be a lawmaker and a law breaker. And it's time to pack his bags. Only then can the government function again. Only then can the rot be carved out. Only then can we restore the dignity of that great office and the democracy that it represents.
On balance it's unlikely enough Tory MPs will be persuaded to act against Boris even if they privately agree with Starmer.