Ties between Boris Johnson and Rishi Sunak sour
British PM not responding to my calls or messages, former chancellor reveals on a debate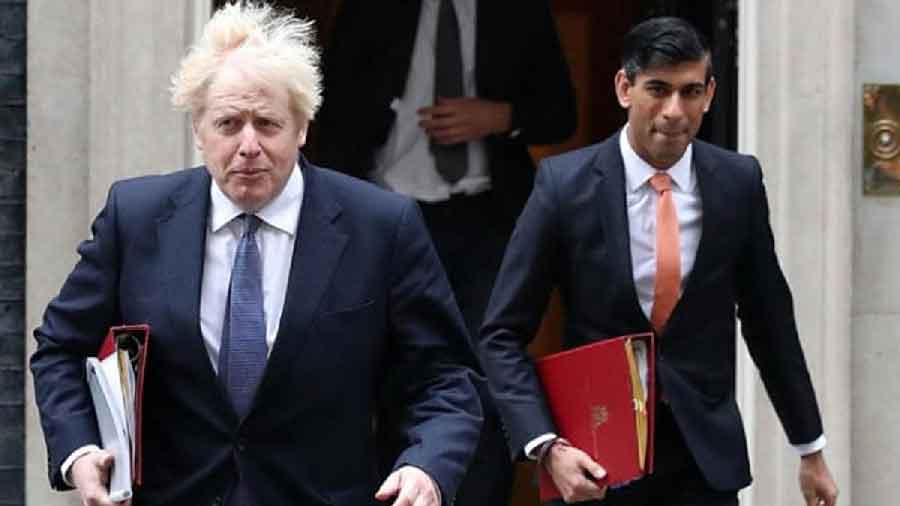 Boris Johnson and Rishi Sunak.
File picture
---
London
|
Published 13.08.22, 12:53 AM
|
---
The relationship between Boris Johnson and Rishi Sunak, who worked together closely as Prime Minister and chancellor for over two years right through the pandemic, appears to have broken down completely.
Boris, who seems to hold Rishi responsible for triggering his downfall by resigning from the cabinet, is not responding to the latter's peace moves.
This was revealed on Thursday night when the Daily Telegraph organised the latest hustings between Rishi and the foreign secretary Liz Truss in Cheltenham before 2,000 Tory party members.
Rishi was asked by the Daily Telegraph's associate editor Camilla Tominey, who moderated the two-hour session, whether he had spoken to the prime minister since quitting the cabinet. Rishi replied: "I haven't, I've messaged and called but, unsurprisingly, he hasn't returned my calls."
Given that the Daily Telegraph has thrown everything in trying to bring down Rishi, it is also surprising that many readers of the paper afterwards said they thought the former chancellor had won the debate.
One who backed Truss said: "Incredible. You throw your boss under a bus and when the dust has settled he refuses to return your pleadings. He didn't deserve you."
But another said: "He didn't get thrown under the bus. Sunak unlike the rest of the useless, spineless, talentless cabinet who know they are unfit for the job just kept quiet to save their own backsides. Sunak long overdue did what needed doing and that was to force an arrogant, narcissistic, self-centred, compulsive liar out of the job he was unfit for in the first place. And Bojo the clown feels hard done by like all his fanboys. Pathetic."
Another said: "Liz is just embarrassing with no substance. Sunak is the intelligent adult in the party and is clearly a leader whilst Liz wants a non-presidential consensus. Vote Liz get Labour!"
The paper's own writers hedged their bets. But one reader said: I was there. No contest. Rishi far better speaker and performance, Liz's android robot. Liz's policies will lead us to oblivion economically and politically, a lot of Right-wing platitudes. Rishi is intellectually superior and well-thought-out policies to support people who need it compared to being completely overlooked by Liz. Rishi is far better for business and investment if anybody actually understood his policies of encouraging investment which lower corporation tax expounded by Truss will not do."